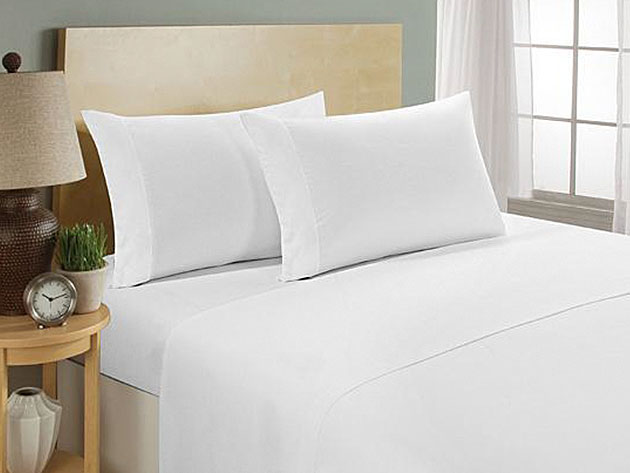 Have you ever considered bed sheets made from bamboo? It may sound like a strange material to sleep on, but its benefits are many. First of all, bamboo is extremely eco-friendly, requiring no pesticides and regrowing within three years for re-harvesting. It's as soft as cashmere, believe it or not, and extremely durable. The flexible nature of the fiber means that you'll stay warm when it's cold, and vice-versa. What's more, bamboo is hypoallergenic, odor resistant, anti-bacterial, and reflects UV rays. And right now at the shop, you can grab a 4-piece set of Ultra Soft 1800 Series Bamboo Bed Sheets for 40% less than usual!
The Ultra Soft series is top-tier. The addition of high-strength microfibers to the bamboo makes it a lot softer and less prone to wrinkles than the competition. The fabric is also pre-shrunk and mercerized, meaning it will hold its shape exceptionally well over time. Whether you currently own a queen, full or king size mattress, the Ultra Soft sheets are designed to fit all thickness levels with wrap-around elastic and extra deep pockets. The set comes in white with one flat & one fitted sheet, as well as two pillowcases, so you'll have everything you need to transform your bed into a super-soft, durable paradise. Check out the Ultra Soft 1800 Series Bamboo Bed Sheets today at the shop—currently only $29.99 after 40% off!
---
---

The BroBible team writes about gear that we think you want. Occasionally, we write about items that are a part of one of our affiliate partnerships and we will get a percentage of the revenue from sales.