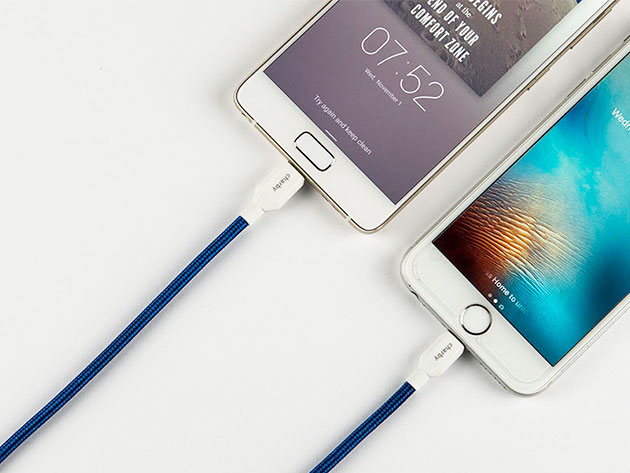 You already have a phone case that protects your favorite device against falls, spills, and tumbles, so why not take your phone care to the next level by protecting its battery? With one of the Charby Sense Charging Cables, now available for 25% off, prolong your battery life, charge your device faster, and get a cable built to withstand the wear and tear of everyday use. Buy It Now: $29 (usually $39)
These charging cables make it easy to get the most out of your daily charging. For starters, these cables — available in Lightning, MicroUSB, and USB-C variants — stop charging automatically when your device is fully charged. Meaning, whether you own an iPhone or Android phone, as well as any power bank or speaker, these cables fully charge your device and then auto shut-off to protect your battery from wearing down over time. Plus, it's convenient and quick using these cables, since they plug in instantly every time thanks to their reversible design.
Even better, these Charby Sense Charging Cables speed up the charging process so that you can get back to work or play faster than before. Just tap one button on the charging cable while it's plugged into your laptop to double its charging speed, and use the helpful charging speed LED indicator to get an instant idea of how much longer your charge will take. On top of all that, these sturdy cables support a tangle-free design and are 20% longer than the average cable, making it perfect for everyday use at home or in the office.
BUY IT TODAY: $29 (usually $39)
The BroBible team writes about gear that we think you want. Occasionally, we write about items that are a part of one of our affiliate partnerships and we will get a percentage of the revenue from sales.