Here at BroBible, our mission is to tell you about products and stories to make your life more chill. Whether it's an Every Day Carry essential, new wristwatch, or a modern take on the alarm clock, some of our favorite products in the world start as Kickstarter inventions.
That's why we're starting a new Thursday column here at BroBible: Cool On Kickstarter, here to tell you about all the latest and greatest in Kickstarter inventions.
If you have a product on the crowdfunding platform that you think should be featured, get in touch: brandon@brobible.com
—
The Crua Clan Tent System
There aren't a lot of great tents out there that you can turn into badass, multi-room mobile lodges. Sure, Ozark Trail and Coleman makes a few big tents you can buy on Amazon. But they're cumbersome monsters compared to a tent system like the Crua Clan. In a nutshell, it's the ultimate lightweight hiking tent + insulated cocoon (…that keeps you cooler in the summer and warmer on those chilly nights) + air-framed living space. It's lightweight and designed as a system of tents that attach to each other to create the ultimate portable cabin in the middle of the wilderness. Not only does the Crua Cocoon system keep you cool in the summer and warm in the winter, it muffles noise and blocks light, giving you the perfect tent to sleep in — Especially at a rowdy music festival.
BUY IT NOW: Starting at $159:99
ZING — The Intelligent Night Light
We live in a world where you light bulbs can connect to an app on your iPhone, so why not your night light? ZING is basically the Nest of night lights — You can adjust the color of the LED glow and times it turns on. As a system of three, it provides path lighting in the dark through your house — Perfect for ensuring that you never run into that damn antique dresser in your hallway ever again.
Nise Wave — WiFi Sous Vide with Adaptive Temperature Control
Sous Vide cooking is all the rage in culinary circles these days. It's the perfect way to cook a delicious fresh meal by vacuum-sealing your food while you're at work or on the go. There are a few options available on Amazon, but the Nise Wave has captivated imaginations in the last couple weeks as the go-to Sous Vide thanks to WiFi connectivity that allows you to schedule when and how you want your recipes cooked. The idea is pretty simple: With a little preparation, your meal will be ready when you want it.
SousVide Supreme Touch+
The ultimate SousVide system, but this Kickstarter project looks and operates more like a Crock Pot slow cooker.
PolarSeal Heated Tops
Winter is coming. You probably have a closet full of threads dedicated to staying warm in those chilly months, especially if you're a skier, runner, or cold weather outdoorsman. PolarSeal Heated Tops are the latest and greatest in hi-tech activewear. There's a built-in heater for those miserable cold weather moments! Think of it like a water-resistant electric blanket you can jog in.
Mirrocool — The Smart Mirror That Knows You
A smart-mirror that synchs with your phone to organizes your life in the morning? SIGN ME UP! In their own words…
MirroCool's proprietary Facial and Gesture Recognition technology (FGR) turns this mirror into a hands- and voice-free, personalized smart mirror that increases your productivity, allows you to take selfies, and can alert you to intruders depending on where it is placed. MirroCool is an intelligent assistant that syncs up with all your mobile devices. You will only need to teach your mirror three gestures: Smile, Wink, and Blink.
The app for MirroCool projects everything you need to know from your phone for the day before heading out the door:
Daily Calendar
Reminders for special events like birthdays
Social media updates (e.g. FB, Twitter, Google +)
Stock reports
News
Text messages (not available for IOS at the moment)
email
Stock report
Weather
Traffic
K-25 —  Bath Towels On Another Level
Like John Mayer, I love a good scratchy towel. Microfiber towels suck. So that's why I'm all about K-25 waffle towels, the official towel of Waffles McButter (RIP, gone but never forgotten). Can't get a waffle towel at Bed, Bath, and Beyond, bitches.
Kodiak Leather Classic Weekender Duffel
They just don't make luggage like they used to. Unless you shop exclusively at Kemo Sabe in Aspen, you probably aren't going to find a top notch buffalo leather duffel bag at your local Target. That's why we kinda love the Kodiak Leather Classic Weekender Duffel. It holds 60L of gear and looks like the type of rugged-yet-handsome bag John Wayne would carry to a weekend getaway in Telluride.
Features include: 
100%  genuine buffalo leather
Large interior compartment, measures 21″ x 11″ x 11″
Detachable and adjustable  100% full leather Strap with leather pad for comfort
Tough leather carry handle on one end
Sturdy brown nylon interior lining
2 exterior pockets with easy access buckle straps with magnetic closure (same as buffalo leather satchel)
1 exterior zipper pocket on front; perfect for carrying phone or other smaller items
Separate shoe compartment on bottom of bag; access through zipper on side of duffel
Interior zippered pocket; perfect size for an ipad or books
Full leather attachment to interior side panel for credit cards, phone, and other items
Leather pen holder stitched to inside of bag
5 solid brass feet to protect bottom of bag and keep from touching the ground
Sturdy YKK zippers
Heavy duty brown nylon interior lining
Exterior measurement 23.5″ x 12″ x 12″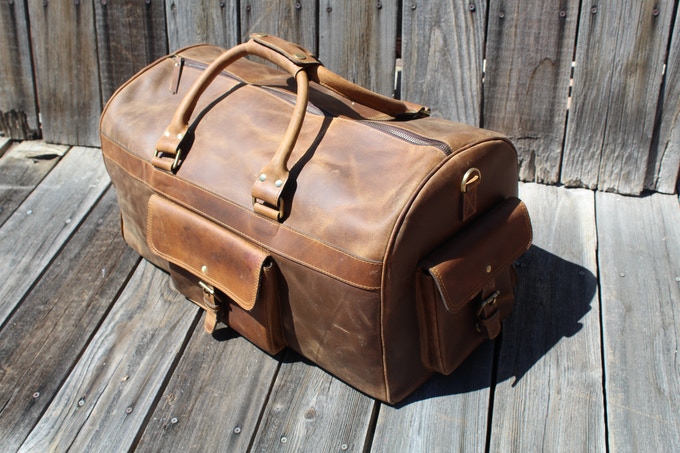 —
The BroBible team writes about gear that we think you want. Occasionally, we write about items that are a part of one of our affiliate partnerships and we may get a percentage of the revenue from sales.