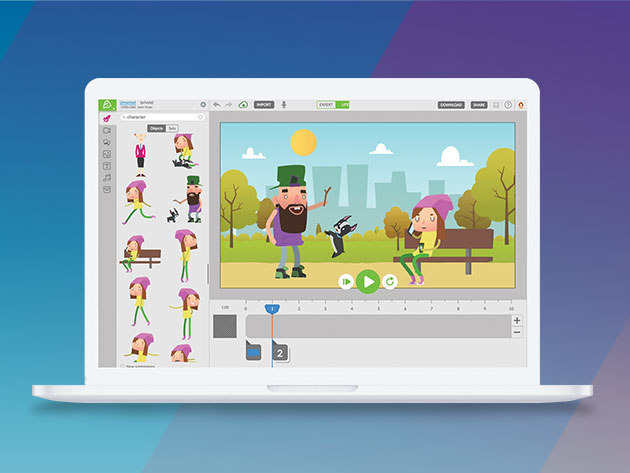 If you want to market well, you have to grip potential consumers with a story effectively. There have been countless examples of one product selling many times more than another not because of its inherent superiority, but because the essential message of the more successful product was communicated in a more captivating way. Now, there's a fantastic piece of software out there that can instantly make your marketing efforts more cinematic. The Animatron Studio Pro Plan offers you the chance to create graphics and animation with zero coding or design experience. You can craft visually captivating worlds around your product and watch as potential consumers are drawn in. And guess what? A lifetime subscription to Animatron is usually really expensive ($1000!), but right now you can snag it for only $49.99 at the BroBible Shop.
The Animatron Studio Pro Plan offers an easy to pick up, collaborative way to make mobile-friendly animations in your browser. The "what you see is what you get" editor allows anyone to design visual stories, banners, explainer videos, presentations, and more before export to HTML5, SVG, GIF, and universal playback video. You can manipulate and annotate an array of freely included, pre-animated characters, backgrounds, props, and other media right on a single canvas. More advanced users won't feel limited, either. Every element on the canvas is fully customizable. Import graphics, photos, audio, and video content made with external programs for placement and manipulation within The Studio, or use the included vector drawing tools to create art from scratch. Whether you're starting a small business, part of a large, collaborative marketing team or interested in new ways to engage and educate, The Animatron Studio Pro Plan will revolutionize your game. Snag this incredible 95% off deal now and reach new heights of connection with your audience.
---
---

The BroBible team writes about gear that we think you want. Occasionally, we write about items that are a part of one of our affiliate partnerships and we will get a percentage of the revenue from sales.