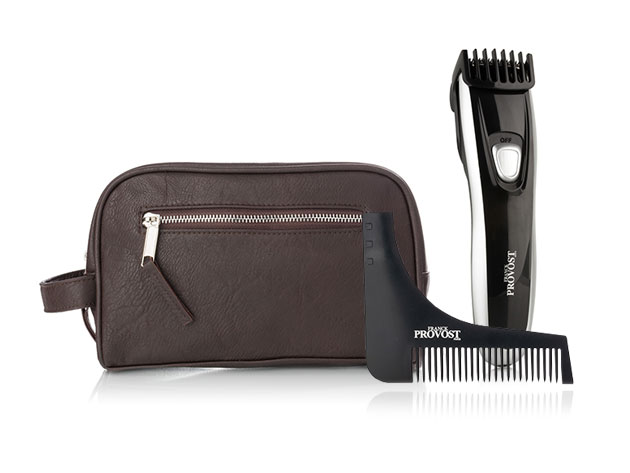 A beard on a man can do one of two things — it can either make him look handsome, gruff, and classy or attract looks like he's a wild man, perhaps even Sasquatch. If you fall into the second group or need a grooming kit for your travels, then now's a good time to consider a Shaving Essentials 3-Piece Grooming Kit, especially since it's 58% off. Buy It Now: $39 (usually $94)
This 3-piece kit gives you the essential tools to groom your beard, as well as look and feel your best at home or on the road. You'll get an ergonomic, battery-operated beard shaver, a leatherette toiletry comb, and the perfect edging beard sculpting comb. Meaning, a flawless shave, plus a clean neck and beard line are always within reach, so getting ready for work, the weekend, or a day out while vacationing is a breeze. Put these three tools together, and you'll get compliments about your shave as if it were done by a professional.
– Battery-operated trimmer for use anywhere (batteries included)
– Toiletry bag w/ zipper closure & two storage pockets
– Easy-to-use sculpting comb
– Lightweight, ergonomically designed 
– Made with highly durable material
BUY IT TODAY: $39 (usually $94)
The BroBible team writes about gear that we think you want. Occasionally, we write about items that are a part of one of our affiliate partnerships and we will get a percentage of the revenue from sales.