How To Become A Cybersecurity Expert On Your Own Time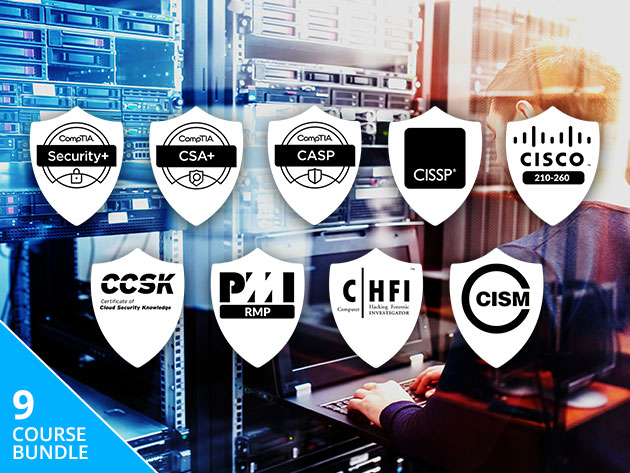 Cybersecurity experts are in high demand. With companies everywhere fearing data breach, there has never been a more lucrative time to enter the field. Degrees in information security aren't common, so most companies use certification to gauge potential candidates. Right now at the BroBible shop, you can find a bundle designed to certify you in a variety of InfoSec areas. It's on sale under the Pay What You Want model. Just beat the very low average price to get the whole bundle, or pay whatever you can afford and walk away with one part of the collection.
The Complete Cyber Security Certification Bundle starts with foundations, so beginners don't have to worry. After mastering the basic benchmark for best practices in IT security, you'll move on to specific sub-fields, including computer hacking forensic investigation, Cisco networks, cloud-specific security and project risk management. After this core work, you'll move on to advanced certifications. You'll get a handle on large-scale management and be able to design and implement enterprise-level solutions.
Beyond that, CompTIA CSA+ teaches the new, behavioral analytics-based approach to beating hackers. And to make sure you're ahead of the game down the road, the bundle includes a CISSP course, designed for cybersecurity professionals with at least four years of direct work experience in two or more of the eight test domains.
Show your passion to employers and strut your strengths in the field with these certifications. Check out Pay What You Want: The Complete Cyber Security Certification Bundle today and save up to 99% off MSRP.
---
The BroBible team writes about gear that we think you want. Occasionally, we write about items that are a part of one of our affiliate partnerships and we will get a percentage of the revenue from sales.