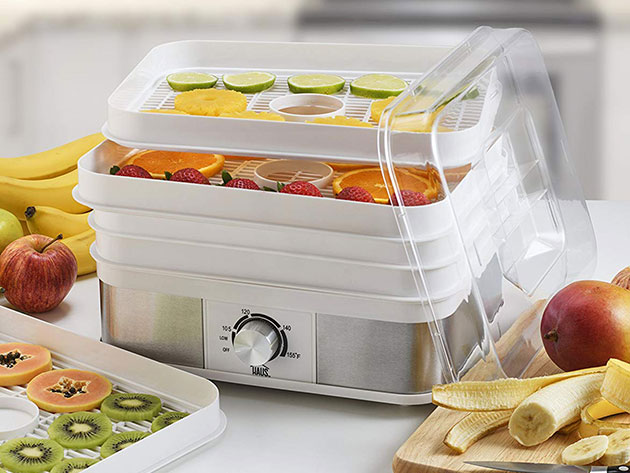 Dried fruits and meats taste great, but they're prohibitively expensive. The solution isn't to stop buying dried food – the solution is to start making your own dried food. You can easily do this with the Haus 5-Layer Food Dehydrator. Buy it now: $39.99 (normally $59.99, or 33% off)
This trendy, must-have kitchen appliance perfectly distributes heated air so your food dries quickly and evenly. Whether you've experimented with dehydrated food before or you haven't, this dehydrator makes it makes it easy to save money and make healthy snacks at home.
Distributes heated air to quickly dry food
Makes dried fruit, vegetables, herbs, bread, beef or turkey jerky & other healthy snacks
Delivers another extremely healthy way to cook
Designed w/ 5 drying layers & an internal fan for efficient dehydration
Allows visibility of food w/ transparent lid
Includes an adjustable dial for temperature control
Buy it today: $39.99 (normally $59.99, or 33% off)
The BroBible team writes about gear that we think you want. Occasionally, we write about items that are a part of one of our affiliate partnerships and we will get a percentage of the revenue from sales.