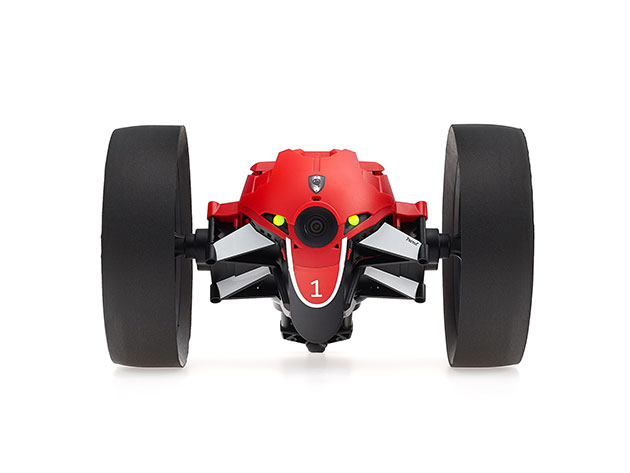 If you love capturing video with a drone and want to relive the good old days of remote-controlled cars, then it's a fun idea to get a device that combines the best of both worlds, especially when it's 73% off. With a Parrot Jumping Race Mini Drone, get a camera that moves along the ground — and jumps in the air — with speed and agility for real-time adrenaline and incredible footage. Buy It Now: $39.99 (usually $149.99)
This fast-moving drone makes it easy to experience and capture excitement from the ground. You'll speed up to 8.7 miles per hour while turning on a dime and avoiding obstacles with this nimble, ultra-responsive drone — no matter if you're indoors or outdoors. Meaning, you can zip around your home just as quickly as you can the parking lot, weaving in and out of furniture or parked cars with ease. Plus, it leaps 2.4 feet into the air at a moment's notice, letting you jump over anything in your way for some thrilling races.
Even better, controlling this drone and capturing footage with it is straightforward. Just use the included Free Flight Jumping app to take full control of your mini-drone from the comfort of your smartphone or tablet. With it, you'll speed around the ground in the first-person view through the drone's embedded camera and capture exciting footage for any video you want to create.
– Reach speeds up to 8.7 miles per hour indoors & outdoors
– Leap up to 2.4 feet in the air
– Use the Free Flight Jumping app to take full control of your mini-drone
– Extend the wheels for speed or draw them in for agility
– Send photo & video to your phone w/ the embedded camera
BUY IT TODAY: $39.99 (usually $149.99)
The BroBible team writes about gear that we think you want. Occasionally, we write about items that are a part of one of our affiliate partnerships and we will get a percentage of the revenue from sales.