Presented by GRID wallets…
Thin wallets have sort of become the new normal for guys. You know what I'm talking about, bros, because there's a really good chance that you've ditched the bulky, George Constanza-looking one you've had for years to make sure your back pocket is a little less bulky. From carbon fiber options to aluminum and everything in between, thin wallets serve a very simple function — to minimize the amount of crap you're carrying with you.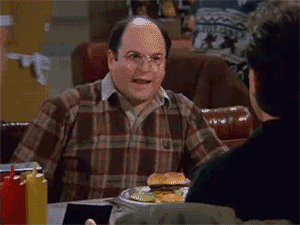 Let's face it, gone are the days when we've been stuffing our wallets with business cards and holding onto receipts. What, is this American Psycho or something, where people are stroking their egos with the finishes and thickness of their cards? Hell no, it ain't, which is why it's time to clean up what you're carrying around with you all the time. Why's that important? Because, take it from me, a slim wallet will become your best friend — and save you money.
True story, in the past few years, I finally ditched the bulky wallet I had been using for years for a thin, GRID wallet, making me clean up all the extra gift cards and such that had lived in there for far too long. Prior to that, though, my back right pocket on my pants was so thick that, sadly, nearly every single pair of khakis I owned developed a massive hole. It led to plenty of, "Uh, Nick, you've got something hanging out of your ass" comments, with me replying with, "Oh, it's just my wallet." See the problem here, guys?
Now's the time where I offer up a solution, telling you why GRID ultra thin wallets should be your go-to wallet. After all, IF YOU USE THE CODE BROBIBLE20 at checkout, GRID will give you 20 percent off your purchase!
The Carbon Fiber GRID Slim Wallet
Think about this situation for a second. You're going for a run and know that your buddies want to hit up a brewery afterwards. Rather than just hold your ID and credit card, why not bring your entire wallet with you by sticking it in the built-in pocket on your running shorts? Seems perfect, right? Since GRID wallets are ultra thin and lightweight, it makes carrying one in any situation ideal.
Likewise, if you're planning on hitting the slopes for some snowboarding, having a thin wallet that you don't even know is in your jacket or pants is a solid move. GRID wallets are designed to be ultra thin, ultra stylish and ultra secure thanks to the aluminum and RFID-blocking to protect your privacy, so why wouldn't you want one of these badass thin wallets? Plus, while thin, it can still hold up to 12 cards in the main compartment, as well as holding cash on the outside using the money clip.
You can either continue to sit awkwardly, have an unnecessary bump on your ass and rip all your pants with that bulky thing you've currently got, or you can switch to a GRID ultra thin wallet to minimize your life. Rather than going through all the headaches of trying to find the perfect wallet, we're giving you the only option worth going with. Your back pocket is welcome.
Check out GRID ultra thin wallets and all their sleek designs by heading over to their online shop, which offers up suggestions from best-sellers that will be perfect for you.
Styles include the following:
Gunmetal Aluminum – Details here
Remember to order GRID ultra thin wallets online and use the code 'BROBIBLE20' at checkout to get 20 percent off your purchase!
—
The BroBible team writes about gear that we think you want. Occasionally, we write about items that are a part of one of our affiliate partnerships and we will get a percentage of the revenue from sales.