Presented in partnership with BetMGM
I was ONE Edmonton Oilers win away on Saturday from turning $100 into $2,395. All I needed was Connor McDavid to do Connor McDavid things and it would've been easy money. I had Carolina (-130), Edmonton (-155), Islanders (-110), Canadiens (+145), and the Flames (-120). Alas, the Blackhawks who ONLY win when I bet against them smoked the Oilers and I went back to living my life and not thinking about what might've been until I came across this absurd multi-sport parlay below.
A gambler threw $30 on two tennis matches, three baseball games, and the FedEx St. Jude Invitational. They took Vlada Katic (-143), Anastasia Sysoeva (+550), the Oakland Athletics moneyline (-105), San Diego Padres moneyline (-120), New York Mets moneyline (-105), and Justin Thomas TO WIN the FedEx St. Jude Invitational.
They turned a $30 six-lex multi-sport parlay into an easy $27,681.21.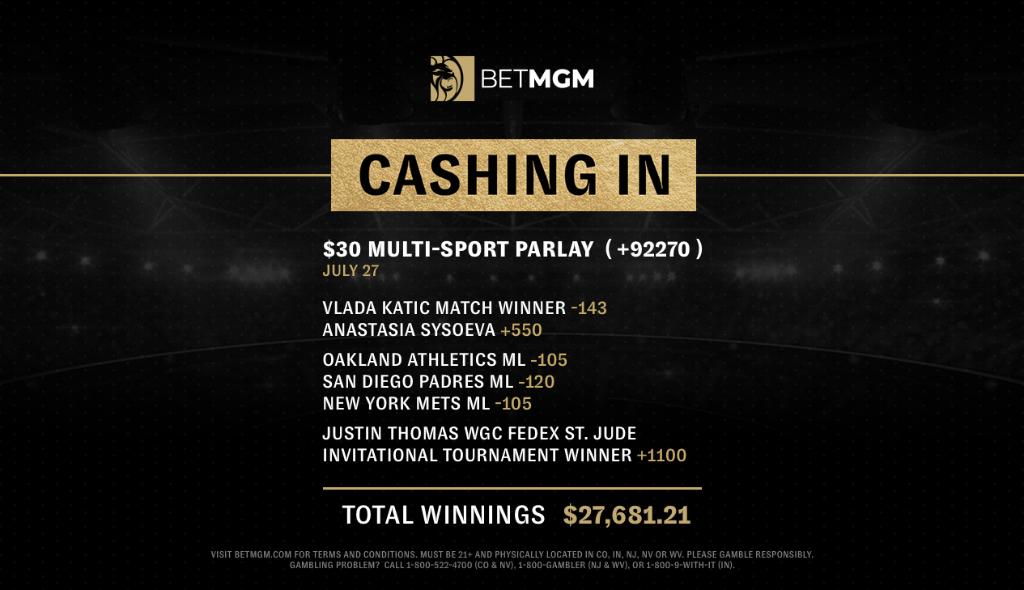 BetMGM
I'm not going to list these as 'LOCKS' by any stretch of the imagination but I'll at least tell you where my head is at this week with NHL and MLB picks. I like the Islanders to win Game 2 on Tuesday against the Panthers, Maple Leafs to tie it up 1-1 and win Game 2 against the Blue Jackets, and the Hurricanes to sweep the Rangers in 3 games. I foresee the Pens beating Montreal in Game 2 on Wednesday and as much as it pains me to admit this, I think the Bruins will beat my Lightning on Wednesday.
The Rays and Red Sox are complete dumpster fires right now and I know there's nothing fun about betting the Under, but you have to teams who can't score right now and one of them has a phenomenal pitching staff. So I look for a low-scoring series there.
---
---
---
The BroBible team writes about products and services that we think you want. Occasionally, we write about items that are a part of one of our affiliate partnerships and we will get a percentage of the revenue from sales.