Knit sneakers are hot like Hansel right now, from Nike Air VaporMaxes and Flyknit Racers to Yeezys and Adidas Ultra Boosts.
While most knit kicks are super stylish and incredibly comfortable, they're pretty much the worst shoes possible to be wearing if you accidentally step in a puddle or get caught in a storm. Want to show off your new knit sneakers at the bar? Good luck, because they do not pair well with Becca's 6th Moscow Mule – which is inevitably poured to the brim then shakily carried through the crowd to the dance floor. All Beccas aide, what I'm trying to say is knit sneakers suck when they get wet; until now.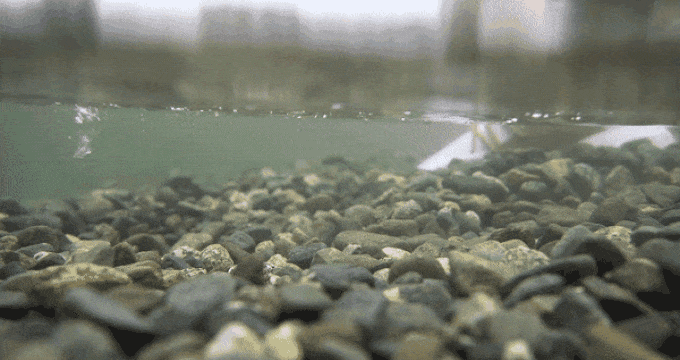 Introducing, Vessi. The world's very first 100% waterproof knit sneakers.
The team behind Vessi spent two years developing a new waterproof knit material. The result is a "proprietary knit blend and nano-filtering membrane" that provides the breathability and flexibility you expect from other shoes while remaining completely waterproof.
Vessi's patented Flash-Knit technology is composed of three innovative and functional layers:
– The Shell layer is a form fitting elastic knit composed of a hybrid blend of polyester and nylon. Using an in-house circle knitting process, each shell is designed to stretch, conform and provide adaptive support for the best possible fit.
– The Core layer is a waterproof and moisture wicking membrane. The nano-structure of the membrane is impervious to water yet allows moisture to escape, keeping your feet dry thus reducing sweat and the buildup of odor throughout the day.
– The Inner layer is a comfort lining designed to mimic the feeling of wearing socks. It is soft to the touch and form fitting allowing for maximum comfort and support for all kinds of activities.

Source: PRWEB
In addition to unrivaled performance innovation, Vessi's shoes look fresh as hell. While it's not uncommon for revolutionary apparel to look weird as hell and/or not work worth shit, Vessi manages to avoid both letdowns. No matter your taste, Vessi has a pair of kicks to upgrade your 'fit.
Vessi's knit waterproof kicks are available right now for pre-order in three different color styles: Charcoal Gray, Arctic White, and Midnight Black.
Vessi launched on Kickstarter a couple weeks ago with huge success. Vessi's project has already raised $401,321… SMASHING the original goal of $20,000 by $381,321. With 2,006% funding, Vessi production is guaranteed with estimated delivery just 4 months away.
If you back Vessi's project on Kickstarter now, you save up to 40% off the sneaker's projected retail price.
—
The BroBible team writes about gear that we think you want. Occasionally, we write about items that are a part of one of our affiliate partnerships and we will get a percentage of the revenue from sales.