There are a lot of options for boots out there, especially during the fall. If you're looking to switch things up, consider the cowboy boot. I know what you're thinking: you're not rugged enough for them. Those are only for ranch hands and girls at country music festivals. Tecovas proved me wrong with their line of stylish and incredibly comfortable boots.
You would think that moving from New York to Milwaukee would not be that big of a cultural change for me. After all, it's one city replaced with a smaller city. What could be that different? As I learned over a decade ago, there are quite a few differences. You don't have to go far outside of city limits to be in rural areas, and I like to fit in while still looking natural.
Luckily for me, Tecovas was founded with the notion that cowboy boots can be worn beyond a home on the range. Started by Paul Hedrick, a native Texan who left his $200k-a-year finance job in his late 20s to start an authentic boot brand with a modern sensibility, at a great price point for the consumer.
Tecovas boots are made by hand, by a team of bootmaking artisans in León, Mexico. This is craftsmanship that only comes from world-class bootmakers using top-quality leather with hand-laid cording and hand-stitched quarters.
From my personal experiences, here are some of the advantages you'll have once you own a pair of cowboy boots:
You'll feel right at home at a country bar
I grew up listening to ZERO country music in New York City. I'm also not sure how to dance to country music, so the least I can do is look the part. Pro tip: when you don't know any of the words to 25 straight country songs, just mouth the word "watermelon" over and over again. No one will notice the difference.
You can take cute outdoor photos on a farm
Fall is a great time for outdoor photos for engagement sessions, bonfires, or just looking rugged on Instagram. I like strolling across a farm in my Tecovas boots and not being worried about stepping in mud or…well…animal droppings.
You'll be the star of the next barn wedding
At a Midwest barn wedding, it's sometimes acceptable to dress down a little. Ditch your stiff dress shoes that are buried in the back of your closet and pull on a pair of ultra-comfortable Tecovas boots. Your feet will thank you after four straight line dances.
You'll finally look tough enough for that one dive bar
We have a lot of dive bars here in Wisconsin. Sometimes it's not in my best interest to walk into some of these bars in an Oxford shirt and khakis. Sub in a great pair of Tecovas boots and a perfectly worn pair of jeans and I suddenly don't look like a poser.
The Cartwright
Details:
Timelessly styled to look as good in 50 years as it does today
Available in calfskin, goat, and bovine leather
Stands on a stacked leather heel with a rubber end cap
The Dean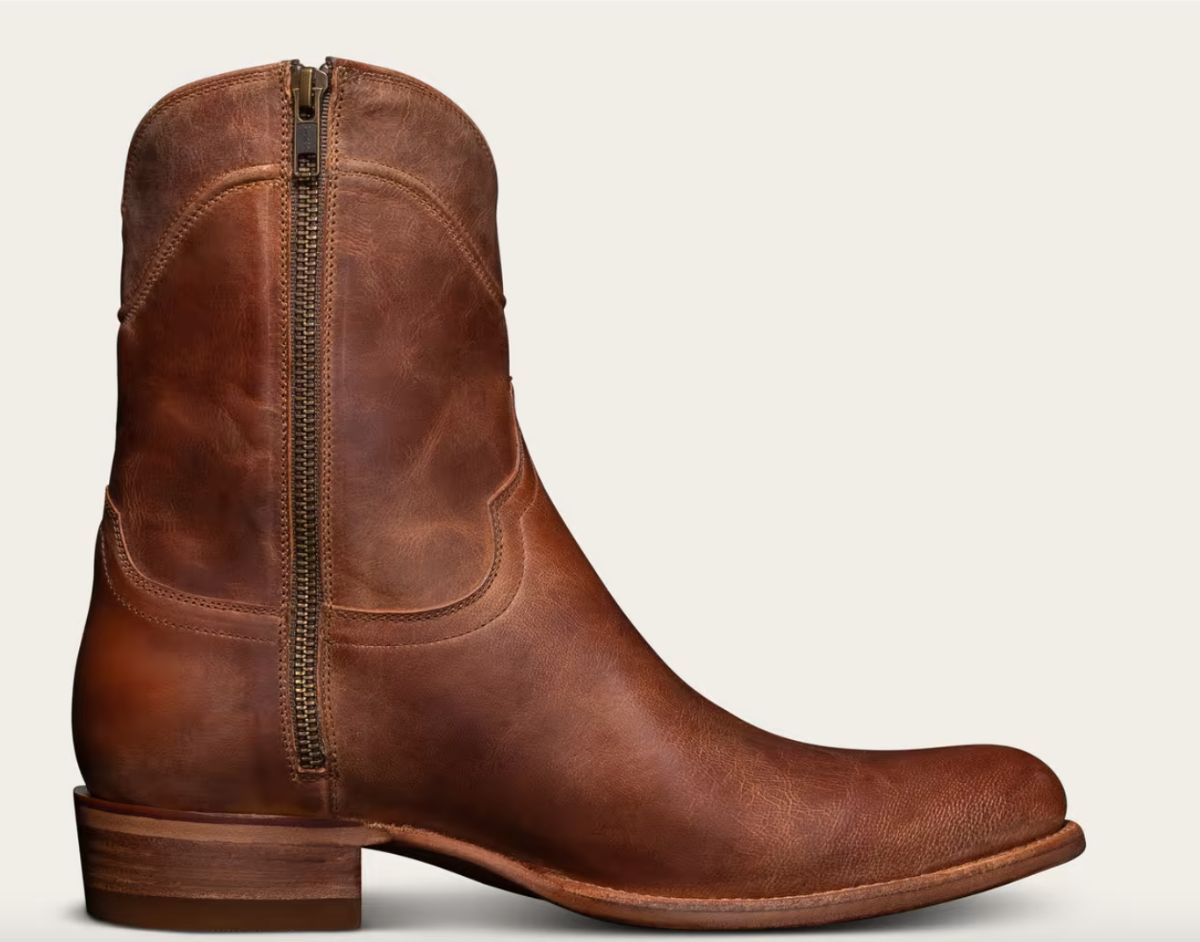 Details:
Modern boot designed for all-access versatility
Slim-cut shaft allows for everyday wear with any jeans
Subtly designed zipper provides easy-on comfort
Available in calfskin, goat, and bovine leather
The Knox
Details:
A boot built for comfort and performance with ruggedly handsome good looks
Vibram wedge outsole with shallow lugs, maximum stability, and superior traction on hard surfaces
360° Goodyear welt construction
Treated leather and weatherproof seams for hose-them-off durability
Dual footbed with removable shock-absorbing polyurethane insoles with leather lining
Reinforced pull straps
Tecovas has a huge range of cowboy boots Check out their full line at the link below!
---
---
---
The BroBible team writes about gear that we think you want. Occasionally, we write about items that are a part of one of our affiliate partnerships and we will get a percentage of the revenue from sales.