The Evolution Of Superman's Suit
ZLONK! Superman Brutally Thrashes Homeless Man After He Stole A Bag
Bizarre footage shows Superman beating the crap out of a homeless man who stole a bag. The attack goes far beyond street justice and the homeless man's face is bloodied.
Allegedly, the homeless man stole a bag and that's when our caped crusaders jumped into action to retrieve the pilfered plunder. But Superman turned into evil Superman and thrashed the helpless man.
This was in Las Vegas, so this totally could have been Superman before he pummeled a homeless dude.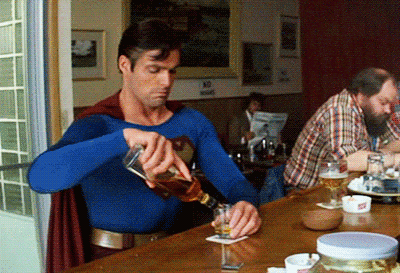 A crowd gathers around the curious trouncing to watch the man get obliterated by Kal-El, but nobody stops the merciless beating.
Finally, Batman intervenes and saves the day.
"The way this whole thing even started was he ended up assaulting the Batman I was with," James Rich, who is a Superman performer on the Vegas strip, told Fox 5 Vegas. "It was with a traffic cone, in a sexual way."
So Superman's kryptonite is seeing Batman get his chocolate starfish poked by a traffic cone? Does Lex Luthor know this?
At the 1:05 mark, as Superman was walking by in his skin-tight costume, someone said, "Look at that package." Someone had to say it. However, I think the man of steel is stuffing socks in his onesie.
You have to appreciate the "Dumb and Dumber" reference with the line of "Kick his ass Sea Bass" at the 51-second mark. Fun fact, the character Sea Bass was played by NHL player Cam Neely.