Professional wrestling is a business. Professional wrestlers are employees.
Much like any business, group, or team, co-workers will have disputes with one another. Instead of getting HR involved, the wrestlers would police themselves and resolve issues in "wrestlers' court."
The Wrestlers' Court was a concept allegedly started by former wrestler and booker, Dutch Mantel, whom many WWE fans will remember as his run as Zeb Colter.
Wrestlers' Court is a way for wrestlers to settle backstage issues or differences without things getting heated or escalating to something worse.
For years, The Undertaker was the judge of WWE wrestler's court. In a recent interview with Ariel Helwani's MMA Show, he recalled some of the more memorable "cases" in court and why the idea was so important.
"Wrestler's court can get very serious, but it's kind of a lighthearted way to tell the guys in the locker room 'Look, you're screwing up.' And before it gets turned into a big issue where somebody invites you into the shower and dukes it out with you, you might want to straighten this out," he explained.
The Undertaker recalls one specific instance where a wrestler was taken to court for pulling an unforgivable move at a bar at a really bad time in the company's history.
"We had a guy – it was a time when WCW was just killing us and we had no live events and no attendance. Our business was really hurting. We had a couple of guys who were out at a bar, and we're talking about a time when guys didn't know if they were gonna be able to make their mortgage payments – that's how lean it was.

\We had a couple of guys and they were at the bar, and another wrestler came up and they're buying shots of whiskey and drinks and they're having a good time in spite of everything.

Well, the guy that comes up is taking his shot of whiskey and instead of just saying no and passing – so at the time they're doing the shot, he's throwing his over his shoulder. If you're not gonna drink, just say 'No, I'm good, I don't want to.'

But these guys are paying hard-earned money that they really didn't have, and you've got a guy throwing his over his shoulder because he doesn't want to get drunk or get messed up. And he got caught.

He got brought up on charges and he had to pay the judge off and he was banned from going out to any clubs or bars for a while until he had made his penance."
After a few minutes, Taker decided to name the people involved and the wrestler tossing booze over his shoulder. The two men handing out drinks are two individuals no one should want to anger.
"So, the two guys at the bar were Ron Simmons and JBL. And the guy coming up was Dustin Rhodes. And he learned his lesson and was great after that.

That's the example of how wrestler's court can help you because he could've kept doing that and that could've kept – Ron and John were not two guys you wanted to piss off. Message received, either if I take the shots I'm gonna drink it but I'm not gonna throw it on the floor and waste these guys' money.

That was the gist of the whole thing, as simple as that sounds.
"Dustin Rhodes just threw my drink on the floor?"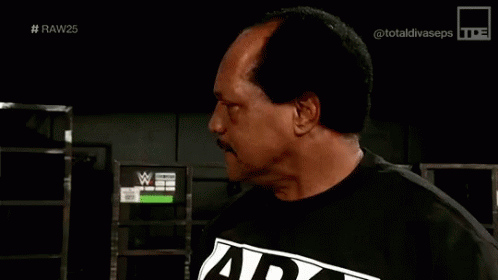 The Undertaker explained the issue has long been resolved.
"But Dustin more than paid his fine and definitely got back in the good graces of everybody and obviously is a legend in our business as well."
[via MMA Show]
***
Love wrestling? Check out our podcast "Not About Wrestling" where we talk to the biggest stars in the sport today about everything except wrestling. (OK, and some wrestling)