If March traditionally "comes in like a lion," then the summer of 2020 came in like the creature in the dog cage in The Thing thanks to a raging pandemic, general civil unrest, none of the sports we've come to expect, and all of the other awful things I've lost track of by now. There's no telling what the season will go out like, but regardless, there won't be enough new varieties of hard seltzer out there to get us through it. We need to bring out the big guns.
You could make the case that the summer of 2020 needs—no, deserves—a real banger when it comes to a song we can blast to drown out reality as much as possible. The only problem is that a lot of the usual suspects aren't releasing music right now, and with apologies to Bob Dylan, I don't think anything from Rough and Rowdy Ways is what we're looking for here.
It's bad enough that we don't have live music right now but not having at least a handful of contenders for Song of the Summer seems like it could be too much for us to handle when you consider how much we're already teetering as it is. Unfortunately, it doesn't seem like such a tune is going to be released, so we need to get resourceful. We need to go back into the archives, comb through the records that were top contenders for "Song of the Summer" honors in previous years, and select one to repeat as the champion in 2020.
To do this, I went back to the start of the new millennium and put together a list of the songs that have defined every summer since then before narrowing it down to a total of 32 jams. That was tough. Some years were stacked—especially 2016, which featured "Can't Stop the Feeling" by Justin Timberlake, Rihanna and Drake teaming up for "Work," "Cheap Thrills" by Sia, and "Cold Water," Major Lazer's collaboration with Justin Bieber and MO (interestingly enough, none of those made the final cut).
My one stipulation was that a year could not have more than two songs advance in the first round. Also, the only year that is not represented is 2008, which was a pretty solid year overall with the notable exception of the soundtrack to the summer.
I leaned on the Internet for research to help me come up with songs, including lists put together by critics in addition to Billboard charts. I also didn't make this all about me, because even though I got down to "Midnight Lorry" by Dispatch in 2018, I'm very confident I'm in the minority there.
Here is what the final bracket looks like:
How will winners be determined? Legacy matters. So does cultural significance. If a song truly dominated our lives for those wonderful summer months, that counts for a little something extra. But more than anything, I went with what just felt right.
Let's dance.
The Summer Ales Region
"I Gotta Feeling"—Black Eyed Peas (1) vs. "Super Bass"—Nicki Minaj (8)
Ouch. Talk about a rough matchup for Nicki, huh? Quite the boom…da boom boom bummer, am I right?
"Super Bass" is fun and catchy but it's not even close to being in the same league as "I Gotta Feeling." That song will likely live on well after you and I are gone thanks in no small parts to weddings and bar mitzvahs. "Super Bass?" Eh, not so much.
"I Gotta Feeling" advances
"Old Town Road"—Lil' Nas X feat. Billy Ray Cyrus (2) vs. "Fancy"—Iggy Azalea feat. Chali XCX (7)
"Old Town Road" was a wrecking ball. It demolished damn near everything that was in its path. In this particular case, that would include "Fancy." "Fancy" has the same problem "Super Bass" had in the previous match: its inability to keep up some momentum once the leaves started to fall.
"Old Town Road" also had something like eighteen different remixes, which definitely helped in the longevity department. Iggy Iz never had a shot.
"Old Town Road" advances
"Shut Up and Dance"—Walk the Moon (3) vs. "Hey There Delilah"—Plain White T's (6)
"Shut Up and Dance" is the soundtrack of certain nightmares of mine and I'd like to not elaborate on that if that's okay. I'm just not comfortable sharing. The nightmares involve clowns. That's it. That's all I'll say about that.
We have to give "Hey There Delilah" major props for proving a summer jam doesn't need to be an upbeat number backed by a thumping backbeat. Sometimes a catchy hook and a chorus that is fun to sing along to can win the day (or in this case, the summer).
"Hey There Delilah" scores our first upset
"Cruise"—Florida Georgia Line" (4) vs. "Hips Don't Lie"—Shakira feat. Wyclef Jean (5)
When you hear the opening of "Cruise"—that line that goes "Baby you a song, you make me wanna roll my windows down and cruise"—you likely do one of two things: turn that shit up or skip it as quickly as possible. There's not much of a gray area there.
What do you do when "Hips Don't Lie" comes on? For some, it means waiting for the Steely Dan sample used by Lord Tariq and Peter Gunz on "Deja Vu" to kick in. For others, it involves listening for around a minute before you realize what you're listening to.
"Hips Don't Lie" is one of those songs that has been played so much that it's reached the point where it doesn't even register when it starts. Does that make it forgettable, though? No. If anything, it makes it the opposite. It makes it eternal. "Hips Don't Lie" is like plastic in the ocean: it's not going anywhere.
However, when it comes to the summer, I just "wanna roll my windows and cruise." Can you really blame me?
"Cruise" advances
"I Gotta Feeling" (1) vs. "Hey There Delilah" (6)
"I Gotta Feeling" can't be stopped just yet and certainly not by something as milquetoast as "Hey There Delilah." If you listen closely, the summer breeze will most likely lead you to a bar or restaurant (or in the case of 2020, a parking lot outside of either of those) where "I Gotta Feeling" is playing.
That is not the case with "Hey There Delilah."
"I Gotta Feeling" advances
"Old Town Road" (2)  vs. "Cruise" (4)
Man, I'd love for "Cruise" to pull this one out but it's not going to happen. "Old Town Road" dominated and sat at the top of the Billboard Hot 100 chart for 17 straight weeks. That's, like, two whole summers right there.
Thanks for playing, Florida Georgia Line.
"Old Town Road" advances
"I Gotta Feeling" (1) vs. "Old Town Road" (2)
Welp, this was basically inevitable.
Let's talk about longevity. It matters. If you're a songwriter, you want your songs to live on forever.
When was the last time you heard "Old Town Road?" It's probably been a minute, huh? I think even Lil Nas X got sick of that song. I know my daughter did and I don't think she gets sick of anything (and even if she does, it's never permanent). Things always find their way back into our lives. We've watched Frozen 2 roughly 67 times in the past week alone and she was out on that for the longest time.
Everything comes back around—except for "Old Town Road."
"I Gotta Feeling" advances
The Grillin' Region
"Pon de Replay"—Rihanna (1) vs. "The Middle"—Jimmy Eat World (8)
Rihanna's debut album (which includes "Pon de Replay") is called Music of the Sun. From the jump, RiRi knew what she was doing. Music of the Sun, you guys! It was just made to be a summer bop.
She might as well have named the album I'm Going to Make Killer Summer Jams From Now Until I Decide to Stop Making Music (Which Could Happen In 2020 When I Tease A New Record For A Bit But Don't Release Anything But Hopefully I'm Just Busy Working On It Because Y'All Are Long Overdue For a New Record From Me). 
I do love "The Middle," though, even if it doesn't really put up a fight here. It will, however, always have long car rides to keep it relevant so it's got that going for it which is nice.
"Pon de Replay" advances
"Somebody That I Used To Know"—Gotye feat. Kimbra (2) vs. "Use Somebody"—Kings of Leon
As a longtime Kings of Leon enthusiast and defender, I would love nothing more than to have "Use Somebody" pull off the upset here and knock off Gotye. But I just can't do it.
"Somebody That I Used To Know" was everywhere during the summer of 2012. How? Hell if I know. It's not a song that it should have been as popular as it was. Or is. Shit, I heard it on the radio last week. It's a real enigma, because aside from the ability of the chorus to dig its way inside your ears and stay there forever, it's a weird song, man.
But what a chorus it is. It's living in your head rent-free for life and there's nothing you can do about it.
"Somebody That I Used To Know" advances
"Call Me Maybe"—Carly Rae Jepson (3) vs. "Rude"—Magic! (6)
"Rude" eventually grew on me and that's not something I'm particularly proud of. I can get down with White Boy Reggae but "Rude" just went a bit too far. It sounds like what would happen if you forced 311 to go to finishing school somewhere deep within the English countryside.
However, you can't deny its power as a summer jam. It may have actually been constructed in a lab somewhere funded by Billabong. Is Magic! even a band? Do they really exist? Is Magic! actually eighteen scientists who spent months studying what exactly a Song of the Summer should sound like? They should have just asked Rihanna. It would have saved them millions of dollars (or billions if it was a government project).
I think they succeeded, though. "Rude" is a fantastic summer song. As for "Call Me Maybe," it's an amazing pop song, but I don't necessarily associate it with a particular season. I associate it with things like roller skating and lip-synch videos produced by sorority girls.
"Rude" advances (and I'm just as shocked as you are that it does)
"One Dance"—Drake, WizKid, and Kyla (4) vs. "California Gurls"—Katy Perry feat. Snoop Dogg (5)
Drake was bound to show up here eventually.
How a dude from Toronto is able to produce so many summer bangers is beyond me. There could have been five or six tracks from Drake in this competition, but alas, there's only "One Dance." To add insult to injury, "One Dance" gets "California Gurls" in the first round. I'm listening to "California Gurls" right now and, good God, it's so summer I think I just got a sunburn.
Sorry, Drake. Katy's "got it on lock."
"California Gurls" advances
"Pon de Replay" (1) vs. "Rude" (6)
If Rihanna lost to Magic! I wouldn't be able to live with myself. In related news, Rihanna is not going to lose to Magic!.
"Pon de Replay" advances
"Somebody That I Used To Know" (2) vs. "California Gurls" (5)
"Somebody That I Used To Know" is like sneakers. They work all year round and you can never go wrong with them (unless you're at a funeral. Don't wear sneakers to a funeral. However, don't tell me you can't wear sneakers to a wedding because my buddy got married a few years back and rocked them. He pulled it off, too, proving that miracles do exist).
"California Gurls," on the other hand, is like flip flops. Unlike sneakers, they do not work all year round. At least not where I live and probably not where you live either. If you're in a climate where flip flops are cool 365 days a year, I tip my hat to you, but I prefer living in a place with seasons.
The point is that this is about songs that are summer songs. "California Gurls" is a summer song while "Somebody That I Used To Know" can be played at any point on the calendar. It's details like this that make all the difference.
"California Gurls" advances
"Pon de Replay" (1) vs. "California Gurls" (5)
Oooohhhh, watch your back, Black Eyed Peas. The queen has arrived.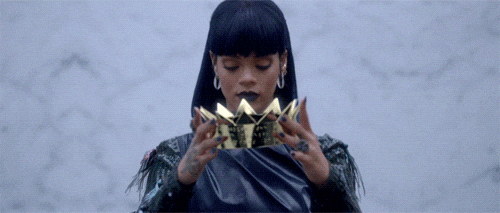 RIHANNA'S COMING FOR Y'ALL AND THERE IS NOTHING YOU CAN DO TO RESIST!
"Pon de Replay" advances
The Flip Flops Region
"This Is What You Came For"—Calvin Harris feat. Rihanna (1) vs. "Can't Hold Us"—Macklemore & Ryan Lewis feat. Ray Dalton (8)
Do you ever wonder what Ryan Lewis is up to these days? I do. I bet he's at home cashing royalty checks and banging on cymbals he has set up around the house. That's just a guess, though. I only wonder such a thing because since he and Macklemore burst onto the scene—first with "Thrift Shop" and then with "Can't Hold Us"—early last decade, Lewis has fallen off the radar. We still have Macklemore but I'm not sure if that's a good thing or not.
If you know about Ryan's whereabouts, please hit me up on Twitter. Between this and wondering what happens when you fall in the lava on Floor Is Lava, I'm having trouble sleeping at night.
In related news, Calvin Harris and Rihanna can sleep soundly because they're moving on. Of course they're moving on. It's still early, but "This Is What You Came For" might win this whole damn thing.
"This Is What You Came For" advances
"Party Rock Anthem"—LMFAO (2) vs. "Crazy"—Gnarls Barkley (7)
If this was a tournament to decide which song I'd be down to listen to at this very minute, "Crazy" is the obvious winner. Cee-Lo and Danger Mouse wouldn't have even broken a sweat. "Crazy" is still a sick song.
However, as much as I'd be content never hearing "Party Rock Anthem" again, you have to give respect where respect is due. They literally made an anthem to make parties rock. Whenever a party is in need of rocking, that is the song people turn to. That beat gets going, the lights start moving, those synths kick in and, damn man—in the words of Schmitt from New Girl: "it's on and poppin'."
"Party Rock Anthem" advances
"Umbrella"—Rihanna feat. Jay-Z (3) vs. "This Is America"—Childish Gambino (6)
Oh look. It's Rihanna again. I'm not surprised and you shouldn't be either.
"This Is America," on the other hand, was a huge surprise. That song and the video that came with it dropped like a bomb late on a Saturday night and I like to think that the world was never the same. Well, it was the same, but at least we had a song to come back to when terrible things happened.
The problem "This Is America" faces here is that it's almost too good.  It may have come out in the summer, but when 2018 closed up shop, it deservedly found itself near the top of several "Best Songs of the Year" lists. It touched a nerve and was an anthem in a way that "Party Rock Anthem" could only dream of but "summer" isn't the first thing to come to mind when you think about it.
On the other hand, "Umbrella" is, well, "Umbrella. If we're looking for a song that just radiates summer vibes, it has the edge here.
"Umbrella" advances (ances, ances)
"Get Lucky"—Daft Punk feat. Pharrell Williams (4) vs. "Feel It Still"—Portugal. The Man (5)
In 2017, I made the case for "Feel It Still" being the Song of that Particular Summer because it was everywhere. It was on the radio and it defied formats. It was playing in bars, patios, restaurants with fun outside seating, malls, surf shops, and more. It was a song that could exist in any setting and thrive.
You know, like "Get Lucky" back in 2013 but so much less.
"Get Lucky" advances
"This Is What You Came For" (1) vs. "Umbrella (3)
Wow. This is like that dueling Spider-Man meme (but cooler because it's Rihanna).
Before we get into the meat of things, I have a quick story I want to share.
At some point during the summer of 2007, I found myself driving from West Virginia to Pittsburgh and then back to Philadelphia in a truck and had nothing but the radio to distract me. I was towing a trailer so the going was very slow, and to make the situation even more troubling, the selection of radio stations was as slim as the mountains were endless.
I lost count, but by the time I rolled into Philly a day later, I think I had heard "Umbrella" at least 30 times on various radio stations (and because it was "Umbrella," I listened to it all the way through every single time).
With that said, "Umbrella" isn't pulling off this upset because "This Is What You Came For" is currently my favorite to win it all.
"This Is What You Came For" advances
"Party Rock Anthem" (2) vs. "Get Lucky" (4)
Legacy matters. Longevity matters. How many times do I have to bang this drum?
Unless you're a laser tag enthusiast or work in a boardwalk game booth, there's no reason for anyone to hear "Party Rock Anthem" again. "Party Rock Anthem" is an old Hawaiian shirt: it served its purpose but now it's time to throw it away (and it smells like vomit and bad decisions anyway).
"Get Lucky" still sounds just as good today as it did during the summer of 2013, and as a result…
"Get Lucky" advances
"This Is What You Came For" (1) vs. "Get Lucky" (4)
Ugh. Whenever I do one of these tournaments, I inevitably hit a point where I find myself wondering why I do this to myself. Why do I put myself in such a terrible situation? I have no one to blame but myself. I wish there was someone I could blame, but no, this is all on me. I did this.
It doesn't matter if it's HBO characters, American history, or Quentin Tarantino characters; I always get to a certain matchup that threatens to break my brain and tear my insides out as I twist myself into knots trying to determine a winner.
This is not one of those times.
I thought it was, but then I stepped back for a moment, got some more coffee, and realized that while "Get Lucky" is a near-perfect song (and possibly one of the best to be released this century), it can't knock off "This Is What You Came For."
It just can't. It can come close, but not close enough.
"This Is What You Came For" advances
The Beach Days Region
"Despacito"—Luis Fonsi feat. Daddy Yankee (1) vs. "Hollaback Girl"—Gwen Stefani (8)
Is "Despacito" the most vulnerable top seed? Maybe. If Rihanna was involved, things could be different, but we could say that about basically anything
The final season of Game of Thrones'? It would've had a better reception if Rihanna had been involved. The most recent Star Wars movie? Better with Rihanna. The reaction of government officials in the United States as a pandemic loomed? I like to think things would've turned out differently if we had gotten Rihanna involved.
Case closed (and the case is also closed on "Hollaback Girl," because just like Ryan Lewis, I routinely find myself also wondering what the other guys in No Doubt are up to.
"Despacito" advances
"Crazy In Love"—Beyoncé feat. Jay-Z (2) vs. "Truth Hurts"—Lizzo
"Truth Hurts" narrowly beat out Billie Eilish's "Bad Guy" to get into The Dance and I don't regret the decision. "Bad Guy" really existed more around the summer than during it whereas "Truth Hurts" really found its legs during the hottest months of the year. Like Thanos gathering Infinity Stones, "Truth Hurts" grew stronger as the summer went on.
However, "Crazy In Love" is Iron Man: it's been doing its thing for years and it's not about to have some Johnny Come Lately knock it off. Just like Iron Man kills Thanos, Bey-Z triumphs here.
"Crazy In Love" advances
"Bootylicious"—Destiny's Child (3) vs. "It's Gonna Be Me"—'NSYNC (6)
Back-to-back Beyoncé! Who could have seen that coming? Well, everyone. It's Beyoncé.
We need to dig deep for this one, because both of these songs came out nearly twenty years ago, and given the way time currently seems to pass, that feels more like 40 years. Maybe 50. I'm pretty sure it's been 20 years since 2019 so I guess 2001 was about a century ago.
Was there even electricity in 2001? Well, even if there wasn't, "Bootylicious" could have produced more than enough energy to allow the world to function because that song is straight fire and still is all these years later.
"Bootylicious" advances
"Hot In Herre"—Nelly (4) vs. "I Like It"—Cardi B feat. Bad Bunny, J Balvin (5)
I was at a wedding in Key West two summers ago. It took place on the beach and it was incredibly hot. Like, scorching hot. Key West is dope but I would strongly advise against going in the summer. I also saw a man walking down Duval Street wearing nothing but a pink wig, but that's neither here nor there.
During the reception, the DJ played "I Like It" and it did not go over well. The dance floor emptied as people retreated to their drinks and remnants of dinner. By all accounts, a banger like "I Like It" should have been a slam dunk in such a situation but that was not the case.
Now, does the fact that "I Like It" bombed at this particular wedding mean that it would bomb at every wedding? Of course not, but it seems like it was the ideal setting for the song to shine and it just turtled harder than anything has turtled before
Would "Hot In Herre" have performed better? Probably, so it wins. Criticize me if you will but I never once claimed this was an exact science.
"Hot In Herre" advances
"Despacito" (1) vs. "Bootylicious" (3)
I will not fall victim to recency bias. I will not fall victim to recency bias. I will not fall victim to recency bias.
However, I will not short change the pure joy that is "Despacito." I don't care when it was released. "Bootylicious" is a delight but "Despacito" is the real deal.
"Despacito" advances
"Crazy In Love" (2) vs. "Hot In Herre" (4)
Is "Crazy In Love" really a summer song? It's a great record and a timeless party song but would you or anyone else associate it with the season? I think the answer is generally "No."
Yes, this is nitpicking, but we're kind of into the thick of it here and the devil is in the details. We will leave no cliche behind in our quest to determine what the best Song of the Summer since 2000 is. Making sure a song is directly associated with the season matters.
"Crazy In Love" is a better song than "Hot In Herre" and will live on longer than "Hot In Herre," but when it comes to a song that feels like summer, Nelly has a slight edge. As a result, we've got back-to-back losses for Queen Bey and it's hard to see how she can recover.
"Hot In Herre" advances
"Despacito" (1) vs. "Hot In Herre" (4)
"Hot In Herre" came out in 2002 but still has a home whenever the summer rolls around. Barring something completely wild, like future summers just not happening at all (which we may not want to rule out), "Hot In Herre" will continue to emerge from the shadows and descend upon the summer with a vengeance.
It's fair to question what the future holds for "Despacito." It becoming as popular as it did was a pretty sizeable anomaly. I don't want to call it a novelty track or a say its success was a fluke but I wouldn't object if you voiced those opinions.
"Hot In Herre" is just a banger, pure and simple. "Despacito" goes down.
"Hot In Herre" advances
So far, this thing has been like a long weekend in July. We've had some laughs, a few disagreements, made some memories, remembered some of those memories, and definitely lost the security deposit on the beach rental. Now, it's time to wrap things up and hit the road for the Final Four.
"I Gotta Feeling" vs. "Pon de Replay"
What do you think of when you think of "I Gotta Feeling?" It's probably your cousin's wedding where you had too many gin and tonics and made a complete ass of yourself (but thankfully not as much as your other cousin who kept challenging people to a sword fight while wielding the umbrella he found in the coatroom).
What about "Pon de Replay?" You think of summer. Just…summer.
"Pon de Replay" advances
"This Is What You Came For" vs. "Hot In Herre"
That worked for that one, so let's try it again.
What do you think of when you hear "This Is What You Came For?" Beers in solo cups at a patio bar after a day at the beach.
What do you think of when you hear "Hot In Herre?" Probably one of life's most eternal questions: Why did Nelly always wear that Band-Aid?
"This Is What You Came For" advances
"Pon de Replay" vs. "This Is What You Came For"
It's Rihanna vs. Rihanna in the final, and honestly, it's the only logical outcome of this little endeavor. With all due respect to the Black Eyed Peas, Gotye, Beyoncé, and the others, you were all fighting for third place and you knew it.
When in doubt, you have to give credit to what came first, because without it, there's a solid chance whatever came after wouldn't exist. Rihanna might be in our lives even if "Pon de Replay" hadn't happened, but it did happen, and as a result, she's the force of nature we've come to know and love.
It also may have paved the way for the cultural importance and significance we bestow upon the title of Song of the Summer, but that could also be a stretch. It definitely changed the game, though, and it still sounds so damn good all of these years later.
Rihanna wins, "Pon de Replay" wins, and really, we all win.