You Can Now Give The Wondrous Gift Of Naming The Follicles Of Guy Fieri's Hair
The Diners, Drive-Ins and Dives host has created a culinary empire based on his catchphrases such as "put it on a flip flop" as well as outlandishly drunk food such as trash can brisket nachos and Fireball whisky wings. The other hallmarks of Guy Fieri is his flame t-shirt and his platinum spiky hair. Now you can name your own strand of Fieri's hair. That's right, you can give the gift of naming a follicle of Guy Fieri's famous head hair. That puts the shama lama in ding dong.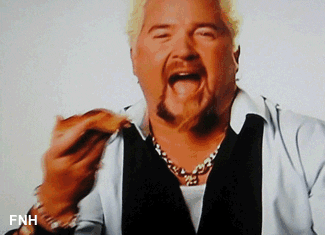 In a somewhat curious business venture, the Fieri Follicle Federation will sell you the naming rights to a strand of Guy's hair. In what sounds like one of the star registries from the 1990s, this company is offering the "opportunity" to purchase the naming rights to those frosted tips. The "standard" follicle costs $10, "binary hairs" are $15, and a "constellation" of Fieri hairs is $20. The purchase comes with a certificate "issued by the Fieri Follicle Federation," a welcome letter, and two fake tickets to Flavortown. If you are feeling freaky with your tzatziki, the bomb-dot-com site is called "Fieri's Follicles." Americans really do have too much disposable income.