Following the release of their third hit album, Culture II, Migos released an exclusive collaboration video for their single Stir Fry. In the video, Migos partnered with Tasty and they actually hit the kitchen to cook up some Stir Fry.
Quavo, Offset, and Takeoff are literally in the kitchen, wrist twistin' like a stir-fry. It's exactly as great as you imagine – it's like the last "easy and delicious dinner" video your friend tagged you in, on Facebook but with way more diamonds and dancing.
In the kitchen, wrist twistin' like a stir fry:
Quavo fixing his rings over the cutting board is incredible. Then again, I found the entire video phenomenal. I think Migos needs to start their own cooking show, it wouldn't be unprecedented after a Snoop Dogg collab with Martha Stewert for Martha & Snoop's Potluck Dinner Party.
I could watch Quavo do Salt Bae forever: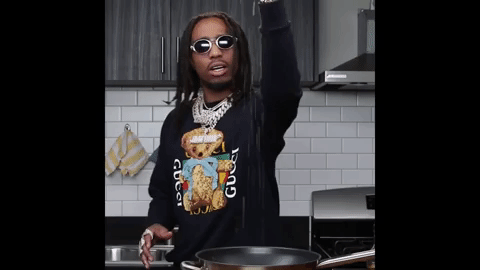 Also, I won't lie… watching the whole crew cook stir fry then box it up definitely made me hungry. Now I want some stir fry.