Ravens GM Eric DeCosta was seen sweating profusely during a recent press conference. Surprisingly, those perspiration had little to do with Lamar Jackson's contract negotiations.
He's now going viral for being absolutely drenched in that meeting with the media, leading fans around the NFL to post their reactions online.
DeCosta met with the press to talk about Baltimore's upcoming offseason. He's quoted as saying that it's his favorite time of the year.
The next few months will consist of free agency, the NFL Draft, and obviously, Lamar Jackson's status with the franchise moving forward. It will surely be a busy time for the Ravens' front office.
But while fans listened in on his plans for the future, their attentions turned from DeCosta's words to his appearance.
The General Manager was noticeably soaked as he laid out his objectives for the time ahead. Many on Twitter began posting their responses to his sweaty presence.
There was a reason for sweat, and it had nothing to do with his quarterback's pending deal.
Eric DeCosta is sweating profusely at this press conference. He laughed about it and said he just did a 40-minute Peloton workout. He's like Costanza who had a post-exercise shower that "didn't take."

— ProFootballTalk (@ProFootballTalk) January 19, 2023
Instead, the Ravens GM says it was from a Peloton workout done just prior to the press conference. The reply got a rise out of fans online.
Here's what they were saying.
One person wrote, "Eric DeCosta is sweating, sweating," while another responded, "He's sweating profusely."
Others just posted Seinfeld GIFs.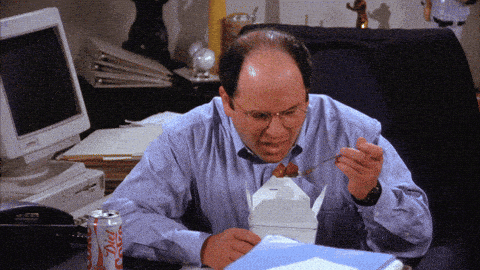 While Lamar Jackson's contract talks weren't behind the perspiration, they were a focal point of the presser. DeCosta addressed the situation with an encouraging statement.
"It certainly takes two to tango, but I think Lamar and I have a great relationship… I spent time with him earlier today."
Head coach John Harbaugh doubled down on those thoughts, saying that Jackson is "100% our quarterback."
Time will tell on Jackson's future with team. Eric DeCosta, in the meantime, might want to save the workout for after the interviews next time.