David S. Pumpkins Will Be Back This Halloween To Scare You – Any Questions?
Halloween is only a month and a half away and that means scary clown costumes, trick or treaters, and of course pumpkins… David S. Pumpkins that is. Tom Hanks is set to return to "Saturday Night Live" as everyone's favorite pumpkin-suit-wearing haunted house entertainer that dances with two b-boy skeletons. Hanks teased the triumphant return of David S. Pumpkins to "SNL" with a teaser tweet.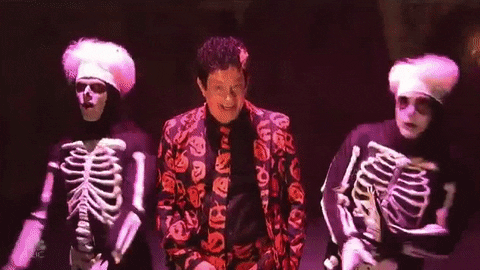 Any questions? Actually, yes. Will the "'Sorcerer's Apprentice'-type sequence" feature wizard Balthazar Blake played by the great Nicolas Cage? And when will this go down? Well, "SNL" returns for their 43rd season on Sept. 30 at 11:30 p.m. ET on NBC with Ryan Gosling and Jay-Z, so it looks like we'll have to wait until October for some spooky sweet DSP action.