The best fast-food french fry is debatable. I will (mostly) respect your decision even if it's different than mine. In general, I'm torn between the seasoned Checkers/Rally's fries and either Chick-Fil-A's waffle fries or Arby's Curly Fries. Something about the waffle and the curl holding the ketchup or Polynesian Sauce better rockets them to the top for me but it's nearly impossible to top the seasoned flavor of Checkers. I'll throw Steak N Shake an honorable mention too because they're so thin you can eat 10 fries at a time.
The company Spruce analyzed Google Trends data to compile a list of the most popular fast-food french fry in every state across the United States of America. What they found was moderately disturbing because some states out there are obsessed with Taco Bell french fries!
We probably have more fast-food french fry options here than any other country in the world but somehow people across multiple states are choosing Taco Bell??? This does not compute. I hate Five Guys french fries and think they're grossly overrated but I'd still rank them above Taco Bell's fries any day of the week because they're at least working with some high-quality spuds.
For this list, Spruce analyzed 'the popularity of 24 different fast-food chains' fries and also looked into the search results around different types of fries, like curly, waffle or even chili cheese' as well as diving into each state's numbers and specific trends to determine the most popular fry in each state. Here's what they found:
AL – Taco Bell
AK – Taco Bell
AZ – Jack in the Box
AR – Burger King
CA – Jack in the Box
CO – McDonald's
CT – McDonald's
DE – McDonald's
DC – Five Guys
FL – Chick-Fil-A
GA – Checkers/Rally's
HI – McDonald's
ID – McDonald's
IL – Steak N Shake
IN – Arby's
IA – McDonald's
KS – McDonald's
KY – Wendy's
LA – Popeyes
ME – McDonald's
MD – Popeyes
MA – Burger King
MI – Arby's
MN – Arby's
MS – Taco Bell
MO – Five Guys
MT – McDonald's
NE – Burger King
NV – Burger King
NH – McDonald's
NJ – Popeyes
NM – McDonald's
NY – Shake Shack
NC – Bojangles
ND – McDonald's
OH – Arby's
OK – McDonald's
OR – McDonald's
PA – Burger King
RI – Taco Bell
SC – Burger King
SD – McDonald's
TN – Sonic
TX – Whataburger
UT – Wendy's
VT – McDonald's
VA – Popeyes
WA – Dairy Queen
WV – Taco Bell
WI – Culver's
WY – Taco Bell
Here's a regional map along with a state map from Spruce if that makes this shocking information somehow easier for you to digest. You can click either of the images below and it will take you over to Spruce's blog post with more in-depth information about their findings.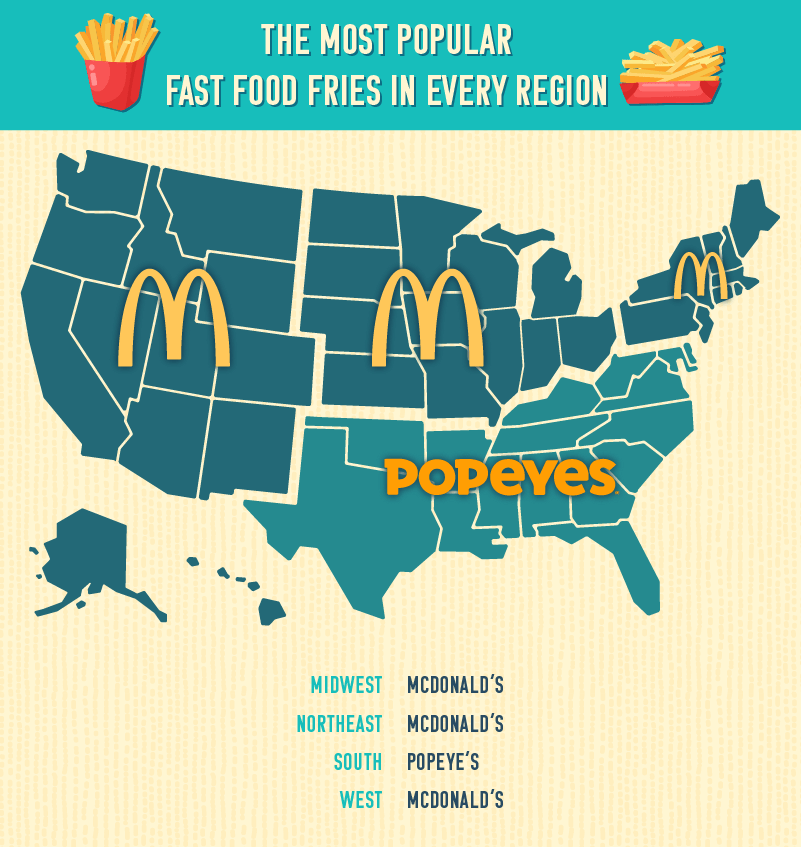 Take Spruce
And if you wanted to see the state-by-state map form Spruce here's that one as well. The fact that Chick-fil-a lost the state of Georgia is borderline SHOCKING to me.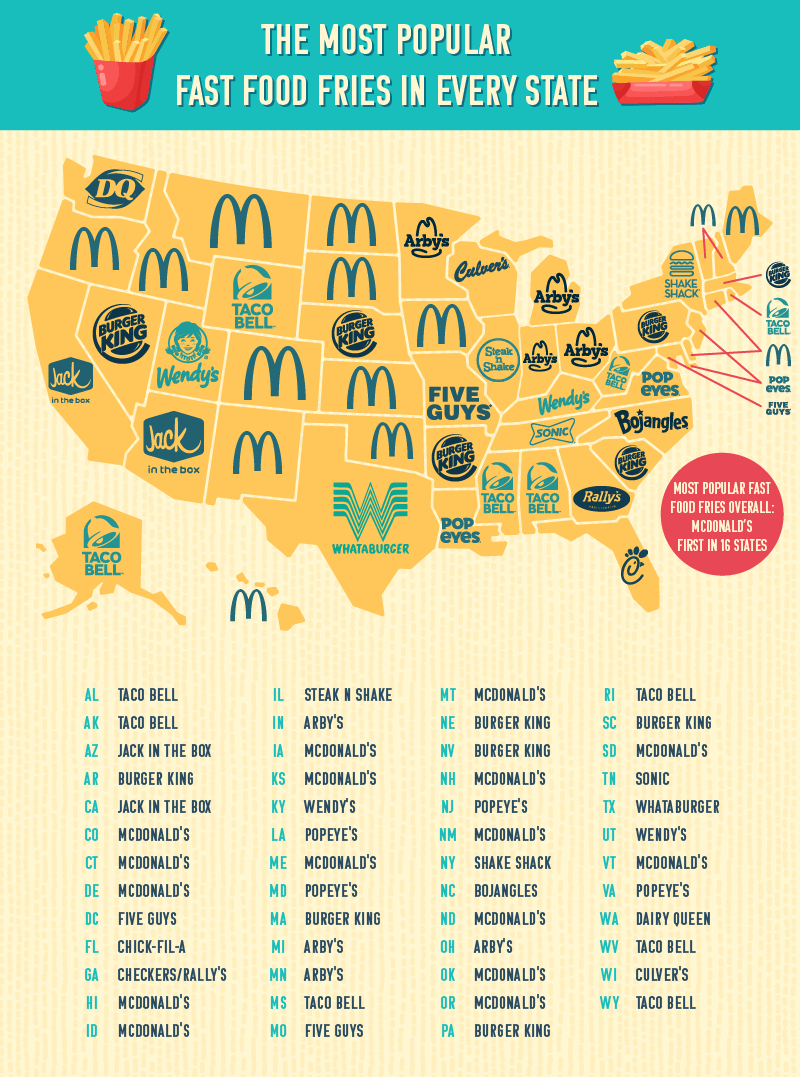 Take Spruce
I'm always skeptical of anything involving Google Trends because it's unclear if they're measuring favoritism or strictly popularity. It's not obvious or clear if some of these fries are on the list because they've recently entered that market and curiosity is high or if the state of Wisconsin is really into Culver's fries and California prefers J-in-the-B over In-N-Out. You can click those pictures above to visit Spruce's website where they've also determined each state's favorite type of fried potato, from curly to cajun and tater tot to homefry.