On Tuesday, the good folks at Netflix let it be known that they're bringing the heat this year. You might not be able to use the platform to watch the same episode of The Office for the seventh time, but you'll be able to watch the whopping 71 movies the streaming service is planning to drop at least one of every week over the course of 2021, which means that you no longer have to rely on trash day when it comes to marking the passage of time.
In 2020, Netflix upped its game with original movies like Extraction, The Old Guard, and The Trial of the Chicago 7. Those came on the heels of the company releasing The Irishman and Roma the year before, which both received multiple Oscar nominations (with Alfonso Cuarón winning Best Director for the latter). The old heads might not like it, but you can no longer deny Netflix has become a legitimate force in the world of movies.
Now that we've entered what I believe is the 5,379th week of the pandemic, Netflix finds itself in a wonderful position as attendance at movie theaters continues to crater and studios begrudgingly look to release would-be blockbusters onto digital platforms. Tuesday's announcement was just the latest massive bomb to be dropped in the ever-escalating Streaming Wars, and you have to imagine things are only going to keep heating up.
The law of averages all but guarantees that more than a few of the movies on Netflix upcoming slate will be clunkers, but at first glance, there are plenty that look like they could be a force to be reckoned with—especially these 10 films I'm anticipating more than any of the others.
Escape From Spiderhead
I only need two words to describe why I'm amped for this one: Chris Hemsworth.
If you don't know why, you obviously didn't see Extraction, which is a cinematic sin you should atone for as soon as possible. The actor may be the main attraction, but Escape From Spiderhead also stars Miles Teller and Jurnee Smollett in a project set in "the near future," where two convicts are left to fight off the demons in their past in a facility run by "a visionary" who uses its occupants to test experimental drugs.
As is the case with most of these, details are fairly scarce, but I have a feeling Hemsworth might play the visionary in question. If that's the case, we're in for a treat, because it certainly seems like his character will be the Bad Guy—an archetype he absolutely nailed in Bad Times at the El Royale.
The Harder They Fall
Not to be confused with the Jimmy Cliff classic The Harder They Come, this is a Western where the "they" the title refers to are falling as opposed to coming, which is a huge difference (with that said, you should definitely dust off the soundtrack to the other one, which has really managed to stand the test of time).
Produced by Jay-Z, The Harder They Fall is an old-school Western revenge tale, which history has shown are objectively the best kind of revenge tales. In the film, Jonathan Majors of Lovecraft Country is looking to get revenge on Idris Elba, his old enemy who was recently released from prison. The cast also features Atlanta residents Zaziz Beetz and Lakekeith Stanfield in addition to Regina King and Delroy Lindo, which is a lineup to be reckoned with.
Don't Look Up
If you're wondering just how big of a player Netflix has evolved into, Well, Don't Look Up tells you everything you need to know.
Written and directed by Adam McKay (who made a name for himself with comedies like Anchorman before pivoting to The Big Short and Vice), the film stars a couple of starving actors named Leonardo DiCaprio and Jennifer Lawrence.
I told you Netflix wasn't messing around in 2021.
Don't Look Up is about "two low-level astronomers" who have to convince the world that a comet is coming that could destroy the Earth. It seems like this will give Leo plenty of chances to yell loudly, and when you consider how much he loves doing that in movies, I can't imagine how pumped he must've been when this script came across his desk.
Those two up-and-comers will be joined by a bunch of other total unknowns like Meryl Streep, Timothee Chalamet, Jonah Hill, Tyler Perry, and Cate Blanchett. Here's to hoping at least one of them will be able to use the movie as a launching pad for their career.
Beckett
Netflix hasn't really given us much to work with when it comes to what to expect from a movie with a plot that sees "a vacationing couple fall trap to a violent conspiracy with tragic consequences."
With that said, the combination of a vacationing couple in distress, a conspiracy, and Alicia Vikander is really all I need to get excited about this one.
Red Notice
This is one of the most ambitious projects Netflix has tackled so far, and based on the lengths the company has gone to in order to make it, they've spared no expense when it comes to putting together a film seemingly created by an algorithm tasked with coming up with the perfect action movie.
Red Notice features Dwayne Johnson playing an FBI profiler—sorry, the FBI's top profiler—who gets teamed up with two criminals (Ryan Reynolds and Gal Gadot) after "a daring heist." Netflix's marketing department would like you to believe "There's no telling what will happen," but I think I have a pretty good idea: a shitload of people are going to watch it no matter what.
Blonde
There's been no shortage of movies, books, and shows inspired by the fascinating life of Marilyn Monroe, and whenever someone else decides to tackle the topic, I can't help but think the same thing I tell my five-year-old every February when she asks how much longer she has to wait until Halloween: "Dude, we've already talked about this a million times."
However, Blonde is a reimagining of Monroe's life based on the book of the same name by Joyce Carol Oates and will take a look at her rocky journey through it "through the modern lens of celebrity culture." Ana de Armas (who was killer in Knives Out) plays Monroe and is joined by Bobby Cannavale's Joe DiMaggio as well as Adrien Brody, who portrays playwright Arthur Miller.
Oh, and it's produced by Brad Pitt, who has a batting average of close to .800 when it comes to playing that behind-the-scenes role.
Munich
Yes, there's already been a movie called Munich, and yes, it's one of the best movies of the new millennium. As a result, if you're going to make another movie called Munich, it better be good. No pressure. No pressure at all.
However, this Munich actually sounds pretty promising. It takes place in Europe in 1938, and with World War II coming in hot, two friends (a British civil service member and a German diplomat) find themselves trying to avoid the coming conflict before—wait for it—finding themselves at the center "of a web of political subterfuge and very real danger."
In the description, Netflix asks, "With the world watching, can war be averted, and if so, at what cost?" I don't know, but I'll admit I'm interested to find out.
The Guilty
So, we've got:
Antoine Fuqua
Nic Pizzolatto
Jake Gyllenhaal
Peter Sarsgaard
Bill Burr
Ethan Hawke
Riley Keough
Paul Dano
Do I really have to say anything else? Well, probably, so I will.
Gyllenhaal plays a 911 operator who tries to save a caller who finds themselves in some serious danger, but in an unprecedented Hollywood twist, he discovers "nothing is as it seems." I'm sure there's no way anything will go downhill from there.
The Power of the Dog
Benedict Cumberbatch playing a wealthy Montana man at the turn of the 20th century seems like a stretch but at this point, we'd be a damn fool to question Benny C's range and I will not start now.
Cumberbatch's character Phil Burbank is the co-owner of the biggest ranch in Montana alongside his brother George (Jesse Plemons.) Everything is cool between the two until George marries a local widow (Kirsten Dunst) and Phil vows revenge. I don't know why, but I'm sure Phil has his reasons.
Or not. Whatever. There's also a character named Bronco Henry and that alone is worth the price of admission because that's an amazing name. Just phenomenal.
Sweet Girl
There's no real way for me to use words to describe how I feel about a movie where Jason Momoa is trying to track down the people who murdered his wife to justice while simultaneously protecting his daughter.
Thankfully, there is a GIF.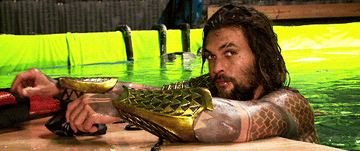 Let's do this.