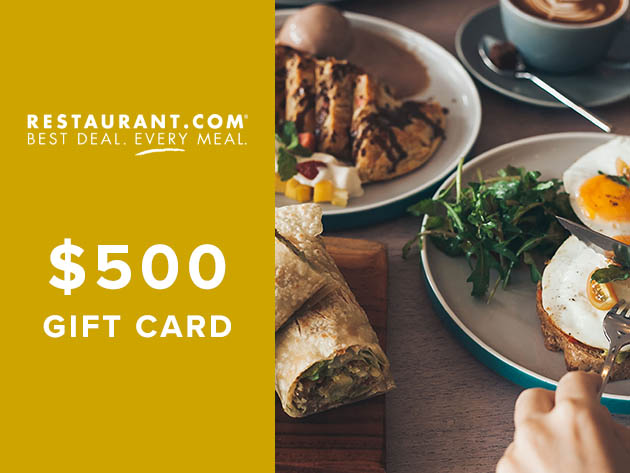 StackCommerce
Dining out is among the most popular social activities. Not because eating together grounds people in their common humanity (hence the expression break bread), but because it is an experience for all of your senses. It's about far more than satisfying hunger pains, it's about experiencing delicious, professionally prepared food with a different ambiance and probably cuisine than you'd get at home.
Visiting a restaurant is a great way to shake up a normal routine of what you might eat at home. In fact, people love doing it so much that it costs the average person thousands of dollars per year. However, there are options for those of us who would like to try and save a little bit of the money, and those options don't only include cafeterias and early-bird specials. Right now, you can get a $500 eGift card to Restaurant.com good for use at thousands of restaurants for only $90!
Restaurant.com works with local restaurants to help potential diners experience more of what's to eat around them. Not sure of where to visit? Restaurant.com features restaurants local to users to help them explore their dining possibilities. The eGift cards that potential diners purchase allow them to experience these locations at a fraction of the cost, offering the chance to sample more of what's around without any financial hangover. 
Restaurant.com is also a powerful ally for local small businesses. The locations featured on Restaurant.com benefit from an influx in clientele who otherwise might not have ventured through their doors. More than 60,000 restaurants in all 50 states have partnered with Restaurant.com to bring incredible savings to their customers. Patrons don't even have to dine in to take advantage of the deals — Restaurant.com eGift cards are applicable for dine-in, takeout, or delivery. 
Prices subject to change.