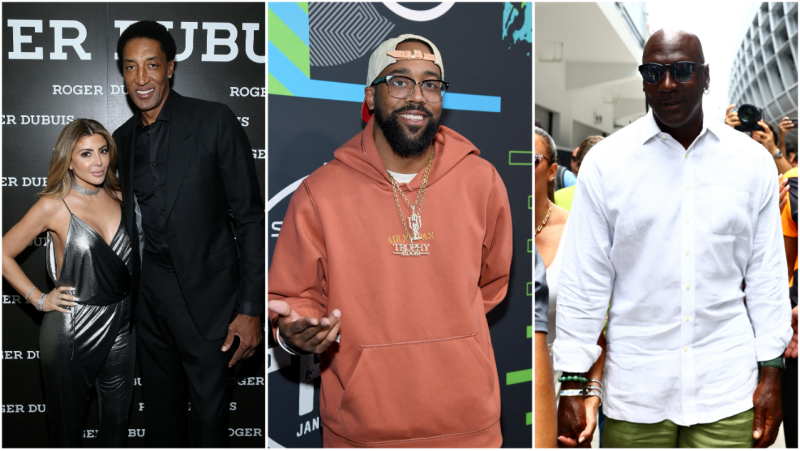 Scottie Pippen's ex-wife Larsa doesn't want people to know about her relationship with Michael Jordan's son Marcus because Scottie is currently beefing with MJ.
In his book, "Unguarded' Scottie slammed MJ over 'The Last Dance' documentary.
"They glorified Michael Jordan while not giving nearly enough praise to me and my proud teammates," Scottie wrote. "Michael deserved a large portion of the blame. The producers had granted him editorial control of the final product. The doc couldn't have been released otherwise. He was the leading man and the director."
According to US Weekly magazine, Larsa and Marcus Jordan are officially dating but keeping on the down low because of the tension between MJ and Scottie.
Via US Weekly
"Marcus and Larsa are dating and have been spending more time together in recent weeks," a source exclusively tells Us Weekly of the Real Housewives of Miami personality, 48, and Michael Jordan's sryon, 31. "They are ting to keep it on the down low because of the rift between Scottie and Michael."
While Larsa tried to deny she was dating Marcus weeks ago when the two were seen out together, US Weekly's source says they are definitely dating and shared pictures of the two at dinner in NYC.
"They are definitely an item. As the night progressed it was obvious to everyone in the restaurant that she was really into him," an eyewitness exclusively told Us on Friday, September 23. "She was hugging and kissing him, and she was practically sitting on his lap by the end of the dinner. It became a bit of a spectacle to onlookers as it was quite distracting."
It doesn't seem like Larsa and Marcus are doing a good job of keeping the relationship on the "down low."
Fans are already mocking Scottie Pippen over Larsa's relationship with MJ's son.
Scottie Pippen after not only hearing how Jordan carried him but now having to hear about his ex dating Jordan's son pic.twitter.com/VHxv9DRxn3

— 🅿️aul Minor (@PaulMinor4real) September 4, 2022
Michael Jordan explaining why he sent his son out there to date Scottie Pippen ex wife: pic.twitter.com/uTaW3wFVki

— JP – The Wholesome Truth Teller (@jay_pea619) September 5, 2022
Scottie Pippin ex supposedly dating Michael Jordan's son pic.twitter.com/s94Vk0C82T

— someone's son (@_Drewskii_Drew) September 5, 2022
Michael Jordan's son, Marcus dating Larsa Pippen only adds to MJ's legacy

— Jarrett Spence 📸🎙 (@jiggysnapshot) September 24, 2022