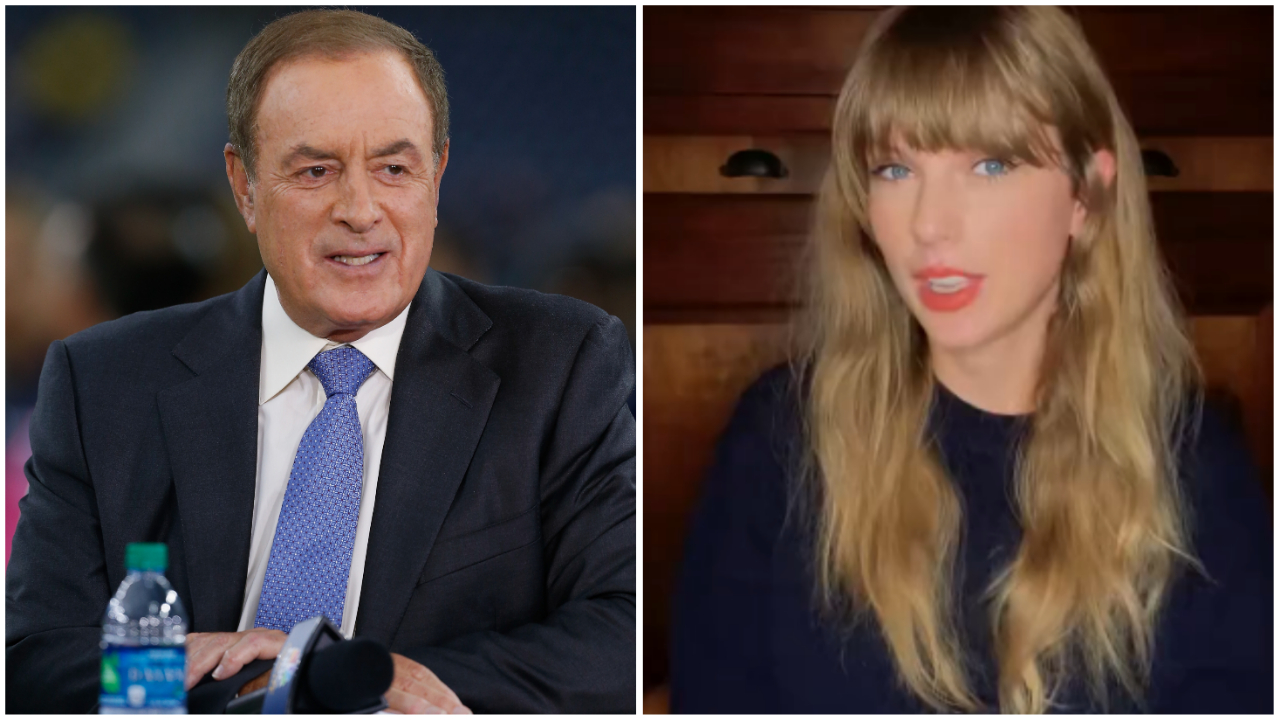 It probably wasn't the best idea for the NFL and Amazon to have 77-year-old Al Michaels talk about Taylor Swift.
During the Thursday Night Football game between the Saints and the Cardinals, Swift showed a teaser trailer for her new video, that is going to be released at Midnight.
After the video was played, Michaels implied that Swift was only big among teenage girls.
"You have 4 sons if you had a daughter she would be over the moon right, I have a granddaughter and she's completely over the moon right now…now one more popular among the teenage girl group than Taylor Swift.
Michaels' comment didn't sit well with some people.
"whining like this is super boring but i'm going to do it anyway: the "teenage girls must be so excited!" nonsense is so dull and embarrassing and uninformed. boo."
whining like this is super boring but i'm going to do it anyway: the "teenage girls must be so excited!" nonsense is so dull and embarrassing and uninformed. boo.

— Nora Princiotti (@NoraPrinciotti) October 21, 2022
"All respect to Al Michaels, but dudes can be Taylor Swift fans, too"
All respect to Al Michaels, but dudes can be Taylor Swift fans, too.

— Brooke Pryor (@bepryor) October 21, 2022
"Al Michaels insinuate that boys can't be excited for new Taylor Swift and shaking my head the whole time to show that I don't agree with it"
Hearing Al Michaels insinuate that boys can't be excited for new Taylor Swift and shaking my head the whole time to show that I don't agree with it

— 🧛‍♂️Count Orlok's Wonder Emporium 🧛‍♂️ (@HiveFleetHodag) October 21, 2022
"Hearing Al Michaels insinuate that boys can't be excited for new Taylor Swift and shaking my head the whole time to show that I don't agree with it"
The NFL wants to be in business with Taylor Swift in part because she appeals to a demographic that the NFL would like to reach more, but Al Michaels' assumption that Kirk Herbstreit's kids don't like Taylor Swift because he has sons was kinda dumb. https://t.co/QB87fcRX32

— Michael David Smith (@MichaelDavSmith) October 21, 2022
"The NFL wants to be in business with Taylor Swift in part because she appeals to a demographic that the NFL would like to reach more, but Al Michaels' assumption that Kirk Herbstreit's kids don't like Taylor Swift because he has sons was kinda dumb."
Al Michaels writing off Taylor Swift as just a girl singer his granddaughters love is both equally embarrassing and condescending. Sir, Taylor Swift could buy you out MANY times over. #TNF #TSmidnightTS

— Emily 🌙 (@emilybethc) October 21, 2022
"Al Michaels writing off Taylor Swift as just a girl singer his granddaughters love is both equally embarrassing and condescending. Sir, Taylor Swift could buy you out MANY times over. #TNF #TSmidnight"
not al michaels saying "teenage girls must be so excited!"

like how bleak it must be to live in a world where loving our blondie taylor swift has an age and gender limit 🙄 #tsmidnights pic.twitter.com/Bv9uxcGFXY

— marissa (taylor's version) (@MarissaSaysWhat) October 21, 2022
"Al Michaels thinking Taylor Swift is most popular among teenage girls doesn't know we're all 30 now"
Al Michaels thinking Taylor Swift is most popular among teenage girls doesn't know we're all 30 now

— phillies krob (@kkristenrob) October 21, 2022
"Someone tell Al Michaels that people over the age of 8 listen to Taylor Swift."
Someone tell Al Michaels that people over the age of 8 listen to Taylor Swift.

— Brad LaPlante (@bradlaplante) October 21, 2022