Sean McVay is, arguably, the brightest young mind in the NFL right now. At 32 years old, the guy guided his Los Angeles Rams to the playoffs last year in his first season, and has them sitting at 9-1 this year, making them a legit Super Bowl contender. Not too bad for a guy who isn't even old enough to become President of the United States, huh?
While McVay has serious coaching chops and some other crazy skills — like a freakish memory that can recount every play he's ever called — one might not have thought that while he was a shaggy-haired wide receiver for the Miami Redhawks football team from 2004 to 2007. Thanks to ESPNs broadcast of the Miami-Northern Illinois game last night, though, we had the chance to remember exactly what Sean McVay looked like back then, and it's basically all of us from our college years.
Here's another pic of McVay, side-by-side with the one ESPN showed last night.
What a friggin' bro, right? McVay looks like he was stuffing his face with "The Roethlisberger" late-night from Bagel & Deli, or roaming High Street every Thursday night bar-hopping like the rest of us. Who would've thought that, just 11 years later, he'd be on track to lead his team to a Super Bowl as a head coach?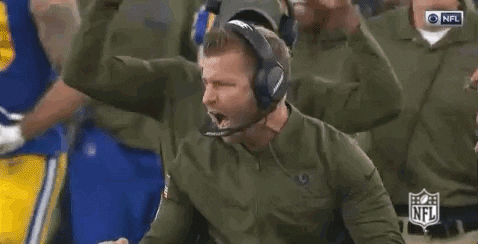 Sean McVay is, was and always will be a bro.