Von Miller of the Denver Broncos is one of the baddest men on a football field. At 6'3″ and 250 pounds, the dude is a freak of nature, capable of chasing down running backs and quarterbacks with ease thanks to his insane athleticism. As it turns out, Miller's also a stud off the gridiron, too, because he was able to snag a girl named Megan Denise, who is, reportedly, the ex-stripper girl of Floyd Mayweather Jr.
Well, now that Von and Megan are apparently engaged, they seem like they just can't keep their hands off of one another. Need proof? How about this video of someone who is allegedly Von Miller appearing to give Megan a handful of his man meat in the back of an Uber recently, which was posted to SportsGossip's Twitter.
Von Miller is, arguably, the best defensive end in the NFL right now, so he probably doesn't care too much about his Uber rating — 'cause something tells me his and Megan's driver wouldn't be too fond of the OTPHJ that Miller's fiance was doing in the backseat. But, hey, when you're a sack master, this is the type of stuff you should expect. See what I did there?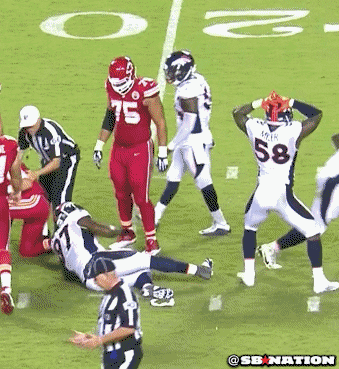 Keep on doing you, Von, because nobody should be pissed about a little PDA every once in awhile.