Presented by Old Spice Dry Shampoo… Now available at Walmart!
Let me tell you about the latest miracle-in-a -bottle. No, it's not a space-age energy drink or mutant-engineered protein shake. Nor is it piña colada-flavored mouthwash or a bacon-scented hand sanitizer.
It's shampoo. But not just any shampoo. We're talking dry shampoo.
Finally, there's a dry shampoo made just for guys thanks to Old Spice. And you can get it at Walmart for under $5.
Do you ever find yourself in a situation when you are running late and you wish you could get rid of your flat, oily hair in less than 2 minutes? If so, dry shampoo is your new best friend.
There's a good chance that you don't know how to use dry shampoo for your personal upkeep quite yet. A lot of men don't realize how easy it is to use dry shampoo for a quick refresh. It's the most effortless way to keep your hair looking clean and refreshed in those moments when a real shower isn't possible.
It also helps fix the worst cases of hat head.
With a couple sprays, dry shampoo soaks up the excess oil and grease, instantly giving your hair a cleaner, fresher look. Rather than looking like a greaseball who just rolled out of bed, dry shampoo helps add hair volume, almost instantly, minus the hassle of a proper rinse.
And as an added bonus? Old Spice Dry Shampoo smells great.
Because looking refreshed also means smelling refreshed.
Let me tell you about a little situation where Old Spice Dry Shampoo saved my Saturday. Over the weekend, I headed out for a hike, enjoying a pleasant 80 degree day in Southern California. My four-hour trek through LA's Rustic Canyon was a sweaty and dirty one, including a particularly narrow climb through shoulder-high brush. My hair was not only drowning in sweat, it was also getting matted under my hat.
I felt great, as one does after a solid workout. But when I climbed back to civilization and prepared to march back home, I got a text from an out-of-town friend inviting me to join him at a birthday party.
There was no time to shower at home, even though my greasy hair looked like Gary Busey on a windy day. Fortunately, I had a can of Old Spice Dry Shampoo in the trunk of my Jeep for precisely this moment.
All I needed was a good shake of the can and a couple strategic, yet generous spritzes of dry shampoo at the oily roots. Next, a solid shake through my hair with my fingers brought in more volume and life back into my hair. I was fresh and ready to go. My hair even smelled fresh and breezy like a tropical island (like… the island of Fiji), despite rolling up to the kickback in my hiking clothes.
Dry shampoo is a total game changer to keeping the lettuce properly spruced.
For the first timers out there (which I have a feeling is a lot of you), here's how to use dry shampoo correctly in three easy steps:
Step #1
Give the can a shake to activate the ingredients.
Step #2 
Hold the can of dry shampoo about five inches from your hair and spray it towards the roots. Throw it some spritzes where it's looking and feeling dirty. Make sure to hit the hairline, nape of your neck, and the crown of your head. Just a couple quick bursts – it's not whipped cream.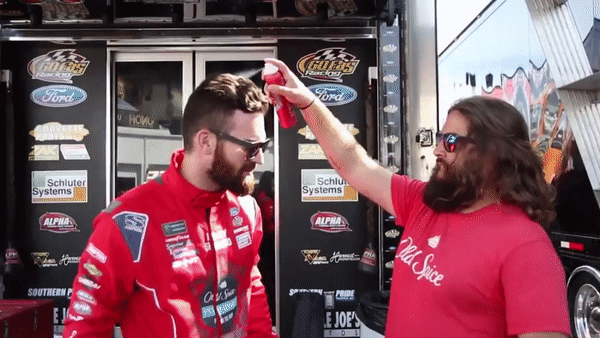 Step #3
Massage the dry shampoo deep into your scalp using your hands, where it can start gobbling up all the oil and dirt. Use your fingers to rub the dry shampoo in evenly across your head.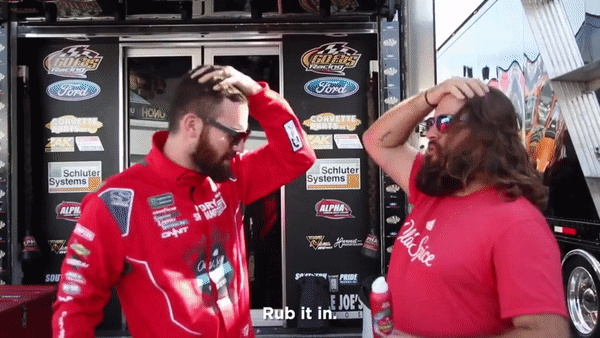 Step #3
Give it a quick comb or brush to style, even if it's just with your fingers.
—
Old Spice Dry Shampoo is the only dry shampoo for men on the market under $5. So you don't have to shell out big bucks to look great on the fly.
Old Spice Dry Shampoo is available now at Walmart in both Pure Sport and Fiji scents.
A couple situations where Old Spice dry shampoo can come in handy: 
-After lacrosse, baseball, football practice
-After a long day of off-roading through the desert with your buddies
-After you take your hat off…. EVERY. SINGLE. TIME.
-After that company softball game or bowling match that always turns into a happy hour
-After hitting the snooze button seven times before rolling out of bed, throwing on clothes, and rushing out the door
–After climbing out of a race car after doing 200 laps at 200 MPH
-After a Spike Ball tournament at the beach
-After you finish mowing the lawn on a summer day
-When you head to the club house for an Arnold Palmer after walking all 18
-After your hair dries in the sun at the lake
-After a particularly sweaty round of table tennis.
-At a particularly hot and sweaty music festival
-After a tennis match where you come close to pulling an Andre Agassi.
-On that weekend-long backpacking trip
-After a sweaty wedding floor dance-off with your cousin Bennett, of which you won, of course.
—
Lastly, don't forget about your beard when it comes to your grooming routine. Just like a lawn, a beard needs regular attention to look its best. Just like your hair, beards can dry out and get pretty gnarly pretty fast, especially if you're not taking care of it right. Plus, there's the dreaded beard itch, a sign that a beard needs to be conditioned and hydrated, just like your scalp.
The Old Spice beard kit has everything a rugged beardsman needs to keep their whiskers clean and soft. Old Spice beard wash helps get the dirty out, while Old Spice beard oil and Old Spice beard balm nourishes and shapes beards to look *and* smell their best.
Whoever is rubbing up on your beard will thank you.
—
The BroBible team writes about gear that we think you want. Occasionally, we write about items that are a part of one of our affiliate partnerships and we will get a percentage of the revenue from sales.