Shortly after Eddie Van Halen died in 2020, I had to fix the spring on my garage door, and after setting up shop, I started scrolling through Spotify to find some background music to accompany me during the undertaking.
I stumbled across the first Van Halen album and realized that I'd never actually listened to it all the way through, so it seemed like a good time to finally check the entire thing out. I'd never really been a huge fan of the band, so I assumed I'd give it a quick spin to honor his legacy before finding something else.
That did not turn out to be the case.
It turns out Van Halen is an amazing album from beginning to end, and while I'd obviously heard the opening track "Runnin' with the Devil" before, I had never heard it in the context of the record. By the time I finished fixing the door with the help of way too many Google searches, I had listened to the album two times in its entirety and couldn't stop thinking about how its first track was the perfect opener.
As is often the case, I found myself thinking about the importance of openers and their ability to turn a "good" album into a "great" one. The importance of first impressions might be a fairly tired subject, but it matters in music just as much as it does when it comes to job openers and first dates; by kicking things off with a bang, you manage to hook the listener and give them a reason to keep going in the hopes similar things will follow.
Opening tracks can come in many shapes and forms. Some are the equivalent of the Kool-Aid Man bursting through the wall, while others are sneaky and lead you to believe you know what's in store only to flip the script in a big way. In a way, they're like a scented candle for your ears; something capable of not just setting a mood but firmly establishing one.
As a result, I sat down to take the time to put together a list of the songs that encapsulate everything an opener should do. Some of them might not be the best the project they're a part of has to offer, but they do a fantastic job of doing their primary job: convincing people to stick around for the better things in store.
Before we dive into things, I have a couple of disclaimers. The rap genre isn't represented nearly as well as rock is, but that's largely due to the fact that a lot of hip-hop records open with a brief intro track that effectively knocks them out of consideration. I also limited each musical act to one appearance, because if I hadn't, Led Zeppelin probably would've landed half of the spots in the Top 10.
With that out of the way, let's do this thing.
50. "Toes"—Zac Brown Band
"Toes," which kicks off Zac Brown Band's 2008 major-label debut The Foundation, is a great example of a "table-setter" in more than one way, as it's not only an introduction to the album but the band itself. It's easy-going, catchy as hell, super fun to sing along to, and one of those tunes that simply endures. As long as the sun is situated just right and there's a body of water nearby, this tune will always have a home.
Zac Brown Band has definitely evolved over the years, but this song still says so much about the group at its core: they're good time dudes playing good-time music, but if you don't think they're serious about it, I would ask that you listen to "Toes" and see if that can change your mind.
49. "FutureSex/LoveSound"—Justin Timberlake
This is another opening track that sets the stage and the mood, as FutureSex/LoveSounds is a wild album that speeds out of the gate and doesn't truly stop until that last song comes to an end.
Its title track plays like entrance music; a theme song for you to bump as you descend down a ramp or stride confidently down a low-lit hallway. It's inviting and gives you a glimpse into what Timberlake has in store on his second album as a solo artist, which he wanted to use to elevate a pop genre he felt had gotten stale.
As a result, FutureSex/LoveSounds plays like pop music recorded from the future and brought back to the present day by a time traveler. How can you not like that?
48. "Great Expectations"—The Gaslight Anthem
This is our first "kick the fucking door down" opener. It might not seem that way when you consider it starts with the sound of the needle being set down and a soft guitar playing, but that quickly gets pushed aside in favor of some good old fashioned New Jersey-bred, uptempo garage-punk-rock.
History might not be all that kind to a band like the Gaslight Anthem, and the more removed we get from their time together, the more they might fall off of people's radars. However, The '59 Sound is a great American rock record and "Great Expectations" is a hell of a way to get things started.
47. "Politik"—Coldplay
Coldplay has transformed into this weird, high-brow pop group over the years, but as Jack Black's character perfectly put it in High Fidelity, they used to be masters of "sad bastard music." Yes, the band's debut album Parachutes is a classic, but even its biggest fans can't deny the painful accuracy of that label.
It's safe to say anyone who was expecting that when they went to listen to the follow-up was in for a bit of a shock. Can you imagine sitting down in 2002 with a cup of tea prepared to immerse yourself in the sad-bastardness you assume would greet you when you put on A Rush of Blood to the Head only to hear this?
I'm not saying it's thrash metal or something as high energy as "Great Expectations," but that pounding of the piano is certainly a shot across the bow of anyone who thought they knew what Coldplay was.
46. "Lively Up Yourself"—Bob Marley & the Wailers
I wasn't really sure where to rank this one. I knew it deserved to be included on this list, and after doing admittedly too much thinking, I decided the 46th spot seemed like the ideal place for the opening track of Natty Dread.
Reggae albums are expected to radiate a certain vibe that manages to transcend a mere "mood," and the good ones tend to be the perfect soundtrack to a wide variety of situations. Marley's projects are obviously the gold standard, and "Lively Up Yourself" is the musical personification of someone handing you a beer and inviting you to come on and have a seat before asking you if you're hungry.
If this legendary musician's albums are comfort food, then a track like "Lively Up Yourself" is the perfect appetizer.
45. "Garden Grove"—Sublime
I was once in the presence of two people much younger than myself who seemed to take great joy in slandering the good name of Sublime with the many disparaging remarks they directed at the band, which was just another reminder that I'm much older than I like to tell myself I am.
After Bradley Nowell's death, Sublime released its self-titled breakout album that is just an objectively fun record from the start. The low-key "Garden Grove" welcomes you to the band's world, allowing you to get a feel for their lives, the people and places that surround them, and the things they do to pass the time when they're not essentially helping to create a genre of music that didn't really exist before they started playing it.
Even if Kids These Days refuse to give Sublime the respect they deserve, I'll always be in their corner.
44. "Drive My Car"—The Beatles
The fact that The Beatles would make an appearance here was a given, but picking the tune that would represent them took a bit more thinking. It felt like the obvious choice was the title track from Sgt. Pepper's Lonely Hearts Club Band, but I feel like it ran into the same aforementioned "intro" problem a lot of rap albums encountered.
"Two Of Us" from Let It Be and "Come Together" from Abbey Road were also contenders, but in the end,  I elected to go with "Drive My Car" off Rubber Soul. It's just such a fun song and has some of that youthful energy and enthusiasm that littered the band's early material, but like all of Rubber Soul, it hints at the maturation that was soon to come.
"Drive My Car" isn't the last fun song The Beatles would ever record, but it's definitely the best fun song they made in the second half of their career.
43. "Cinnamon Girl"—Neil Young & Crazy Horse
"Cinnamon Girl," which kicks off Neil Young and Crazy Horse's album Everybody Knows This Is Nowhere, is simply some straightforward, foot-stomping rock 'n roll. It's the kind of song that makes you want to crank up the volume as loud as you can, which I just did while writing this to cover up the sound of the snowblower my neighbor is currently using.
Yes, it's a great opener, but that's not all it's good for.
42. "Head Like A Hole"—Nine Inch Nails
I've never been a big Nine Inch Nails guy. While I respect Trent Reznor and appreciate what he's done with the band, they're just a tad too dark and industrial for my liking.
Regardless of my personal feelings, if you're going to title an album Pretty Hate Machine, you better open that album with a track like "Head Like A Hole." The song is basically just a sledgehammer going to town on a sheet of metal. It's some pure, raw, unadulterated shit that's pulsating and hypnotic with an animalistic chorus that sounds like Reznor was yelling straight up to the heavens.
It wasn't enough to make me a Nine Inch Nails guy, but I respect this almost as much as what Reznor has done since he started scoring television shows and movies, which has led to some fantastic music I've been much more down with.
41. "Star/Pointro"—The Roots
The Roots are no stranger to the intro track, as the majority of their albums have a preamble that often features some sort of spoken word performance.  However, The Tipping Point is a notable exception.
The band's fifth album opens with the one-two punch of "Star/Pointro," the first of which is built around a sample of Sly and the Family Stone's "Everybody Is A Star" and features Black Thought rapping over an easy-living Questlove groove and some sparse instrumentation. There's not a lot to the track, but there doesn't have to be when you have someone like Thought on the mic. The Tipping Point is a heavy album with a lot to digest, so starting with something like "Star" makes sense.
As the tune approaches the five-minute mark, it starts to shift gears into the "Pointro" section. The tempo slows, Thought steps aside, and the Sly sample gets played on, repeating until it all fades away into a spoken word section that would've usually come first.
I'm glad they elected to change things up this time around.
40. "Welcome to Earth (Pollywog)"—Sturgill Simpson
Simpson's excellent 2016 album A Sailor's Guide to Earth is meant to be something of a series of letters to his young son, a move that was inspired by those Simpson's grandfather had written while overseas fighting in World War II.  It then makes perfect sense that "Welcome to Earth (Pollywog)" opens softly with a quiet intro, where you can hear a bell ringing out across the harbor and seagulls in the distance before Simpson comes in with the declarative line, "Hello my son, welcome to Earth."
The somber vibe lasts for nearly two minutes before the song explodes into a wild rumpus of old-school, soul-inspired horns. It's as if Simpson is not-so-subtly letting you know that this ain't no damn country album; it has some soul to it and it's the kind of soul that hits you deep in the belly and sends warm vibrations throughout your entire body.
You know, the best kind of soul music.
39. "Break on Through (To The Other Side)"—The Doors
Full disclosure: I forgot "Break on Through" is the opening track on The Doors' first album. Man, talk about coming out swinging.
Whenever I do one of these rankings, I get to a song that feels like it should be higher. I know that it's at a certain spot for a reason and that at least a little bit of thinking went into putting it there, but when it comes time to write about it, I find myself doing some delightful second-guessing and thinking I might have biffed it.
In this particular instance, "Break on Through" is that song.
Should it be higher? How much higher should it be? Does it actually deserve to be in the top five? Those are questions I could continue to ponder while driving myself increasingly insane, so to avoid that outcome, I'm just going to put it at #39 and move on.
38. "Wanna Be Startin' Somethin'"—Michael Jackson
Michael Jackson is an incredibly complicated artist, and based on all of the claims that have surfaced over the years, I've found myself constantly wrestling with whether or not it's still permissible to enjoy his music—an issue I'm grappling with to this day.
However, if you look at things in a musical vacuum, it's obvious "Wanna Be Startin' Somethin'" is not just a fantastic song but a perfect opener to an album that is full of party-ready jams. Also, having a title with not one but two apostrophes that imply it's time for the listener to let their hair down was a fantastic move on the King of Pop's part.
Now if you'll excuse me, I'm going to sit in the darkness for a spell and continue to wrestle with this Michael Jackson conundrum.
37. "Wesley's Theory"—Kendrick Lamar feat. George Clinton, Thundercat
No one would have batted an eye if Kendrick Lamar had channeled The Roots and opened his landmark album To Pimp A Butterfly with a melancholy, atmospheric, spoken word piece that clocked in at a shade under two minutes before breaking into "King Kunta." It would have been pretty on-brand for Lamar, who is clearly a different kind of cat.
At the same time, opening up Butterfly with not just some straight-up funk but some featuring the godfather of the genre in George Clinton and Thundercat (one of the best funk bass players out there) is simply a power move. Butterfly is a statement album and what better way to make a statement than to drop some smooth-as-butter retro funk with the help of some legends?
36. "Honey White"—Morphine
I'M WRITING THIS WHILE RUNNING AROUND THE ROOM WITH MY LAPTOP BECAUSE IT'S IMPOSSIBLE TO LISTEN TO THIS SONG SITTING DOWN. DON'T BOTHER TO QUESTION THE LOGISTICS OF ME WRITING AND RUNNING. JUST KNOW THAT IT'S HAPPENING.
35. "Like a Rolling Stone"—Bob Dylan
Bob Dylan was fired up in 1965.
Upset with how he was perceived, annoyed with what was expected of him, and not sure of what to do next, he took to unloading his feelings into a journal. "Like a Rolling Stone" was dug out of ten to twenty pages of what Dylan described as "vomit," with the artist eventually scavenging what would become one of his classics and the opening track of Highway 61 Revisited.
An anthem of defiance, the song was initially rebuffed by Dylan's label, which wasn't really down with the length of the track or its vibe, which was a bit of a departure for a man who'd built a reputation as a folk artist.  Thankfully, someone leaked it to a few influential DJs, and from that point, it didn't matter what the label said.
As an opener, it's almost a no-brainer. This is a song that's meant to kick things off. You don't bury it in the middle of an album. It's a song that immediately grabs a listener's attention, which is exactly what you want from an opening track.
34. "Excursions"—A Tribe Called Quest
I couldn't even begin to think about how many times I've found myself saying the words "Back in the days when I was a teenager/Before I had status and before I had a pager/ You can find the abstract listening to Hip Hop/My pops used to say it reminded him of Be-Bop." It's easily in the thousands.
Before the lyrics start, the track opens with a bouncing and mildly menacing bass line that's one of the most iconic in hip-hop history. It sounds like something's approaching and you have no clue what it is, setting the perfect tone for the mesmerizing, infectious, and hypnotic adventure that is A Tribe Called Quest's The Low End Theory. 
33. "Shine On You Crazy Diamond (Pts. I-V)"—Pink Floyd
This tune is a little bit of an outlier on this list. For starters, it doesn't really fit the bill of the kind of opening tracks I've already talked about. It's not a shot across the bow, nor is it something that immediately grabs every ounce and iota of your attention. I do suppose it sets the mood for the album, but the moods of Pink Floyd albums are somewhat hard to pinpoint, so I'm not sure that's saying very much.
It's also long. Like, really long. The song clocks in at almost fourteen minutes, which makes Bob Dylan's record label's objections to the length of "Like a Rolling Stone" seem adorable in comparison. However, when you consider the title lets you know there are five parts in store, you have no one to blame but yourself if you weren't ready.
32. "Bring Da Ruckus"—Wu-Tang Clan
As I mentioned in the first entry, the opening track on your debut album is vital when it comes to letting the listener know what you're all about. You know who nailed that? The Wu-Tang Clan.
"Bring Da Ruckus" is everything Wu-Tang has to offer on one track, from a heavy backbeat to samples from an old kung fu movie. It also subtly highlights RZA's genius and creativity as a producer, as the snare drum was allegedly recorded in an elevator to help it get that unique and ringing sound.
Studies have shown that Wu-Tang Clan ain't nothing to fuck with and I'm here to tell you that the math holds up.
31. "The Best Of What's Around"—Dave Matthews Band
Why have people soured on the Dave Matthews Band? Wait, have we? Eh, some people have. Maybe a lot of people have. Whatever, man. I haven't, which may or may not have something to do with me being a forty-year-old white guy.
Let's go back to those delightfully weird times that were the mid-1990s, shall we? Grunge had gotten stale and repetitive, gangster rap was rolling along, and a new wave of jam bands had started to dip their toes in the inner sanctum of pop culture. One of those acts was Dave Matthews Band, which—after spending several years running up and down the Eastern seaboard—broke through with Under The Table And Dreaming.
For the majority of people, the album's lead single "What Would You Say" was their introduction to the band. Yet once you picked up the record that song was on, you were welcomed to the party with a tidy little drum fill that immediately leads into "The Best Of What's Around." There's no monkey business. There's no kicking around the parking lot while waiting to be let in. The lights go on and it's game time.
30. "Burning Down the House"—Talking Heads
I appreciate the initial sneakiness of this song. There's not much happening for the first twenty seconds—hell, it takes a good ten seconds before you realize you're actually listening to anything in the first place. Then, the drum fill takes you right into the song, and from there, it's all systems go.
Also, as far as song titles go, "Burning Down the House" might be in the top five. Should they have maybe gone the Michael Jackson apostrophe route and gone and cut the "g" at the end of "Burning?" Probably, but who am I to question the wisdom of David Byrne?
29. "Devils Haircut"—Beck
If we are all about apostrophes here (and by now, it should be clear we are), it's interesting that there isn't one in the title of this song. I sort of assumed there was one and then had to check if I was wrong or if Beck needs to brush up on his grammar before discovering the latter was the case.
Odelay is such a great album, and while "Where It's At" is the best-known song, "Devils Haircut" is a phenomenal opener. Plus, Odelay is Beck's second album. Before that, he was the dude who sang "Loser." Odelay was his "I'm not messing around here, guys" album, and if you're going to make one like that, you need to come out and make a statement, which "Devils Haircut" definitely does.
28. "Thunder Road"—Bruce Springsteen
Like The Beatles, Springsteen was guaranteed a spot here, and like The Beatles, I wasn't looking forward to having to narrow it down to one. However, once I took a closer look at his discography, going with "Thunder Road" was an absolute no-brainer.
"Thunder Road" is a textbook example of what an opening track on a rock album should be, and while I'm not sure if a textbook like that exists, someone needs to make one to make sure kids these days give legends like Springsteen the respect the ones I talked about earlier refused to give to Sublime.
27. "Wouldn't It Be Nice"—The Beach Boys
This song's opening sounds like the start of a fairy tale only to soon establish it's a song lamenting the fact that life is anything but a fairy tale. Talk about a rope-a-dope.
Pet Sounds is a wild album, and so much of what makes it remarkable—the harmonies, the stacked production, the layered instrumentation—is on display throughout the opening track, which is driven by a surprisingly upbeat tempo that makes you want to frolic merrily through a lush meadow.
26. "Go"—Pearl Jam
The opening track of Pearl Jam's second album is a vengeful beast that's hell-bent on completely demolishing and destroying everything in its path. It takes no prisoners and gives zero fucks.
I love how frantic and manic it is. It has so much energy pulsating through it that it's amazing the band is able to not only harness it in the first place but keep maintaining it. "Go" is also the perfect way for Pearl Jam to have kicked off Vs., an album that was going to be over-scrutinized and dissected given how incredibly popular the album that preceded it was. Coming out swinging with a song like "Go" makes it clear that the group wasn't all that interested in what you thought.
If you're keeping track, Pearl Jam still isn't interested in what you think, and that's one of the things that makes them so much fun.
25. "Good Morning"—Kanye West
2020 presidential also-ran Kanye West has no shortage of great opening tracks, and if we're being honest, pretty much all of the songs that have opened his albums could've made this list if there were no restrictions in place.
"Dark Fantasy" from My Beautiful Dark Twisted Fantasy could be here, "On Sight" from Yeezus could be as well, and Life of Pablo's "Ultralight Beam" would most certainly be included if not for "Good Morning" from Kanye's third album, Graduation.
"Good Morning" is smooth; something that's easy to digest and groove to. Graduation is probably Kanye's last album that you could also consider smooth and something that's easy to digest and groove to. After that, things got weird (sometimes Good Weird, sometimes Bad Weird, and sometimes just Weird Weird).
Regardless, "Good Morning" gets the nod.
24. "Sure Shot"—Beastie Boys
One of the trademarks of Christopher Nolan movies is that they don't waste any time. He almost always cuts to the chase by jumping straight into an action sequence and it works perfectly; kicking off The Dark Knight with the bank robbery is like jumping into a moving car.
That's exactly how I'd describe "Sure Shot," which is the sonic equivalent of dropping into a roller coaster right before the first loop. The dog barks, the music starts, and before you know it, "Because you can't, you won't, and you don't stop" rings out and it's all systems go.
If you're wondering, I did consider having "Jimmy James" off of Check Your Head on here, but I felt "Sure Shot" was the better choice. If you're not wondering, then I appreciate your trust in this process.
23. "Enter Sandman"—Metallica
For their self-titled 1991 album, Metallica was looking to change things up a bit. They had made a name for themselves over the previous decade with these massive songs that often included a handful of time changes and clocked in at close to ten minutes. When they headed into their next act, they wanted to streamline things a bit—a move that was met with mixed reactions. Longtime fans of the band recoiled in light of the changes (and presumably went on to get way too into Tool), but commercially, they exploded.
What is commonly referred to as "The Black Album" might not be the band's creative peak, but it's definitely their commercial one and it all starts with "Enter Sandman," which is arguably the most famous part of their oeuvre. The guitar riff has become legendary, and underneath it, you're treated to some driving, heavy rock.
If you're looking to change course and switch things up after a decade of playing music and want to essentially reintroduce yourself to the masses, it'd be hard to do better than Metallica did with "Enter Sandman."
22. "Cherub Rock"—The Smashing Pumpkins
Friends, this is how you do a building introduction to a song. It doesn't last long because it doesn't have to. It does all it needs to in just about thirty seconds. By the time that the second guitar comes barging in, you know it's on.
I mean, not so much like this:
More like this:
Hopefully that makes sense.
21. "Straight Outta Compton"—N.W.A.
"You are now about to witness the strength of street knowledge."
Oddly enough, that's the same thing I told my wife when it came to change our daughter's first diaper. It didn't make sense then and doesn't make sense now, but it was still fun to say.
It's hard to find any flaws with "Straight Outta Compton." Much like "Bring Da Ruckus," N.W.A. uses it to lay out everything you need to know about the group, with each member getting a crack at properly introducing themselves and outlining what they're here to do.
Both songs use the same playbook, but this one executes it a bit better.
20. "Seven Nation Army"—The White Stripes
Back when sporting events had fans, "Seven Nation Army" was a staple in stadiums and arenas. Why? Come on. Why wouldn't it be? It's perfect. Whenever the song is played at a college football game, I like to imagine a small part of Jack White's soul falling apart as he mutters to himself, "That's not what the song should be used for."
What should it be used for then, Jack? Well, kicking off an album is one hell of a good use for it, that's for damn sure.
19. "Rolling in the Deep"—Adele
This song has some power behind it. It's not like other Adele songs are weak and feeble; they most certainly are not. Adele is physically incapable of being involved with a song that can be described by either of those words. It's just that this one hits differently (it also gets bonus points for the beat, which is as steady as the day is long).
I love how the bass drum sounds; how it's so thunderous and haunting at the same time. And Adele's voice? Get out of here. Her voice is one of only a couple in the world that can give me goosebumps. And then those goosebumps get goosebumps. The goosebumps from those goosebumps? Yup. They lead to even more goosebumps.
As for the song as a whole, "Rolling in the Deep" swings for the fences and then clears them by at least a hundred feet. That's how you open an album.
18. "Back In The Saddle"—Aerosmith
I don't want to disrespect "Cherub Rock," but "Back In The Saddle" is the gold standard when it comes to building the intro to a track. It's easily the best part of the song—if not the entire album it starts.
While writing this, I also found myself wondering if Aerosmith would be viewed differently if they hadn't been able to revive their career by teaming up with Run-DMC for the remix of "Walk This Way." Their first couple albums are solid, no-nonsense rock records, and while the group does sound like an Americanized, poor man's version of Led Zeppelin at times, they still hold their own.
However, things quickly went south, and there's a chance they never would've appeared on this list if it wasn't for the collab that gave them a second act and prevented them from vanishing into the white dust of the 1980s. I guess it worked out in the end.
17. "What's Going On"—Marvin Gaye
Gaye was at something of a crossroads when the Four Top's Renaldo Benson approached him with an early version of "What's Going On." Influenced by an attack on anti-war protestors in Berkeley, California that Benson had witnessed, Benson couldn't help but, well, wonder what was going on in America and set out to answer that question with a song.
At the time, Gaye was coming off a lingering bout with depression, a thwarted suicide attempt, and a tryout with the Detroit Lions. He had spent years feeling like a puppet while working for Motown Records and Berry Gordy and was looking to reclaim control of his career (and his life as a whole) with his eleventh album.
"What's Going On" helped serve as a creative catalyst when it came time for him to start writing, and while Gaye wasn't on board with it at first, he eventually came around before adding some melodies and lyrics of his own
Benson later said, "we measured him for the suit and he tailored the hell out of it," and it's safe to say it was the perfect fit.
16. "Tom Sawyer"—Rush
Hmm. If only there was an image or GIF out there that could sum up my mood when this song starts up.
Oh, wait! I found one.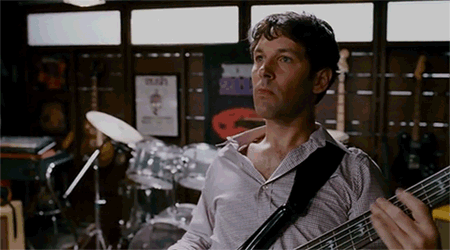 Rush's music draws you into a trance. You find yourself following along like you're trying to take notes in that Introduction to Shakespeare class you took because you thought it would be fun, but damn it, man, Shakespeare isn't fun. Shakespeare is hard as hell. Just like with Rush songs, everything means something and everything is there for a reason. If you dip out for a second, you're lost.
I'm not sure if that sounds fun or not, but I think it is—and so do thousands and thousands of music nerds who will gladly gush about Rush without even being asked.
15. "Bombtrack"—Rage Against The Machine
Remember when I was all like, "Hey guys, 'Back In The Saddle' is the gold standard of opening tracks that really nail the whole building intro thing?" Welp, I was wrong.
I'm sorry. It happens. I also thought the Heat would beat the Lakers in the NBA Finals last year. I'm not perfect, but I'm trying.
"Bombtrack," the first song on Rage Against The Machine's self-titled debut album, is the Tom Brady of opening tracks that expertly use the slow build. There are plenty of things I'll never forgive COVID-19 fpr depriving me of, but canceling the reunion tour Rage had planned for last year is easily in the Top Ten.
14. "My Name Is Jonas"—Weezer
Once again, we have an iconic opening track off the debut album of a band that would go on to have a hell of a career. I don't care what you have to say about the current state of Weezer; The Blue Album is a classic and I'll arm wrestle anyone who says otherwise.
"My Name Is Jonas" is the perfect introduction to Weezer. It's melodic, lively, poppy, catchy, and gets stuck in your head for days. There's nothing revolutionary about it, but that's fine, because there's never been anything revolutionary about Weezer. Their whole game is that they took what had been done before them and put their own spin on it. They're scholars of music interpreting and applying what they've learned and they're really damn good at doing it.
It'll be interesting to see how Weezer is viewed over the next ten years or so, but regardless of the direction things may head, no one can question the greatness of their debut album and it all starts with "My Name Is Jonas."
13. "Gimme Shelter"—The Rolling Stones
If Martin Scorcese was making this list, this song would probably be number one. Ol' Marty loves the Stones. Me? I've come to appreciate them more the older I get, but I can't see myself ever going so far as to say I'm a Rolling Stones fan.
Should "Gimme Shelter" be higher on this? Possibly. I do love the opening. It's quiet and low key in the way that you can just tell some shit's about to go down but have no idea when it's going to happen. You just have to brace yourself. From that point on, the song just keeps building and building in a way a storm keeps getting bigger when you're out to sea and you can see it coming from off in the distance.
I'm a big fan of Charlie Watts' drums on this tune too. The snare drums sound like thunderclaps and, damn, maybe this song should have been higher. Oh well. No turning back now.
12. "Rock 'n' Roll Star"—Oasis
I will always appreciate and admire the lack of fucks Oasis gave when they first came out. They just did not give two shits about anything. Anything!
You want to say that they sound like The Beatles? Cool. They'll tell you that they sure do but they're going to be bigger than they ever were. Who does that? That'd be like Grant Hill laughing when someone said he was going to be the next Michael Jordan and then him saying he was going to be better than Jordan.
Early on, Oasis made it incredibly clear that they had their sights set on being the biggest band in the world. It was then only fitting that the first song off of the band's debut album was called "Rock 'n' Roll Star" and includes lines like "In my mind my dreams are real" and "You're not down with who I am/Look at you now, you're all in my hands tonight."
There might be other album openers that are better musically, but I'm not sure there any many that better fit the attitude of the band than "Rock 'n' Roll Star" fits the attitude of Oasis.
11. "P-Funk (Wants To Get Funked Up)"—Parliament
If Parliament had a mission statement, it'd be the lyrics to this song. They could type them up, throw them on the "About Us" page of a website, and you'd know all you need to know.  It's impossible to have any questions about Parliament once you listen to this.
There are so many great lines in "P-Funk (Wants To Get Funked Up)" and I decided to share my five favorite ones, which are listed in no particular order:
"Let the vibes flow through, funk not only moves, it can remove, dig?"
"Somebody say, "Is there funk after the death?/I say, "Is Seven Up?", yeah, P.Funk"
"Yeah, I dig, let me put my sunglasses on/That's the law around here, you got to wear your sunglasses/So you can feel cool, gangster lean, y'all should dig my sunroof top"
"Then I was down South and I heard some funk/With some main ingredients like/Doobie Brothers, Blue Magic, David Bowie/It was cool, but can you imagine Doobie-in' your funk?"
"Once upon a time called 'Right Now'"
I saw Parliament perform once and I have to say it was by far the loudest show I have ever been to. Japandroids packed a punch, but they don't come close to Parliament. In my quieter moments, even all these years later, I think I can still hear the guitar from that show.
10. "Baba O'Riley"—The Who
When I was putting this list together, I started to realize that a lot of these classic rock bands had the opening track market cornered. They had it figured out. There are so many great classic rock albums that open with a dynamite track. Again, if I didn't set a cap on songs allowed by an artist, Led Zeppelin would be on here at least four or five times.
With that in mind, I dug through The Who's discography, because I was now sure that if classic rock knew what was up with the power of a good opening track, then one of the best classic rock bands ever would surely have at least a few songs to choose from. It turns out that wasn't the case.
Just like "Thunder Road," I didn't hesitate when it came to picking "Baba O'Riley," which kicks off Who's Next, the band's fifth album. You can disagree, but I'd honestly love to know what you'd go with instead. "Overture" from Tommy? "I Am The Sea" from Quadrophenia? "Run Run Run" from A Quick One?
No way, man. The real lesson here is that The Who did most of their heavy-lifting in the middle of their albums, but the song too many people think is called "Teenage Wasteland" makes the one it introduces a notable exception.
9. "Crazy In Love"—Beyonce feat. Jay-Z
The main reason this song is ranked as high as it is is due in large part to those horns that come blasting out of the gate, but that's just a start of a track that is just so damn fun.
There's a reason why "Crazy in Love" will have a permanent spot on the playlist at weddings for years to come. It will continue to thrive in romantic comedies and during montages where a lead character undergoes some kind of makeover. We might get old, but "Crazy In Love" never will.
8. "Beautiful Day"—U2
Over a decade before the world turned on U2 because free music showed up on their iPhone, the band opened up their last legitimately great album, All That You Can't Leave Behind, with the soaring and triumphant "Beautiful Day."
U2 was still at a point where it could pack stadiums around the world, so it was only appropriate that they'd make a track like this seemingly designed for big rooms. You don't bust out "Beautiful Day" if you're playing the dive bar down the street on a quiet Tuesday night. That'd be nuts. That'd be like thinking that putting your new album on everyone's phones without their permission was a good idea.
"Beautiful Day" is a perfect U2 style opener, and like a lot of great U2 songs, could only be played by U2. Others could try, but it wouldn't work out so well.
7. "Refugee"—Tom Petty and the Heartbreakers
It's fitting that Petty and company open up an album called Damn the Torpedoes with a song that sounds like it's being shot out of a cannon (I know you don't technically shoot torpedoes out of a cannon, but let's try not to dwell on the flaws of that analogy.
However, I do want to dwell on the fact that "Refugee" is an amazing way to kick off an amazing record. There's such a strong sense of urgency; a driving feeling that begins with the opening drum fill that leads the way for the rest of the band to come storming in.
Damn the Torpedoes was the band's breakthrough album and it's fitting that it would then start with a song like "Refugee."
6. "No Church In The Wild"—Jay-Z & Kanye West feat. Frank Ocean
Kanye West already appeared on this list, so according to the rules laid out all the way back at the beginning, that should be it for him. However, after consulting with the one and only judge (myself), the opening track to Watch The Throne, his collaboration with Jay-Z, qualifies to earn a spot.
It certainly deserves one, as there is just something so incredibly cool about "No Church In The Wild." I think the rolling bassline and the vocals of Frank Ocean deserve the bulk of the credit, as they contribute a ton to a song that sounds like a dark sports car speeding through the desert with the top down, the music loud, and coyotes howling along.
It seems like the jury is still out on whether or not Watch The Throne lived up to the hype, but "No Church In The Wild" is a winner even if the album wasn't.
5. "Purple Haze"—The Jimi Hendrix Experience
This is how you make an entrance. This song turns heads and forces you to stop what you're doing and take notice. "Purple Haze" is a shot of Fireball that is literally on fire. It's not just a call to action; it's a demand for attention. It's not a shot across the bow; it's a shot right through the bow that sinks the ship.
There have been plenty of songs so far that are the opening track on a debut album where I've marveled at the chutzpah of the artist to tomahawk chop the door wide open with a blistering tune. I'm not going to say this is the best of the bunch because (spoiler alert) we have a few more coming, but it's in the top five for a reason.
4. "Runnin' with the Devil"—Van Halen
Ah yes, the one that started it all. How nice to see you again, "Runnin' with the Devil."
There are so many things to love about this song. The opening immediately grips you, and after the intro, the music just stomps and chugs along like a wooly mammoth trekking across wherever the hell wooly mammoths used to trek. I love David Lee Roth's screams and hoots and hollers just as much as I love picturing him doing those in the studio and one or two people giving him funny looks before everyone else tells them to chill out because it's just Roth being Roth.
The music is so tight. Eddie Van Halen's guitar playing is obviously rock solid and a delightful glimpse into what he could and would do in the future, but what really drives the tune is the rhythm section. Bassist Michael Anthony and drummer Alex Van Halen play as one; they thump together, thunder together, and rumble along together. Eddie and Roth steal the show but Anthony and Alex make sure the train runs on time.
3. "Let's Go Crazy"—Prince and the Revolution
I think you could probably count on one hand how many artists could start an uptempo pop song with an organ and then this:
"Dearly beloved/We are gathered here today/To get through this thing called "life"/Electric word, life/It means forever and that's a mighty long time/But I'm here to tell you there's something else/The afterworld/A world of never ending happiness/You can always see the sun, day or night/So when you call up that shrink in Beverly Hills/You know the one, Dr. Everything'll-Be-Alright/Instead of asking him how much of your time is left/Ask him how much of your mind, baby/'Cause in this life/Things are much harder than in the after world/In this life/You're on your own/And if de-elevator tries to bring you down/Go crazy (Punch a higher floor!)"
I can save you some time: only Prince could pull it off. No one else could. No one else should even try and thankfully, I don't think anyone has. Let's keep it that way.
2. "Whole Lotta Love"—Led Zeppelin
I'd like to now formally acknowledge that the good folks of Led Zeppelin have the second-best opening track with "Whole Lotta Love" off of Led Zeppelin II. They also have what I feel is the best rock guitar riff ever played. Oh, Led Zeppelin is also a top ten band name. Congratulations, Led Zeppelin. I'm sure these accolades mean a lot to a band that's rarely lauded with praise.
Beyond that guitar riff, this song is just fucking bananas, man. It sounds like Robert Plant is about to sneeze for a minute there and it stills sounds badass. There is literally nothing cool about sneezing. You look like a buffoon when you sneeze and that's fine. Everyone does. Sneezing sucks, but somehow Plant makes it sound like it doesn't. The man might just be a sorcerer.
The track gets lost in the wilderness for nearly two minutes in the middle, a section that is all over the place and includes the aforementioned sneezing sounds. It's disorientating to a point where it took balls on the Led Zeppelin's part to include it in the opening track of their second album.
However, they knew that they were hard rock wizards who could get away with it and bring it back home in the final third—but before they do that, there's a thunderous John Bonham drum fill followed by some good old fashion rock 'n roll thanks to a guitar solo that repeats a couple of times before that ferocious riff comes back.
"Whole Lotta Love" is a monster, and like all monsters, we should be deathly afraid of it.
1. "Welcome To The Jungle"—Guns N' Roses
There isn't an opening track that manages to provide you with more information about a band, their sound, their look, and their overall vibe than "Welcome To The Jungle." It's almost too on the nose.
From Slash's guitar at the start to the build punctuated by a devastating howl from Axl Rose to the moment when the song officially leaves the station like a runaway train fueled by hard drugs, whiskey, and hair spray speeding down the track with absolutely no intention of stopping, "Welcome To The Jungle" never lets up.
When Rose sings "I wanna hear you scream," you can tell he means it. What you can't tell is how he wants you to scream. Out of pleasure? Out of fear? Out of amusement? Out of some mixture of all three? Who the hell knows? That might be the point. He warned you that you're in the jungle, baby. Shit's gonna get weird.
Such a warning has never been so exciting, and few bands were as exciting as Guns N' Roses were when Appetite for Destruction came out. It probably would have still been that way if the album opened with another track (maybe "Paradise City") but "Welcome To The Jungle" sealed the deal.