Look, don't get me wrong: I love myself some Kentucky Fried Chicken. I mean, seriously, who doesn't love fried chicken? Is it usually an atom bomb to your insides? Yes. But is it generally always worth it? Absolutely.
When it comes to fried chicken, KFC remains king. And the king of the chicken game — who was not about to get outshined by his subservient competitors in the chicken sandwich wars — has entered the fray in a major way.
On Tuesday, the iconic fast-food fried-chicken chain announced that they were beginning to test its "Chicken and Donuts" menu items for a limited time at more than 40 locations in Norfolk and Richmond, Virginia, and Pittsburgh, according to Business Insider.
"The options are a basket that pairs chicken on the bone or chicken tenders with one or two doughnuts, and a sandwich with a chicken fillet between two glazed doughnuts.

The chicken-and-doughnut meal will cost $5.50 for one doughnut and $7.50 for two doughnuts. The sandwich is priced at $6, or as a combo meal for $8. KFC said customers can also add a doughnut — served hot — to any meal for $1." [Business Insider]
Naturally, people on social media have been up in arms about the calorie-overdosed menu items, pointing out that KFC very well may be trying to kill us:
But in Colonel Sander's defense, I don't think KFC is trying to kill us at all. Because, the fact, is some men aren't looking for anything logical, like money. They can't be bought, bullied, reasoned, or negotiated with.
Some men just want to watch the world burn. Or in the case of these donuts, fry in oil.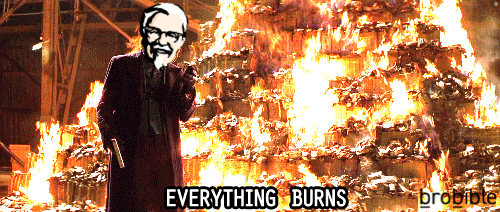 ***
Eric is a New York City-based writer who still isn't sure how he's allowed to have this much fun for a living and will tell anyone who listens that Gotham City is canonically in New Jersey. Contact him: eric@brobible.com.