Welcome to the BroBible New Music Round-Up, where we can't talk right now as we're working on Best of the Decade lists.  For more follow me on Twitter:  @ryanoconnell79
This Week's Playlist
I guess we're getting started on our end of the decade lists already, huh? Okay then. Here's my playlist (organized in no particular order) of my favorite songs from the decade.
[protected-iframe id="56f4a196f64eda90bbb346a48de82eeb-97886205-24270677″ info="https://open.spotify.com/embed/playlist/6Af3tH9a7NUmSkE9X5vLJn" width="300″ height="380″ frameborder="0″]
This Week's Releases
DJ Shadow "Urgent, Important, Please Read"
DJ Shadow is out here delivering Public Service Announcements now, so look out.
Unlike normal PSAs though, that are kind of boring and easy to ignore, Shadow's PSA effin' bumps. Backed by an assaulting beat and synth line, the track's message about social media survelliance is delivered by rappers Rockwell Knuckles, Tef Poe and Daemon.
"Everyone wants to feel in control/In the same breath, they want to be told what they like and what they don't/So it seems to me, this confusion is a human error/We keep allowing this to grow, the machines are gonna win"
"Urgent, Important, Please Read" is the latest track from Shadow's upcoming album Our Pathetic Age. The double album includes one disc of instrumentals and the other featuring collaborations with Run the Jewels,  Inspectah Deck, Ghostface Killah, & Raekwon of Wu Tang Clan, Nas, Gift Of Gab, Lateef The Truth Speaker and De La Soul among others.
Our Pathetic Age comes out on November 15.
Green Day "Fire, Ready, Aim"
First off, two quick thoughts about Green Day:
1.) It's amazing that Green Day, a band that seemed destined to be a one-hit wonder back when they first emerged in the early 1990's, are still kicking around.
2.) It's equally confusing that of all the acts out there, Green Day is providing the music for NHL promos.
I REALLY WANT TO SEE WHAT OTHER BANDS AND/OR ACTS THE NHL WERE CONSIDERING!
That's not a knock on Green Day. I love Green Day; loved 'em since Dookie. But I don't neccessarily think of Green Day when I think of the NHL. To be fair, I don't think about the NHL a lot, but when I do, I don't draw some sort of connection between hockey and Oakland, California-based pop/punk.
That could just be me though.
"Fire, Ready, Aim" is the second single to be released from Green Day's upcoming album Father of All Motherf*ckers. The track is also the theme song for Wednesday Night Hockey, which is where the song premiered this past Wednesday night.
Green Day will perform at the NHL All Star Game in late January and their album will be released on February 7th. It's all about synergy, kids.
Kanye West Jesus Is King
Ha, that's cute.
No, this album has not come out yet. At this point, all I can report is that earlier this week, something called KANYE DROP YOUR ALBUMS appeared on Spotify and Tidal and based on some people's internet sleuthing, it looked a lot like Yandhi, which was supposed to be released last winter.
If you're wondering – yes, it's already been taken down.
And so we continue to wait.
Current Swell "How Many Times"
Current Swell (think early Dispatch meets Sublime with a hint of Jack Johnson flirting with something you'd overhear at your local surf shop) definitely have a west coast sound and vibe to them. But wait a second, don't go assuming I'm talking about the west coast of America, friend. These dudes are from British Columbia, so we're talking the Canadian west coast.
So same, but different.
The roots/rock band's latest album, Buffalo, is set to be released next week and "How Many Times" is the latest track they've dropped from their upcoming release. It's their first since 2017's excellent When to Talk and When to Listen, which is just as much solid life advice as it is a solid album title.
Current Swell hit the road for a North American tour at the end of October.
Harry Styles "Lights Up"
So up until 2017, all I knew about this Harry Styles fella was that he was in One Direction and had dated Taylor Swift. That was it. He then released his debut solo album and yeah, I didn't give it much thought.
But my dudes, then I heard "Kiwi" and it quite literally knocked my socks off. To this day I will boldly proclaim that it was one of the best rock songs released that year. Soon after hearing that tune, my opinion of Styles had changed.
Maybe he was someone I should listen to as opposed to just kind of ignore?
Well know the true test of my burgeoning Styles fandom has presented itself as he has released the first song from his upcoming sophomore album, "Lights Up." I'm not saying this is make or break for Styles and I, but it will certainly dictate the terms of our relationship going forward, which I have to assume is something he very much cares about.
The tune is fine. It's no "Kiwi," that's for damn sure.
Styles recorded with legendary producer Rick Rubin at his Shangri-La studios and according to a recent interview in Rolling Stone, they would "do mushrooms, lie down on the grass, and listen to Paul McCartney's Ram in the sunshine."
After watching the video for "Lights Up," I'm going to assume that someone was recording the whole thing and then decided to use the footage for the video.
Wale Love & Loyalty
D.C.-based rapper Wale's new album Love & Loyalty is his sixth and according to the rapper, it's his most personal album yet.
"I never want to make anything that doesn't feel infinite .. absolute," he tweeted recently. "This album is my most personal by far. The majority of my time making it I just knew it would be my last."
My last? Wale, my dude, say it isn't so.
Well, at least he's going out with a bang. The new album features guest spots by Bryson Tiller, Ari Lennox, 6LACK, Lil Durk and Megan Thee Stallion among others.
Now for a second there, I thought it was Annie Lennox, not Ari Lennox and that kind of threw me. I was wrong. It's definitely Ani Lennox.
I think.
Panda Bear "Playing the Long Game"
Full disclosure: Panda Bear is not an actual panda bear. Panda Bear is also not Annie Lennox.
Okay, now that that's settled, let's continue.
Although, hold on a second. Panda Bear's real name is Noah Lennox. LENNOX!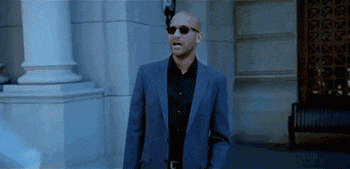 This is something worth looking into. Like, what if Noah and Ani are siblings and their mother is Annie Lennox, who may or may not be a fan of Wale?
Whew. Talking about mind blowing stuff, huh?
Also, Panda Bear's new song appears to be a one shot deal, as there's no news about an upcoming album.
Now if you'll excuse me, I have an Annie Lennox-extended universe theory to explore.
A R I Z O N A Asylum
These A R I Z O N A fellas are somewhat of a geographical mystery. They were raised in New Jersey, schooled up in Boston and now go by the name A R I Z O N A. Confusing? Kind of. But with a moustache like the one Zachary Charles rocks, you can't help but trust them.
"Problems" is the latest single off of their upcoming sophomore album Asylum, which is the follow-up to their 2017 debut, Gallery. They are nothing if not consistent when it comes to one word titles and I appreciate that.
As far as the album title goes, it serves something of a duel purpose. On the one hand, the band says it reflects the challenges they faced when it came time to write and record the dreaded second album.
On the other hand, the band says that "beyond how the idea asylum impacts us as a band," they say, "it affects all people. We see in the world today many immigrants seeking political asylum. Marginalized groups seeking to be heard, and looking for change. Our generation – millennials – caught up in feeling low self worth, chasing lives only found on social media feeds, striving for instant gratification only tosatisfy a hunger for true happiness with fleeting and frivolous pursuits. Its about being able to be your true self."
Solid reasoning, dudes.
Big Thief Two Hands
I'm all about honesty this week and with that in mind, I can freely admit that all along, I thought Big Thief was a DJ or DJ group.
They're not.
Big Thief is in fact not a DJ or a DJ group, but instead a folkish roots/rock band from Brooklyn. Kind of the furthest thing from a DJ as you could possibly get.
Big Thief isn't just a band from Brooklyn; their a busy AF band from Brooklyn. Two Hands is their second release this year and third if you count the solo album by Adrianne Lenker, abysskiss. The new album is said to be a "sibling record" with their previous release, U.F.O.F., which came out in May.
According to NPR, "U.F.O.F. gazed skyward, Two Hands is grounded. U.F.O.F. was drenched in distant reverbs, Two Hands is dry and close. U.F.O.F.'s guitars were opalescent like the Pat Metheny records Lenker grew up on, Two Hands' guitars are sandpaper rough and searing. More than anything, though, Two Hands captures the best of what makes the group's live shows so compelling – their force and immediacy, the unparalleled togetherness of their playing."
Again, not a DJ or DJ group.
Elsewhere in Music…
Well, It Was a Good Run iTunes
Once upon a time, people actually bought music. It's true. Seems nuts now, but yes, there was a time, not so long ago in fact, that people spent money on the music they love. It seems wild, but as with most things that happened back in the day, just because it sounds untrue, doesn't mean it's not.
Now the way most people bought music in the past twenty years was via iTunes. It was fast, fun and effective. Who among us didn't find themselves pissing away hard-earned money late at night on an album we'd never listen to all the way through?
But now iTunes has gone the way of many record stores did at their hands and is calling it quits. In it's place will be specialized apps for music, movies and podcasts.
Maybe it's just me, but I feel like at some point, we're going to regret getting rid of all of these centralized locations (like cable.)
Not everyone is happy about this change though. Apparently it's going to make things tough for the DJs of the world (not Big Thief) as DJs are now running into some capability issues with the new way Apple is doing things.
Are You Ready for Best of the Decade Lists?
We still have two and a half months left of the 2010's, but the Internet is nothing if not proactive.
Earlier this week, Pitchfork debuted it's list of the best 200 songs of the decade, which was quickly followed up by UPROXX's best albums of the decade.
Hold on, there's more. Here's Paste's 100 best albums of the decade.
Just know, this is just the start. I'm not sure we're ready for all the retrospectives that are coming our way.
Yeah, That Sounds About Right
Pay Attention Vinyl-Heads
Pearl Jam's legendary MTV Unplugged performance is finally getting released on vinyl. The seven-song set, recorded back in 1992, comes out on Record Store Day's Black Friday event on November 29th.
Other artists dropping special releases on the 29th include Lizzo, Vampire Weekend, U2 and Arcade Fire among many others.
In related news, Nirvana's Unplugged set is also getting released on vinyl. The double LP release is set to come out on November 1st and will feature tracks from sound check.
This Week in Sure, Why Not?
Hey, This Phish Podcast is Super Interesting
So it seems like not every podcast is a true-crime podcast. Long May They Run is a new podcast whose first season is dedicated to the rise of Phish.
Host and writer Dean Budnick conducted nearly 75 interviews for the podcast, including interviews with the band, their management, tour ninjas, long-time fans and more. Episodes highlight the influence early Phish festivals had on festivals like Bonnaroo, the band's unique approach to touring, Phish's relationship with improv comedy and the many people who work behind the scenes to make Phish possible.
Listen man, the news is effin' madness these days and there are only so many true-crime or comedian-hosted podcasts a person can handle. Don't you want to know how Phish comes up with the names of their festivals?
And if you're interested, I recently came to terms with my own personal relationship with the band.
Spoiler: it's complicated.
And We'll End Here
See you next week!