Presented in partnership with Dr. Squatch Soap…
Every single bro wants to smell good, that's obvious. There's just something about a guy's scent that helps him be confident, knowing that everyone in a room can smell that, yeah, you give a damn about yourself and you aren't afraid to show it.
But instead of dousing yourself in cologne or body sprays, why not start with something a helluva lot more natural — and much better for your skin; Dr. Squatch soap? This stuff isn't the typical bodywash you've been using for years, but instead an all-natural option that leaves your skin feeling happy, giving it a bunch of vitamins and moisturizers it needs to stay looking great.
Since we all know that smelling good means feeling good, we're giving you some of the best reasons why it's time to snag yourself some Dr. Squatch soap — so you can go ahead and thank us later.
Reason 1: Natural Ingredients
Dr. Squatch soap is handmade using a traditional "cold process" method, meaning it keeps things simple by going back to the way soap was made for thousands of years, using a base of highly nutritious oils like Olive, Coconut and Shea Butter. Plus, with no added sulfates and surfactants seen in many drugstore bar soaps which irritate the skin, you'll ditch that "tight skin" feel that can leave you feeling dry or flakey. If you've always hated bar soap this is probably why (trust us, we used to feel the same way). Dr. Squatch is simply better than the other brands and something that you have to try to believe.
Reason 2: Badass Manly Scents (… That Remind You Of The Outdoors)
Dr. Squatch soap scents are natural and formulated just for guys, meaning you'll have a unique scent that you just don't get with other, over-the-counter soap brands. Dr. Squatch found that the scents often reminded them of epic outdoor places and brought back memories of exploration, transforming the formerly mundane daily shower routine. Some of the favorite scents are Pine Tar, Bay Rum and Nautical Sage, all adventures from previous travels.
Reason 3: Your Skin (… And Girlfriend) Will Thank You
Most generic soap bars at the store are actually irritating, chemical-filled "detergent bars", not real soap. Dr. Squatch is real soap with high-quality all-natural ingredients that result in a softer bar than most commercial ones, helping create a great lather for you skin. Instead of that tight, dry feeling, your skin will be soft — meaning your gal may not be able to keep her hands off you.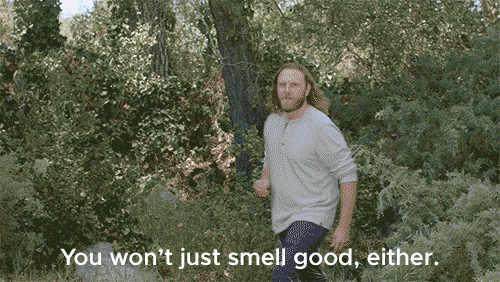 Reason 4: These Reviews From Dr. Squatch Customers Are Just Too Good (… And Real)
Reason 5: Dr. Squatch Have Great Haircare Products, Too
Oh, Dr. Squatch isn't just soap, guys. That's because they've created one of the highest quality, all-natural shampoo and conditioner sets on the market, too, bring their unique scents and moisturizing products to your mane. The shampoo features tea tree and a variety of hair strengthening ingredients, while the conditioner has a cool tingly sensation that clears out any dry skin or dandruff. It works great for guys with hair of any length, so lather that stuff up, fellas.
BONUS: Get FREE SHIPPING And Save Even More With The Soapscription
If you're like us and you hate remembering to stock your personal care products, Dr. Squatch has the "Soapscription," which makes it easy to get your favorite bars either monthly or quarterly in a fully customizable solution. Plus, you get free shipping and save $1 or more per bar on soap. Finally, Dr. Squatch offer a 100% "Sudisfaction" Guarantee, meaning that if it's not the best soap you've ever used, you'll get a full refund without any questions asked.
—
The BroBible team writes about gear that we think you want. Occasionally, we write about items that are a part of one of our affiliate partnerships and we will get a percentage of the revenue from sales.