Gambling on College Football can be one of the most fun ways to spend a Saturday if you're into that sort of thing. By placing wagers on games you'd otherwise never watch, it makes the day's entire slate of games enjoyable instead of just the usual one or two primetime games between ranked teams.
I'll be in Las Vegas this week(end) (for Phish) and plan on hitting the sportsbooks hard with a full slate of parlays. I've been on fire with my hockey bets lately. I nailed an NHL parlay a few weekends ago for $$$$ and even though I'm a Tampa Bay Lightning fan I was 100% convinced they'd lose on Saturday after playing in Vegas on Friday, having a night out in Las Vegas, and playing back-to-back games (Fri-Sat) to end a 9-day road trip.
Sometimes you can apply logic to sports betting and it works, other times you just have to wing it like when it comes to betting on San Jose State or Florida International in College Football. One gambler took both of those teams in parlays over the weekend and walked away with nearly $300K in winnings ($296,246.45) after hitting both of his bets. These bets were placed at the new FanDuel Sportsbook at The Meadowlands in New Jersey (not Las Vegas), the most easily accessible sportsbook outside of NYC.
The gambler only took favorites (-110 or better) in his parlays. The first parlay was an 8-legger with all college football teams. That bet was $1,200 to win $108,612.93 with odds of around 90/1. The second bet was a 10-legger with 8 college football teams and 2 NBA teams in the mix. That ticket was $800 to win $187,633.52 and the odds of that bet hitting were around 233/1. If Notre Dame had scored ONE extra point instead of that bet being a push the gambler would've cashed in for over $500K.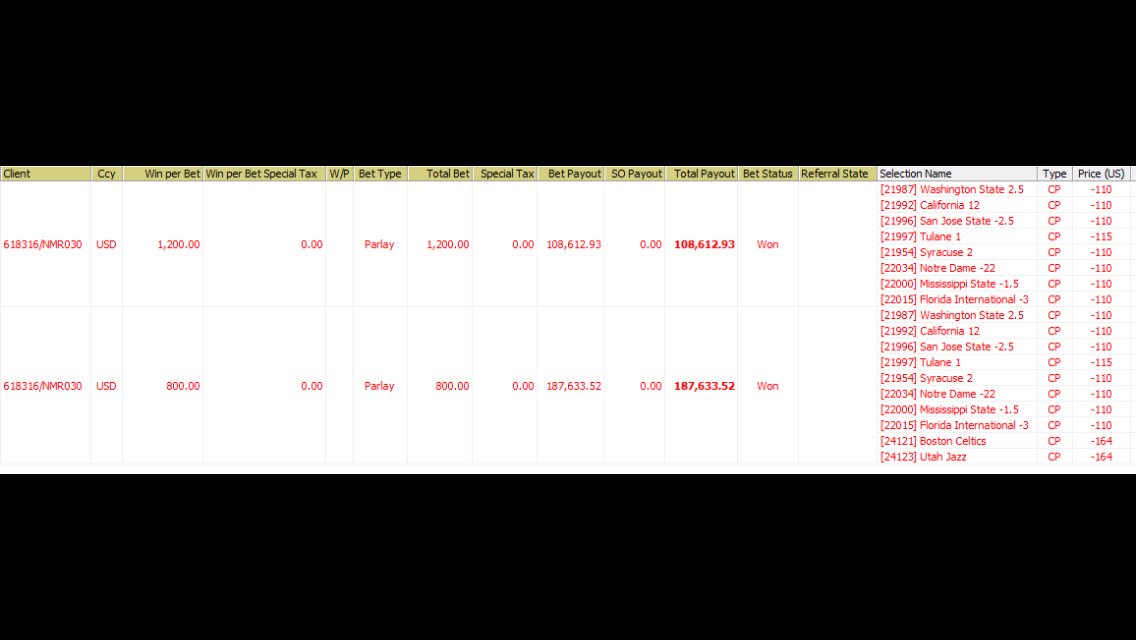 That has to feel pretty damn good. Going into Monday after winning nearly $300K on college football. Given that this person's betting a combined $2K I'll assume that s/he's a regular gambler but that they aren't anywhere near $300K in the hole and this was almost entirely profit.
As for my trip to Vegas this week, if you dudes have any tips for me on teams like San Jose State that I'd otherwise never have a clue about then hit me up in the comments or on Twitter at @casspa.