In 2015, it appeared the Seattle Seahawks had all but wrapped up Super Bowl XLIX after a perfectly executed two-minute drill resulted in the team having possession of the ball on the one-yard line with under 30 seconds to go.
It was basically a foregone conclusion that Russell Wilson would hand off the ball to Marshawn Lynch and essentially seal the victory but things took a bit of a turn when the quarterback dropped back to pass and threw the ball into the waiting arms of Malcolm Butler.
In addition to being one hell of a play, it also resulted in the creation of one of my favorite GIFs of all time…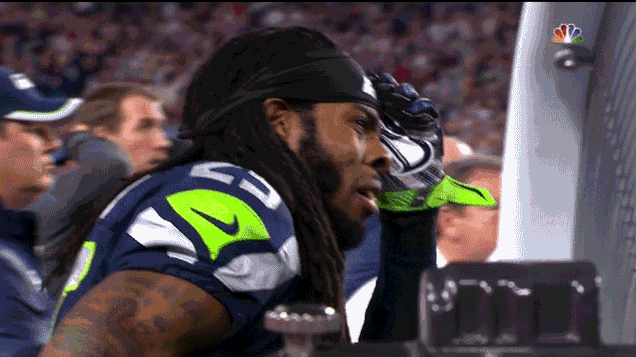 In addition to one of my favorite videos.
"Oh no" indeed.
They say those who don't study history are doomed to repeat it and it appears the Oakland Raiders might seriously need a refresher course based on some questionable playcalling during their matchup against the Chargers on Sunday.
The team had the ball on the one-yard line with Beast Mode at their disposal but Jon Gruden decided to channel his inner Pete Carroll and had Derek Carr pass the ball— a decision that resulted in an interception.
According to SB Nation, Lynch reacted exactly how you'd expect him to:
He took his helmet off, threw it into the air and pretended it was a basketball, putting up a shot. He was yelling as he walked to the sideline.
As The Big Lead notes, this play is especially ironic when you consider Carr said he'd never follow in Wilson's footsteps if he ever found himself in the situation he did yesterday.
You'd think teams would have learned their lesson by now, but according to ESPN's Paul Gutierrez, they still have a bit of catching up to do.
Maybe they should stop doing that.