Game of Thrones is only one episode away from closing up shop for a good, and while the season hasn't been without its detractors and naysayers, no one can deny that it's had plenty of highlights and big moments. It would then make sense that none other than Aaron Rodgers—himself a purveyor of highlights and big moments—made a cameo in the penultimate episode, "The Bells."
Rodgers is certainly not the first brief celebrity cameo Game of Thrones has had and a common theme for anyone who has made a guest appearance on the show is a lack of recognition in real-time.
Also, a lot of them die.
No, really; at least half of them have died.
At least you get to say you were on Game of Thrones, though.
With that said, let's rank the ten best (and worst) Game of Thrones cameos because the night is dark and full of terrors (and super quick celebrity appearances).
10. Ed Sheeran
Sheeran showed up in the show's season seven premiere, and to be completely honest, it was not cool. Not cool! And it wasn't just because it was Sheeran, someone I am personally not a fan of.
It wasn't cool because it was very clear that it was Ed effin' Sheeran.
As we go on with this list, a pattern will emerge. People do cameos on Game of Thrones and for the most part, no one notices because they happen super quickly. With Sheeran, that wasn't the case. He got lines. He sang a song. Arya complimented him on said song.
It was jolting and took you off your game. To watch Game of Thrones is to immerse yourself in Game of Thrones. Every actor is part of the show. You know them by their character names, not their real names. It'll be a bummer for them once the show ends, but for the time being, that's just how it is.
So when you're sitting there watching Arya ride slowly down the King's Road and then the show pans to a group of Lannister soldiers—one of them being Sheeran—it instantly removes you from the fantasy world and drops you back into the real one. The real world is not where I want to be on Sunday night, hence why I'm watching Game of Thrones.
Also, the whole thing felt cheap. The rest of the names on this list aren't nearly as well known as Sheeran's. Instead of "so-and-so" appearing on Game of Thrones, it felt like Ed Sheeran guest starred on Game of Thrones.
I'm not here for it. I wasn't then and I'm definitely not now. Learning that he got half of his face burned off by a dragon is some comfort, but even hearing about him again (which we did in the season eight premiere) was a bit much.
Let's just forget it ever happened and move on.
9. Snow Patrol's Gary Lightbody
Lightbody, the lead singer of Snow Patrol, did some singing in the third episode of the show's third season.
Lightbody played Gazza, a soldier loyal to the Boltons, and led a singalong of the tune "The Bear and the Maiden Fair" as a group of Bolton soldiers rode.
While I don't remember much about Snow Patrol, I do very clearly remember that the Boltons were the absolute worst. So, unfortunately, Lightbody is guilty by association here and this much is now clear: Snow Patrol is also the absolute worst.
8. Chris Stapleton
Country singer Chris Stapleton, like myself, is a big fan of Game of Thrones. However, that does seem to be where the similarities end. While we are both fans, I do not have the resources to have one of my people call up the show and ask if I can be cast in a bit part, which is what Stapleton had his management do.
Must be nice, Chris. Must be nice.
"I was like, you know, I would gladly fly to wherever in the world just to be a small part and get to watch that show going down," said Stapleton. "They were gracious enough to let me come participate that way."
For the record, I would have done the same but, like, whatever. I'm not jealous.
In "The Long Night," Stapleton played a fallen Wildling who becomes a Wight, which is totally something I would have been willing to do (and which basically anyone could have done). Again, I'm not salty. Not one bit.
7. Martin Starr
Starr, a veteran of Freaks and Geeks and currently one of the stars of HBO's Silicon Valley, must have made some solid connections at the HBO Christmas party to get the chance to appear in a Thrones' episode.
See kids? It pays to network.
In the season eight premiere, Starr plays a member of Euron Greyjoy's pirate posse and gets killed during Theon's rescue mission of his imprisoned sister, Yara. It might have been a short appearance but it was definitely a sweet one.
6. Noah Syndergaard
The Mets pitcher and Thor look-a-like actually got to do something in his cameo and that should definitely get to count for something. I mean, he also almost definitely died, but he got to do something before that!
Take that Chris Stapleton.
Syndergaard played a Lannister soldier in "The Spoils of War," the season seven episode that featured the famous Loot Train Attack. Seeing as how most of the Lannister army died, things didn't look good for the tall fella with blond hair. Then again, he should be accustomed to hopelessness as a member of the Mets.
During his brief cameo, Syndergaard can be seeing heaving a spear, which is again, more than Chris Stapleton did.
Then he probably died.
5. Of Monsters and Men
Icelandic folk rockers Of Monsters and Men pulled a Stapleton, getting their management to reach out to the show to see if they could somehow appear while Game of Thrones was filming in Iceland.
The persistence must have paid off (as well as been admired) because the band snagged probably one of the better cameos the show has had to offer. They appear as a troupe performing in Braavos in the season six episode "The Bloody Hand."
Bonus: As far as I know, they did not die.
4. Sigur Ros
Yet another band from Iceland was able to get in on the action, this time with Sigur Ros appearing in the season four episode "The Lion and the Rose," also known as the one where Joffrey dies. In addition to contributing a version of "The Rains of Castamere," they scored a gig as a wedding band, performing during Joffrey and Margaery's nuptials.
I'm going to go out on a limb here and guess that it was probably the first and only time Sigur Ros performed at a wedding. However, I'll have to check Wedding Wire or The Knot to be sure.
3. Will Champion
The Red Wedding, which took place in the ninth episode of the show's third season, "The Rains of Castamere," was a lot to digest. It was the show's third big HOLY SHIT Moment after Jaime pushing Bran out the window and Ned dying and it had people absolutely shook after.
Yet amidst all the chaos of the scene in Walder Frey's great hall, a familiar face could be seen playing in the wedding band, which was definitely not Sigur Ros.
It was Will Champion, the drummer of Coldplay! It was definitely a "blink and you'll miss it" type of cameo, but even still, there he was, thumping away on a drum before the massacre happened.
Will Champion of Coldplay essentially killed Robb Stark.
How do you feel about Coldplay now?
2. Mastodon
Here we have our first and only members of the two-timers club!
Brann Dailor, Bill Kelliher, and Brent Hinds of the metal band Mastodon not only appeared as Wights briefly during the show's fifth season but appeared again in the season seven finale, "The Dragon and the Wolf." Apparently, if you already look the part, it makes the decision that much easier.
Mastodon also contributed a song, "White Walker," to the Catch the Throne: Volume II mixtape, which came out in 2015.
At this point, no one is more bummed that the Night King is dead than these dudes. Their side hustle as character actors who specialize in playing Viking-looking zombies dried up super quick.
1. Rob McElhenney
McElhenney, one of the stars and creators of It's Always Sunny in Philadelphia is part of a nice little mutual admiration society consisting of himself and Thrones' showrunners David Benioff and D.B. Weiss.
First, Benioff and Weiss wrote an episode of It's Always Sunny (season nine's "Flowers for Charlie") and then did a cameo in the season 12 episode "The Gang Goes to a Water Park." It was only a matter of time before they returned the favor.
Would McElhenney play a rampaging Wildling or hardcore North Man, valiantly defending Winterfell from the army of the dead?
No.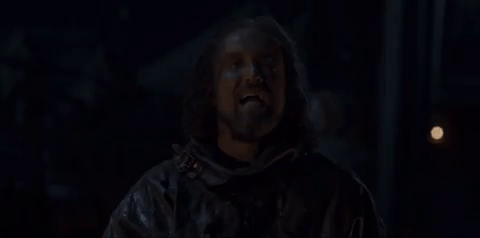 In the season eight premiere, McElhenney (along with Martin Starr) is part of Euron Greyjoy's Merry Band of Effin' Assholes who have Yara held captive. McElhenney takes an arrow to the eye during Theon's rescue mission and that's all she wrote.
Let me remind you that when Benioff appeared in "The Gang Goes to a Water Park," he played a water slide attendant and the worst thing that happened to him was that Mac called him a nerd. That pales in comparison to taking an arrow in the eye.
That couldn't have happened to Ed Sheeran?
Nah, I'm just kidding.
Or am I?