The dust has finally settled from another 09/01 apartment move. Thus it's a great time to reflect on a shared experience loathed by all – moving.
This is my third move since graduating from college, so, unfortunately, I'm quite familiar with the process.
As everyone knows, somehow, your number of possessions triples throughout a lease. Perfect time to take an inventory of the keeps, donates, and straight to the trash items.
There's some level of liberation achieved in throwing an item of monetary value in the trash. I try to donate what I can, but when the stress levels start creeping up, it's time to spike a t-shirt in a trash can.
It's stressful, tiring, and there's always a few things that don't go as planned. Nothing revs the engine like carrying a heavy couch up a five-foot-wide spiral staircase!
How many friendships have temporarily erupted in anger from the dreaded couch move?
Likely your heaviest, and least flexible possession, it's nearly impossible to carry it up a tight staircase, but somehow it always works out. Picture two dudes in a steaming hot stairwell screaming at each other:
Jimmy: "Gotta go up on your end a bit."
Steve: "Dude, this is as high as I can go!"
Jimmy: "Slide to your right! WTF, we're almost in!!"
*scrapes chunk of paint off the wall*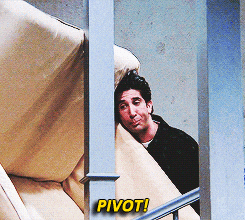 I stumbled through my first two post-graduate moves, with the help of my parents.
Now that I'm a bit more established, and experienced in city moving, I envisioned a painless, stress-free move. To avoid the dumpster fire outlined above, we hired movers and reserved a U-haul truck months in advance. We anticipated moving out by 9:00.
New tenants planned to arrive at 10:00, which gave us just enough time to put some finishing touches on the apartment, so it was utterly spotless upon the arrival of the new tenants.
What could possibly go wrong?!?
My move-in day started with a 5:00 AM drive to U-Haul to pick up our truck. We completed the online checkout to retrieve our keys before store opening, and low and behold; they did not have a truck for us.
Unbeknownst to me, some people keep their U-Haul over twenty-four hours to avoid overnight storage, and then just eat the penalties that come with it. So I'm sitting in a U-Haul parking lot at 5:30 AM, no truck reservation, movers are coming at 8:00, and we have to be completely out of the apartment by 10:00…quite the pickle.
I remember thinking, "okay, worst-case scenario, we move everything onto the street, call a friend with a pick-up, and make 10,000 trips to our new apartment" (only five minutes up the road). Not ideal, but we could make it work.
Part of me was sneakily excited to throw a couch in the back of a truck and ride on the couch instead of the passenger seat (silver linings, folks). Thankfully, we audibled our reservation from Quincy to the U-Haul on Mass Ave, and all was well.
The movers were a HUGE help. This was my first time hiring movers, and I'll never move without them again. "Yes, please move the couch while I carry this coffee pot."
By noon, we were done unloading and returned the U-Haul.
The next few days were occupied entirely with setting everything up. Folding clothes, putting away dishes, hanging pictures, and setting up some new furniture.
Laundry, dishes, and IKEA is the perfect storm to my idea of hell. If any homeless people reading this blog, contact me immediately because I could build you a five-bedroom palace with the amount of cardboard in my apartment right now.
One of my closest friends owns Very Good Building & Development Co., so I'll cover the raw materials, and he'll take care of construction. No need to thank me, I'm a man of the people.
A few days after moving in, we received an email from our previous landlord regarding our security deposit.
The new tenants had a few complaints.
Before I get to those, let's reflect on the weeks leading up to the move to set the stage a bit. These new tenants toured the apartment back in early March (before everything shut down).
From that brief interaction, I could tell I didn't like the wife (hereafter referred to as Sarah, not her real name). The level of stress from Sarah simply taking a wall measurement almost made me pass out.
She continuously berated her inept husband, who couldn't quite figure out how to measure a wall that exceeded the length of the tape measurer. Part of me didn't want them moving into my, now former, apartment…as if the apartment tour was some type of try out for me. That was strike one.
Strike two came in the weeks leading up to 09/01. Constant texts to us and calls to our landlord about whether we were moving out early, which ultimately turned into a frantic call to me from my landlord. "When can they move in? They need to book movers in advance. They need to reserve a truck in advance."
Like, yeah, no shit, we're all in the same boat. We reached out to the tenants of our new apartment to see if they're moving out early so we can move in. And those tenants reached out to the tenants of their new place…and so on and so forth.
Everyone is waiting to hear back from their lazy, useless realtor on whether they can move in early. Realistically, we'll all end up moving on 09/01, so do everyone a favor and CHILL out.
Sarah knew no chill and was a frantic mess on September 1st. She provided real-time updates of their drive to our former apartment. She texted our former landlord every ten minutes to let him know that they'll be there in 40 minutes, 30 minutes, 20 minutes, etc.
It reminded me of Buddy the Elf when he's on the phone with Walter and ends the unnecessary conversation with, "okay, I'll call you in five minutes!!"
Strike three came on September 2nd via email from our former landlord. He explained that the new tenants complained, so the landlord deducted $200 from the deposit to hire a cleaning service.
Overall, no big deal since we got most of it back, but he attached the pictures that the new tenants sent in their complaint email, and those struck a cord.
Picture 1 – Sarah captioned "Stuff Left": A drawer containing a fire alarm, hammer, thumbtacks, and a stapler.
Yes, Sarah, obviously we ripped the fire alarm out of the ceiling after the first time it went off – and you'll likely need a hammer, tacks, and a stapler at some point over the next year.
Technically, we also left the front door, ceiling lights, and toilet…do you plan on using those??? Fuck off, and you're welcome.
Picture 2 – Sarah captioned "Tub Not Cleaned": I can personally attest to the cleanliness of the tub because I cleaned it. I scrubbed for an hour with hot water and comet bleach. It's an older apartment, Sarah…the tub isn't going to look brand new.
Move to the burbs and build a house if you want a sparkling white tub.
Picture 3 – Sarah captioned "Food Left in Cabinets": We left two boxes of tea, one bag of flour, and a box of baking soda in the cabinet above the microwave. All items that you'll inevitably need, Sarah.
I might take a daily walk by the apartment, and if I catch one whiff of baked goods, I'm demanding the $2.48 for that bag of flour.
Another apartment move in the books. Tough saying goodbye to the apartment that housed me during the dog days of quarantine, and it certainly created some memories that I'll never forget.
Definitely NOT tough saying goodbye to Sarah…see ya never.