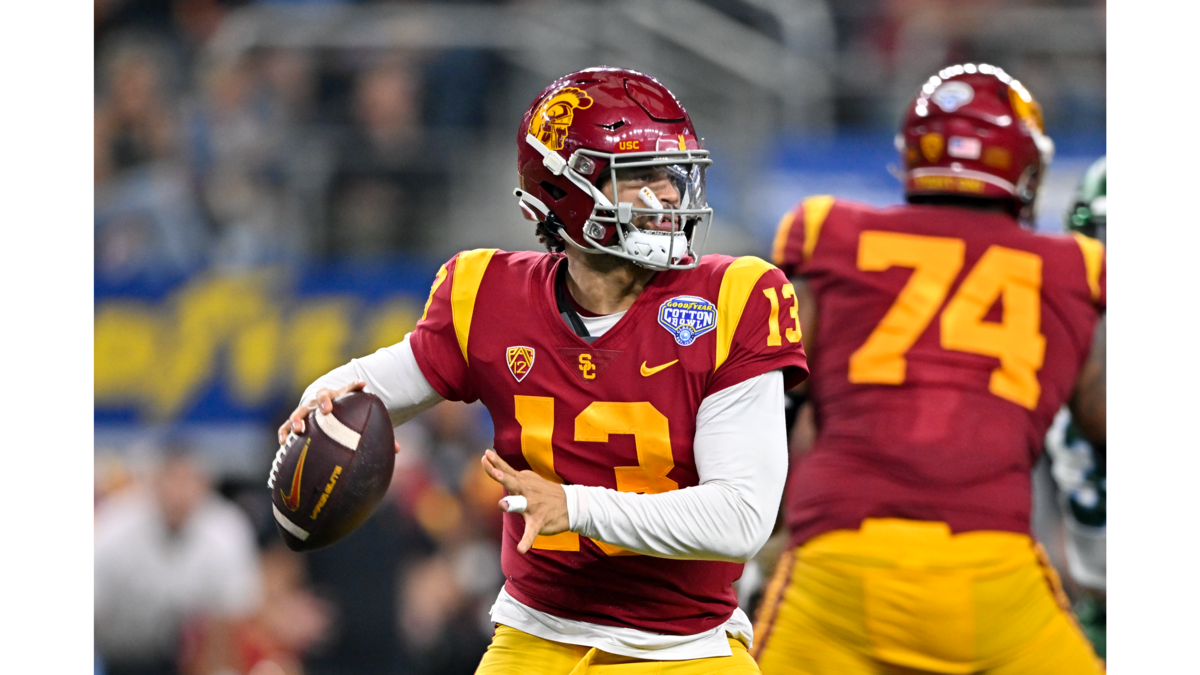 Alika Jenner/Getty Images
A lot of NFL teams believe that the two best quarterback prospects from college football last year are not part of the 2023 NFL Draft. Instead, they will continue playing college football next season.
Speaking on the Rich Eisen Show, Sports Illustrated's Albert Breer says that "a lot of NFL teams" believe that USC's Caleb Williams and North Carolina's Drake Maye are considered the superior prospects to Alabama's Bryce Young and Ohio State's CJ Stroud.
Williams and Maye both had outstanding performances last season, and are expected to be top picks in the 2024 NFL Draft.
Caleb Williams:
Caleb Williams had an incredible season in 2022, winning the Heisman Trophy after scoring 52 total touchdowns and gaining 4,919 total yards. Out of these, he had 4,537 passing yards and 382 rushing yards.
Williams was an integral part of USC's offense, proving to be an excellent dual-threat quarterback and showed that he has the potential to be a game-changer in the NFL. He played a pivotal role in USC's success last season.
Williams even drew Patrick Mahomes comparisons.
His impressive stats and performances have led many NFL teams to believe that he has the potential to be the best quarterback prospect for the upcoming season and the number 1 overall pick.
Drake Maye:
Drake Maye also had an impressive season in 2022, where he threw for 4,321 yards and had 45 total touchdowns. He also added nearly 700 yards rushing to his stats, showcasing his mobility and versatility on the field. Maye was a standout player for North Carolina, and his performances have garnered the attention of several NFL teams.
Maye has shown that he has the ability to make accurate throws and read defenses well, making him a promising prospect for the NFL.
Expectations for the 2024 NFL Draft:
Although Williams and Maye will not be part of the 2023 NFL Draft, based on their performances and potential, Williams and Maye are expected to be top picks in the 2024 NFL Draft. Many NFL teams have taken notice of their talent and are closely monitoring their progress.
If Williams and Maye continue to perform at the same level or even improve in the upcoming season, they could potentially go 1 and 2 in the 2024 NFL Draft.