The Ohio State Buckeyes might currently be sitting at No. 2 in both the AP and Coaches Polls, but the tOSU's national title hopes may have taken a major hit today with the news that stud defensive lineman — and probable top-5 pick in the NFL Draft — Nick Bosa will not be returning to the team this year, instead, focusing on his future pro career.
That's according to ESPN, who said that Bosa has withdrawn from the school entirely, making me think he's basically going through the Ivan Drago workout plant till the NFL Draft, working out and getting cut the f*ck up to become a monster.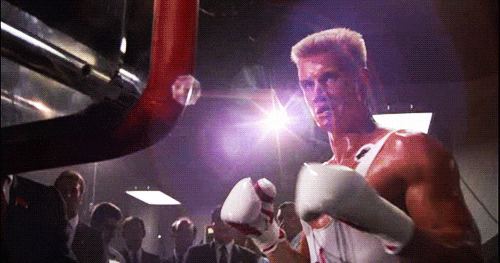 You're on the clock, all sucky NFL teams.
The news isn't much of a shock to some people, who saw Nick Bosa hobble off during the Buckeyes' primetime game several weeks ago against TCU with a core muscle injury. However, the timing of it is a bit surprising, as Bosa's choosing his future NFL career over his current teammates, which has to be a little bit sour for a team in the national title hunt.
However, as much of a blow as this is to the Bucks, Ohio State's head football coach Urban Meyer sounds supportive of Bosa's decision, saying this, per ESPN:
"I was hopeful that Nick would be able to return to play again for us," Ohio State coach Urban Meyer said in a statement. "I know this was an extremely difficult and emotional decision for Nick and his family, and I wish him well as he moves on to get himself 100 percent healthy and ready for his next chapter. I want to thank Nick for the remarkable efforts he gave for this program. He is a first-class young man who we have been honored to coach."
As a Buckeyes fan, I'm pretty pissed to hear Bosa's not coming back this year. I mean, dude was a beast in every definition of the word in his three games this season, racking up four sacks and six tackles for loss, while also leading the defense in tackles at the time of his injury. Plus, that little shrug celebration following a sack was always a welcome sight to see every Saturday from the big man.
But, trying to be as bias as possible, this is the right move for Nick Bosa and his family. Sure, Nick's older brother, Joey Bosa, has already made millions after cashing in as the No. 3 overall pick by the L.A. Chargers a couple of years ago, but there's a belief that Nick Bosa is even better — which is hella scary. Point blank: the kid has to protect himself now for a chance to be top-notch in the future.
This is just another example of a college football player deciding that future earnings is more important than his team and university, and you can't really blame him. Until college athletes get any sort of payment, things like this will continue to happen. But, hey, that's a discussion for another day.
(H/T ESPN)