An Alabama football commit was heard giving the most noncommittal response to his current standing with the team. Those comments have fans talking on social media.
Wide receiver Perry Thompson, a four-star pass catcher from the state of Alabama, spoke about his pledge to the Crimson Tide in an interview with On3 Recruiting.
His view of that commitment doesn't necessarily suggest that he's locked in.
"Alabama is still on top and I'm committed to them, but I'm going to keep taking my visits. I would say my commitment is about 60% right now."
Straight out of the book of Anchorman's Brian Fantana.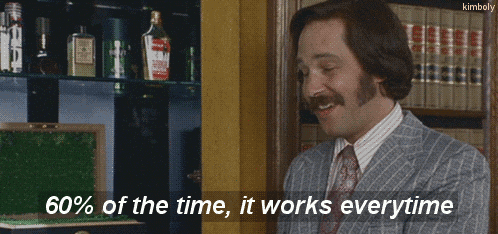 The response seems to be the opposite of a commitment as he's essentially welcoming other suitors to continue their pursuit. The wideout, in his own words, is barely over 50/50 on the Tide.
Commitments used to signal the end of the recruiting process, but in today's world of NIL, there's always a bigger and better offer awaiting. Not that you're going to find many programs on a bigger college football stage than Alabama.
Perry Thompson committed to the program in June of last year, but he's since landed offers from Tennessee, Auburn, and Miami. As his stock continues to rise, so too will the drama in his recruitment.
Many online were quick to comment on the receiver's response to his Crimson Tide pledge. Here's what they were saying.
One person wrote, "So, he's uncommitted," while another responded, "60% is NOT a commitment."
This fan went as far as to say that Nick Saban should pull his scholarship.
Being that he's in the class of 2024, there's still tons of time left for Thompson to change his mind. That's led many to wonder why he made a commitment in the first place.
This should be something to keep an eye on throughout his senior season, as the offers are sure to continue rolling in. For now, he's holding onto his spot with the Alabama football team. Maybe until something better comes along.
READ NEXT: Alabama football unveils plans for 'NIL Hub'