Most Popular Super Bowl Snacks In Every State Shows We May Have To Get Rid Of Massachusetts, Montana And New Mexico
We've already talked about the insane amount of calories that you will eat during your Super Bowl party (Seen HERE). Now we'll look at the different types of foods and snacks you'll devour at your Super Bowl party. Google assembled the most popular Super Bowl snacks for 2019 and some states should not be part of the United States based on their preferred foods for the big game.
Google Trends released a map of the "uniquely searched Super Bowl foods by state." Many states had normal Super Bowl delicacies such as pizza, chicken wings, nachos, buffalo chicken dip, jalapeno poppers, and tacos. Then there are some states that love foods that aren't necessarily known to be Super Bowl snacks, but you could absolutely understand they would serve at the party. We're talking about food such as football cupcakes, baked chicken breasts, bagel pigs in a blanket, chocolate peanut butter cake, spinach dip, banana bread, bacon-wrapped smokies, and lasagna.
Then there are states who can't spell or take "Super Bowl" very literally. There are numerous states that serve soup or soup-like products at their Super Bowl parties. Colorado and Missouri offer broccoli cheese soup (Is there a more smelly fart-inducing food?), Montana has lentil soup, Alabama serves white chicken chili, South Carolina has turkey chili, bring your own ladle if you're going to a Super Bowl party in Oklahoma because chicken noodle soup will be on the menu. It's "Super Bowl," not "Souper Bowl."
Then there are some states that have some peculiar ideas on what Super Bowl food is. Like what is Indiana doing by serving fried rice? I love fried rice, but you better have some General Tso chicken to go along with the fried rice. Maine loves paella as everyone should, but this is the Super Bowl, not the fiestas of San Fermin. Same goes for you Iowa with your Irish stew, this is the Super Bowl, not St. Patrick's Day.
Then there are the "healthy" states that are too cool to serve high-fat, 2,000-calorie dishes. We're looking at you Idaho that serves salads. North Carolina, I love a crisp Cobb salad, just not on Super Bowl Sunday. Mississippians, why are you serving your guests granola bars? This is a Super Bowl party not Halloween where you offer children crappy trick or treat food.
Dear New Mexico why are you serving pea and peppercorn mash? Did you not get the memo that the American patriots won the Revolutionary War and we're no longer under British control and you don't have to eat those garbage mushy peas? Hey Nevada, vegan cheese is gross and so is vegan cheesy bacon spinach dip. And why are you serving vegan cheese in a dish with bacon from slaughtered little piggies? Massachusetts should just secede from the union already with their despicable gluten-free pretzels.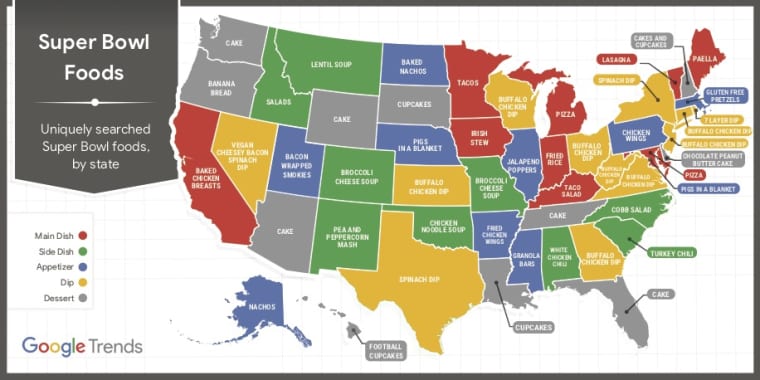 Alabama: White chicken chili
Alaska: Nachos
Arizona: Cake
Arkansas: Fried chicken wings
California: Baked chicken breast
Colorado: Broccoli cheese soup
Connecticut: Buffalo chicken dip
Delaware: Chocolate peanut butter cake
Washington, D.C.: Bagel pigs in a blanket
Florida: Cake
Georgia: Buffalo chicken dip
Hawaii: Football cupcakes
Idaho: Salads
Illinois: Jalapeno poppers
Indiana: Fried rice
Iowa: Irish stew
Kansas: Buffalo chicken dip
Kentucky: Taco salad
Louisiana: Cupcakes
Maine: Paella
Maryland: Pizza
Massachusetts: Gluten-free pretzels
Michigan: Pizza
Minnesota: Tacos
Mississippi: Granola bars
Missouri: Broccoli cheese soup
Montana: Lentil soup
Nebraska: Pigs in a blanket
Nevada: Vegan cheesy bacon spinach dip
New Hampshire: Cakes and cupcakes
New Jersey: Buffalo chicken dip
New Mexico: Pea and peppercorn mash
New York: Spinach dip
North Carolina: Cobb salad
North Dakota: Baked nachos
Ohio: Buffalo chicken dip
Oklahoma: Chicken noodle soup
Oregon: Banana bread
Pennsylvania: Chicken wings
Rhode Island: 7-layer dip
South Carolina: Turkey chili
South Dakota: Cupcakes
Tennessee: Cake
Texas: Spinach dip
Utah: Bacon wrapped smokies
Vermont: Lasagna
Virginia: Buffalo chicken dip
Washington: Cakes
West Virginia: Buffalo chicken dip
Wisconsin: Buffalo chicken dip
Wyoming: Cakes