In the twilight of his 40s, an unfulfilled Will Smith phoned Denzel Washington for sage life advice.
Denzel advised him to bear with the "funky 40s" to make it to the "fuck it 50s," a mantra that led Smith to Peru a dozen times to trip on the South American psychoactive brew, ayahuasca.
Read the entire Will Smith profile in GQ here.
I'm not sure anyone needs any more thesis points on the divine coolness of both Denzel Washington and Will Smith, but for those still on the fence, I'm glad you're here.
In a recent GQ profile before the release of his memoir, Will Smith opened up his "unconventional" 24-year marriage With Jada Pinkett-Smith, race relations, trauma in his childhood, and breaking the impulse to please everyone in pursuit of finding himself outside of his public image.
RELATED: Will Smith Reveals The Famous Women He Dreamed Of Having In A 'Harem' More Than 'Anything In The World'
In the twilight of his 40s—despite achieving a record eight consecutive films with $100 million domestic box office gross and enjoying all the perks that come with being the patriarch of a beautiful family—Smith found himself wandering and unfulfilled. His astronomical success had come at the price of losing closeness with those who mattered.
So he did what any of us would do: Call Denzel Washington.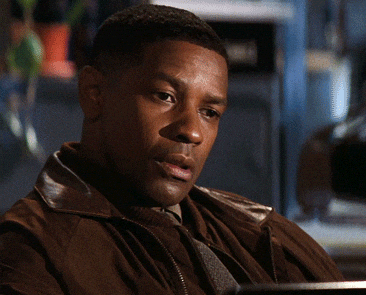 "Throughout the years, I would always call Denzel. He's a real sage. I was probably 48 or something like that and I called Denzel. He said, 'Listen. You've got to think of it as the funky 40. Everybody's 40s are funky.' He said, 'But just wait till you hit the fuck-it 50s,' " Smith told me. "He said, 'Just bear with your 40s.' I stopped and I was like, 'The funky 40s and the fuck-it 50s.' And that's exactly what happened. It just became the fuck-it 50s, and I gave myself the freedom to do whatever I wanted to do." [via GQ]
Smith, now 53, has embraced the Fuck It 50s full throttle.
Big Willy rented a house in Utah and sat in solitude for 14 days, began traveling without security for the first time, and jetted to Peru for more than a dozen ayahuasca rituals despite never smoking weed and barely drinking in his five decades prior.
"This was my first tiny taste of freedom," Smith said of his first ayahuasca trip. "In my fifty plus years on this planet, this is the unparalleled greatest feeling I've ever had."

"I totally opened myself up to what, I think, was a fresh sampling of the fruits of the human experience."
Ayahuasca, a South American psychoactive brew, has been drifting around the cultural zeitgeist recently, with Megan Fox admitting to Jimmy Kimmel that she vomited and "went to hell" and back on her 3-day Costa Rican ayahuasca retreat.
Comedian Neal Brennan, who's experimented with a litany of drugs to combat depression in the past, recently described his trip as a "God hack" and claimed it was "the most profound experience I've ever had." Brennan also revealed that Chris Rock, who he took it with, "sobbed for seven hours" in gratitude.