Russia And Ukraine Are Fighting On Twitter And It Ended With A Death-Blow 'Simpsons' GIF
On March 18, 2014, the Russian Federation annexed the Ukrainian territory of Crimea. Tensions between the two countries have been simmering ever since Russia's aggressions. There appears to be no thaw between the neighboring nations and have taken their hostilities to Twitter because this is 2017 and it's weird.
On Tuesday, quite possibly the first weaponized use of a GIF was deployed on Twitter when Ukraine laid the smackdown on Russia. It all started when the official Twitter account of Ukraine @-mentioned the official Twitter account of Russia. Ukraine pointed out that their country had a diplomatic relationship with France long before Russia was on the scene and posted an image of Anne of Kiev, the French queen consort during the 11th century, who lived in what is now the capital of Ukraine. Russia responded with a tweet stating that they were "proud of our common history. Russia, Ukraine, and Belarus share the same historical heritage which should unite our nations, not divide us." That's when Ukraine dropped a nuclear bomb-like Simpsons GIF on Russia.
Game over.
What a time to be alive, to see two nations battle each other on social media with GIFs and in 140-characters or less.
The Ukraine is not weak on Twitter.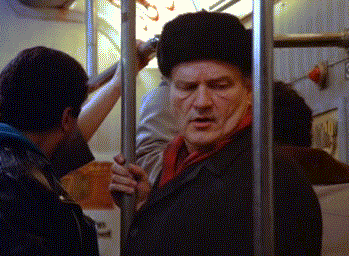 [TheHill]