If you haven't already heard, there are a handful of MLB teams who are actually charging fans money for the chance to buy cardboard cutouts to "sit" in the stands as baseball returns. The hope is obvious: That the fake faces sort of resemble real supporters; just without the constant heckling.
With the San Francisco Giants planning to charge fans $99, and the Oakland A's saying they'll start pricing at $89 for a cardboard cutout, I had to comment on this ridiculous idea in the only way I know possible — by mocking it.
Who's with me that this whole thing is the dumbest ever? That any fans actually paying MLB teams money for the chance at a cutout would be insane. Or that the players themselves would find this tacky and blatantly stupid.
Since I clearly dislike the idea, I figured we might as well get some money together and do the only thing there is to do: buy a bunch of random cutouts to troll the teams trying to implement this. Take a look below at some of my suggestions.
Athlete Mugshots
If you really want to fuck with someone hard, why not go ahead and buy a cardboard cutout of them after being arrested, rubbing it in their face that their mugshot is a shitty part of their past? Imagine being a baseball player who had to stand in the batter's box and see an image of themselves looking like that; it'd be unforgiving. Yeah, this is a good way to get a guy into a major slump to start the new season.
Mr. Larson from Happy Gilmore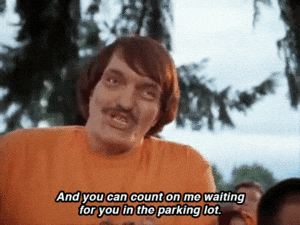 The guy was a monster, and he literally wore a t-shirt that read "Guns don't kill people, I kill people," so, yeah, it'd be a pretty entertaining way to fuck with a baseball player's head. I just think about Bryce Harper standing in the batter's box and scanning the crowd, only to see Mr. Larson's giant mug staring back at him. The fact that somebody would pay $89 for that to "sit" in the stands would probably be enough to throw Harper off his game a little bit, right?
Distracted Boyfriend Meme
It's one of the most popular memes to ever hit the Internet, and ponying up a collective $267 to get these three "people" together as a cardboard cutout is a must. Replace the heads with something unique that's related to one of the MLB teams playing — especially if it's trolling the cheating Houston Astros with a drum or something clever.
This Peter North Gif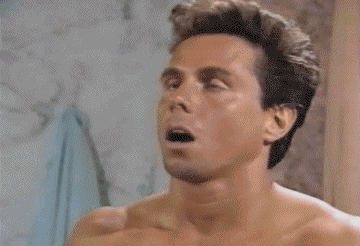 OK, so you won't be able to display the actual, moving gif, but, shit, we must find a way to get the former adult star printed as a cardboard cutout. If I really have to go into the reasons why this is both hilarious, distracting and all sorts of A+ trolling, you need to check your pulse — because no player on any MLB team could resist distraction looking at this damn thing.
The Player
This would kind of be fucked up, right? Like, you're standing on the baseball field and looking around the stands to see yourself looking back at you; it would be weird, and would, no doubt, throw a guy off his game a little bit. Sure, it'd be funny at first, but by the fifth inning it'd be too distracting — like the bad accident people can't look away from on the highway. It's hard to imagine a guy like Trevor Bauer not having a mini freakout in his head when seeing a cardboard cutout of himself "watching" himself play.