Let's be honest, we knew this NCAA-coronavirus news was coming. Large events all across America are being canceled. Event staff are spending more time fielding cancellation calls than planning events. The New York City, Chicago, and Boston St. Patrick's Day parades have all been canceled due to the COVID-19 outbreak that's swelling each day. The Warriors will play a game without fans in attendance.
And now it's been announced the NCAA Men's Basketball Tournament will be played with 'only essential staff and limited family attendance'. This means no fans will be allowed in the buildings and this is going to sting for millions of college basketball fans.
Here's the statement from NCAA President Mark Emmert: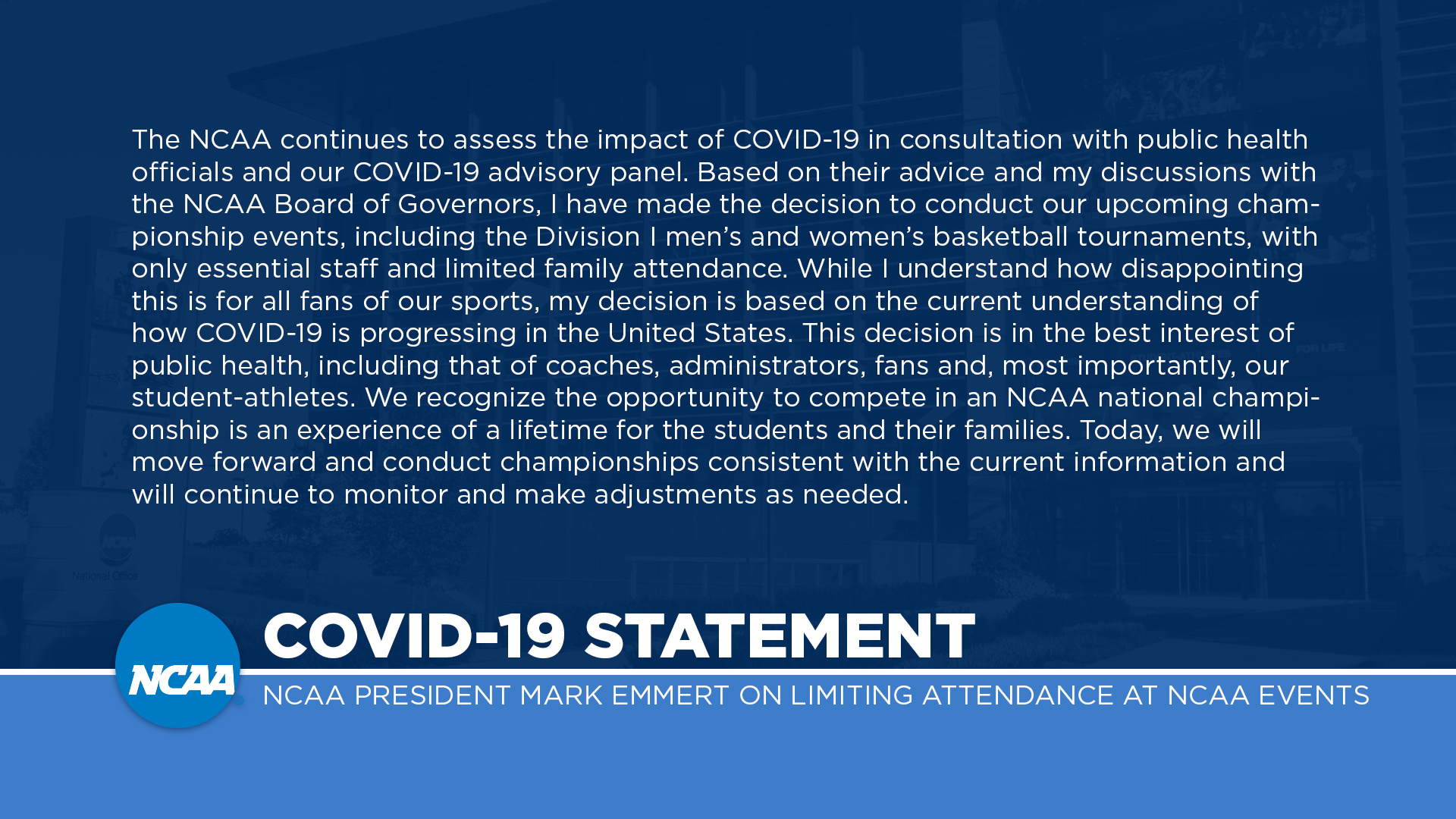 The full statement reads:
The NCAA continues to asses the impact of COVID-19 in consultation with public health officials and our COVID-19 advisory panel. Based on their advice and my discussions with the NCAA Board of Governors, I have made the decision to conduct our upcoming championship events, including the Division I men's and women's basketball tournaments, with only essential staff and limited family attendance. While I understand how disappointing this is for all fans of our sports, my decision is based on the current understanding of how COVID-19 is progressing in the United States. This decision is in the best interest of public health, including that of coaches, administrators, fans, and, most importantly, our student-athletes. We recognize the opportunity to compete in an NCAA national championship is an experience of a lifetime for the students and their families. Today, we will move forward and conduct championships consistent with the current information and will continue to monitor and make adjustments as needed.
–NCAA President, Mark Emmert, on limiting attendance at NCAA Events
Fans all over are responding with disappointed messages:
Coronavirus Updates: WHO Declares Pandemic, 70% Could Become Infected, Coronavirus Conference Scrubbed, St. Patrick's Day Parades Canceled
There are a ton of people on Twitter calling this media-induced panic and those people really need to get fucked because they clearly haven't been following the data and have no idea what's coming next.
Florida State is my alma mater and the Seminoles won the ACC regular season for only the second time ever. They could very well win the ACC Tournament and eventually go on to lock up a #1 see in the NCAA Tournament. That's got me hyped to the point that I was previously considering making an effort to get to some of the games. I guess the upside here is I no longer have to think about it.