In many states across the country, kids are already back in school. Two students in Georgia have already received suspensions for posting photos on social media during school hours.
The students – both from North Paulding High School – say they have been suspended for posting photos of crowded hallways that went viral on Twitter.
The photos displayed just how bad of a job school administrators are doing with enforcing masks, social distancing, and keeping kids safe.
One of the teens, 15-year-old Hannah Watters, told BuzzFeed News she received "a five-day, out-of-school suspension for posting one photo and one video on Twitter."
Watters posted the above photo – reposted by @Freeyourmindkid – with the caption:
"Day two at North Paulding High School. It is just as bad. We were stopped because it was jammed. We are close enough to the point where I got pushed multiple go to second block. This is not ok. Not to mention the 10% mask rate."
The other student, who asked not to be named, told BuzzFeed News that they were suspended for posting photos on Twitter. The student was allegedly responsible for the first photo that went viral.
"The policies I broke stated that I used my phone in the hallway without permission, used my phone for social media, and posting pictures of minors without consent," Watters told Buzzfeed News.
Georgia students returned to classes this week even though Covid-19 cases in the state are still incredibly high.
On Wednesday, principal Gabe Carmona made an announcement on the school intercom that "any student found criticizing the school on social media could face discipline."
Watters broke down the number of students in her class wearing masks and the numbers are incredibly appalling.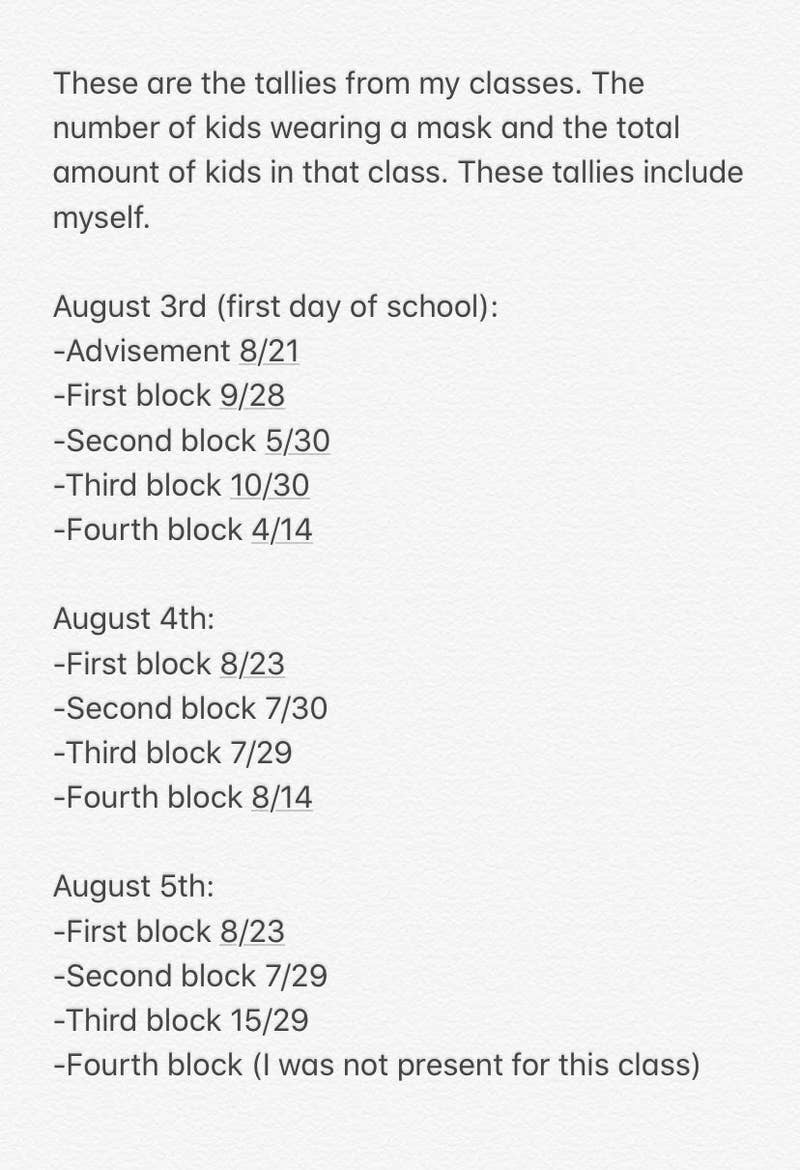 via BuzzFeed News / Hannah Watters
If the high school sees an outbreak in cases, they won't be the first school. At least 122 people in one Mississippi school district are self-quarantining after several students tested positive for COVID-19 less than two weeks after the return of in-person classes
Honestly, the safest place for these kids to be is home on suspension. The school might be saving their lives.
[via BuzzFeed News]
UPDATED: Hannah Watters suspension has been revoked.
***