A lot of countries pay their Olympic athletes large sums of money for winning medals in the Olympic Games
The amount that countries pay athletes for Olympic medals varies widely from country to country with Singapore paying more than any other
Here we see a charge of 12 countries across the globe and what they pay athletes for Gold, Silver, and Bronze medals
As of this exact moment in time that I'm writing this article, the United States holds a slight edge over China in the total medal count at the 2020 Tokyo Olympics (41 USA to 40 China). China is currently in the lead for Gold Medals with 19, followed by Japan at 17, and the United States in 3rd with 14 Gold Medals.
I saw a tweet earlier this week about an athlete from India who returned home and was going to get set up with a job and some sort of compensation from the Indian government. I didn't find it all that odd because I remember some story from last year about an athlete who experienced a house fire and it was an apartment given to her for winning some Olympic medals decades ago. So I sort of knew that countries compensated athletes for medals but I had no idea what that looked like.
Suspending reality for a moment, if you are a world-class athlete who could pick any country in the world to represent you would want to choose Singapore if you're in it for the money and glory. Singapore has only won 5 Olympic medals in history, including just 1 Gold Medal (Swimming, 2016 Rio Olympics).
If you win a Gold Medal for Singapore you get paid $737,000. Winning a Silver will earn you $369,000 and a Bronze will bring in a payday of $184,000. That's just shy of twenty times what the USA is paying athletes for Golds. Yes! The USA actually pays Team USA athletes thousands and thousands of dollars for medals.
Here's a chart from CNBC that shows how much athletes are paid for winning Olympic medals from 12 countries across the globe: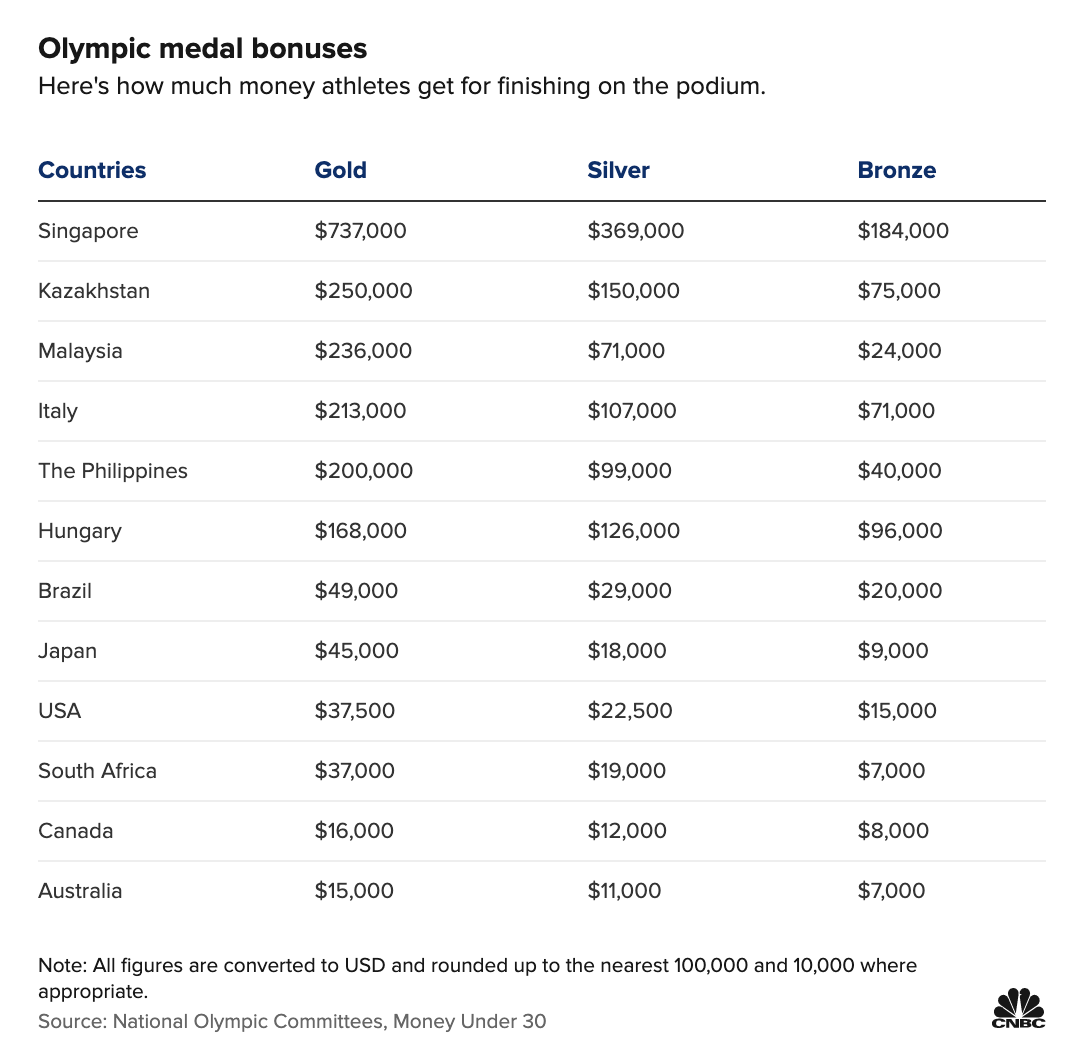 CNBC
Singapore is paying out roughly 19.5x more for Gold Medals than the United States is. Of course, the USA has more Olympic medals than any other country and it's not even close. The USA has 2,828 combined medals across the Summer and Winter Olympics. The Soviet Union had 1,204 medals and they obviously don't exist anymore. So the next closest country to the USA's medal count is Great Britain with 883.
Athletes are compensated in tons of ways outside of just getting paid for winning medals. Various countries offer grants and stipends for training, and bonus packages including homes and jobs if athletes win a medal instead of just a check.