Getty Image
Less than 24 hours after the New Orleans Saints lost to the Tampa Bay Buccaneers in the NFC Divisional round, wide receiver Michael Thomas posted a tweet that had the NFL rumor mill going crazy.
Without context, he posted a GIF of Chiefs receiver Tyreek Hill from Kansas City's matchup with Tampa Bay in late November. Hill went for 269 yards and three touchdowns on 13 catches in a 27-24 win on the road and he payed homage to Shannon Sharpe by taunting the away fans. He told the crowd that "help is on the way."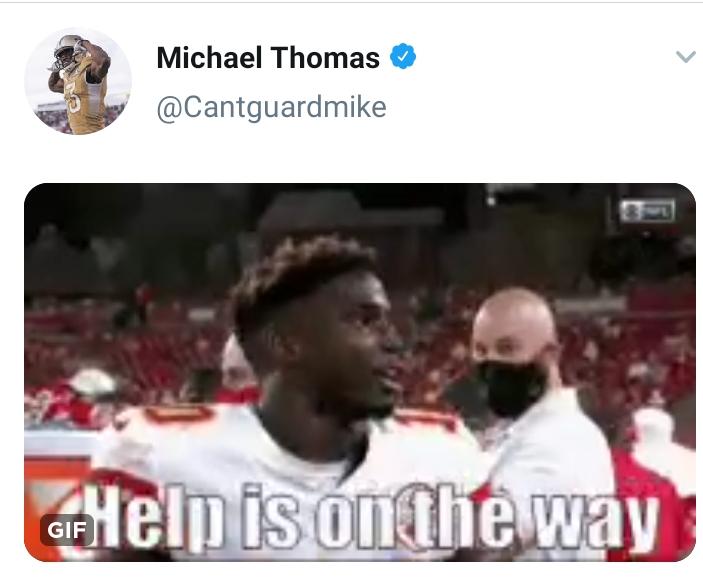 Thomas, known by his nickname 'Can't Guard Mike,' was guarded on Sunday. Drew Brees completed 19 passes in the loss, but not a single one went in Thomas' direction. He was kept off of the box score. The poor performance in the finale capped his worst season in the NFL after an ankle injury and off-field issues kept him off of the field for a good chunk of the season. Thomas got into an altercation with a teammate at practice that led him to be ruled out in Week 6 and made only 40 catches for 438 yards in nine games
The combination of disciplinary issues and lack of production has led to rumors that the Saints may be looking to cut bait. NFL Insider Ian Rapoport told the Pat McAfee show on Monday that he did not see a trade coming in the near future, but he wouldn't rule it out.
"I would not rule anything out," he said. "I don't think anything is imminent … I don't know. I would say they probably will not trade him, but similar to Deshaun (Watson), I would imagine teams will go 'okay, maybe they weren't all that happy, let me call and see what's going on.'"
Rapoport's comments came prior to Thomas' tweet, so perhaps there are underlying feelings that haven't been expressed publicly. Thomas also could have been trolling the Tampa Bay fanbase, or posting something completely unrelated. Another train of thought is surrounding Watson's desire to get out of Houston. With Brees likely to retire, New Orleans will either turn to Taysom Hill, Jameis Winston or find a quarterback on the market. The logistics of a blockbuster deal would be difficult for both parties, but maybe Watson is the help on the way.
It was a tough year for Thomas and New Orleans alike, and trade rumors had been shot down all season. All signs point to his return next year. However, the Saints are projected to be about $100 million over the salary cap limit in 2021 and Thomas accounts for nearly $19 million of that number. It wouldn't be the craziest thing for a trade to happen and Thomas' tweet may allude to the future.