The Rock Vs. The Mountain: Who Has The Most Intense Diet?
Floyd Mayweather's Diet Leading To The Conor McGregor Fight Featured Lots Of Spaghetti
Despite being 40-years-old, Floyd Mayweather was in impeccable shape and toyed with Conor McGregor for 10 rounds and looked like he could have easily gone another 10 rounds. Mayweather's training and conditioning are world-renowned, but what did Floyd's diet look like for the huge fight? TMZ interviewed Mayweather's personal chef and she revealed what the champ ate in the days before the huge fight with Conor McGregor and Money Mayweather loves himself some spaghetti.
According to Mayweather's personal chef J. Santiago, during his training for the fight with McGregor, Mayweather's typical breakfast included eggs, home fries, grits, and pancakes along with various breakfast meats such as bacon, turkey sausage, turkey ham, and turkey kielbasa. For lunch and dinner, the undefeated boxer ate a lot of BBQ chicken, baked chicken with rice and gravy, and "all sorts of soul food." But Mayweather's #1 meal that he is "obsessed" with is spaghetti Bolognese. Snoop Dogg approves.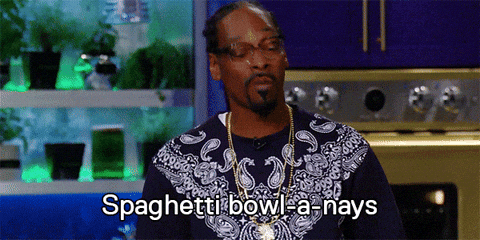 On the day of the weigh-in, Mayweather only ate two bananas and all he drank was water. Mayweather weighed 149.5 pounds and the limit was 154 pounds. However, once he made weight Floyd chowed down on BBQ chicken, green beans, rice, sautéed shrimp and peppers in garlic sauce, a salad, annnnnnnnd you guessed it, spaghetti. After the fight around 1:30 a.m. on Saturday morning, Maywether had BBQ chicken, green beans, rice, annnnnnnd more spaghetti. Floyd Mayweather doesn't like spaghetti. Floyd Mayweather LOOOOOOOOOVES spaghetti!!!