Decimated by injuries, the San Francisco 49ers are rolling out a guy named Nick Mullens tonight to start at quarterback in their nationally-televised game against the Oakland Raiders. With both teams sitting at a combined 2-13, it's safe to say that this may be the sh*ttiest Thursday Night Football game in NFL history. Still, it's sports, so we'll probably all watch.
While the aforementioned Nick Mullens may be a nobody off the street in a lot of our eyes, he'll still have something that 99.9 percent of us reading this won't have by the end of the night — an NFL start on his resume. Whether the start goes well or not, one thing that the dude can always hang his hat on is his toughness; and a story about him playing through a nasty injury in college is all the proof you need.
Sure, Nick Mullens, presumably, doesn't not possess all the tools to become a team's franchise QB, but, as the story goes from college, the dude is as tough as f*cking nails, because he once went back into a game following a bone popping through his throwing hand. Yeah, pretty insane, right?
Per the Sun Herald:
it was recalling a low point in the season — a 55-32 loss at Texas-San Antonio on Oct. 8 — that made (USM head coach) Jay Hopson the most excited when talking about his quarterback.

The moment Hopson pointed to came when the 6-foot-1, 200-pound Mullens left the game for a couple of series late in the third quarter after injuring the thumb on his right hand.

After Mullens jogged over to the sideline favoring his right hand, Hopson wandered over to check on him.

"He had a bone sticking out through his thumb," Hopson said with a look of disbelief. "I remember I saw the bone pop out and he said, 'Just push the bone back in and tape it. I think I can throw the ball.' "

The USM medical staff followed Mullens' request. The bone was pushed back in place and they closed the wound with stitches.

Mullens re-entered the game and threw a 33-yard touchdown pass to cut the UTSA lead to 48-32 with 6:47 remaining. UTSA put the game to rest with a touchdown with 1:57 left.
What the hell? The dude actually had a bone poking through his skin, and he refused to stay on the sidelines. I'm no Terrell Owens, but, damn, that'd make me cry and brag about my quarterback if I had to.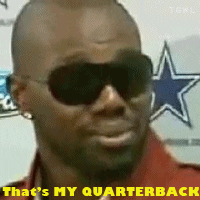 Added Hopson:
"It's the most amazing thing from a quarterback I've ever seen," Hopson said. "He was throwing some balloon balls out there, but the bottom line is that's the competitor in him. He fought through and a lot of quarterbacks would have said, 'Hey, I'm done. I've got a bone through my hand. I can't throw anymore. I'm done.' He's a young man who kept fighting and battling."
Pretty remarkable stuff from Nick Mullens, if you ask me. Even if this is the only start he ever makes as for the San Francisco 49ers or, hell, as an NFL quarterback, this story will forever make me root for him. I mean, who doesn't love a "rub some dirt on it" kind of guy?