My love for McDonald's is only surpassed by my love for running. That probably sounds like a major contradiction — since, you know, most people who eat fast-food probably don't workout all that often — but it's the honest truth. Give me some Egg McMuffins. Let me chow on those golden fries. Stack up the flimsy meat on those tiny burgers. And give me mountains of chicken nuggets, because I'm always lovin' it.
Problem is, not everyone loves McDonald's like I do, and, therefore, find any reason to go after the brand with the golden arches.
Case in point? This Florida man named Alexei Stolfat, who is suing the restaurant after allegedly chipping his tooth on a McNugget recently. And while that might be a quick fix at the dentist, and cost about $500 or so, Stolfat isn't fucking around in what he wants for the trouble, and is asking for a whopping $1.1 million in damages.
Per New York Post:
Alexei Stolfat of West Palm Beach says in a federal lawsuit against the fast-food giant that he felt "unbearable" pain when he bit into a bone in the chicken, which he ordered via Uber Eats in May, the Sun-Sentinel reported.

According to the lawsuit, Stolfat's dentist found his tooth cracked in two places — requiring an extraction, root canal and dental implant surgery.

He is seeking $1.1 million and a recall of all McNuggets "to avoid massive consumer injuries," the newspaper reported — and is pledging to donate $1 million to charities if he prevails, the paper reported.

…

He said he hasn't had his broken tooth removed yet because it's proof of his injury.
Dude, what the fuck? Like, kudos on the $1 million pledge should he win — that's actually thought AF — but does he really need $100K for a measly chipped tooth? You don't see drunk-ass college kids seeking that much for regularly chipping their teeth on glass beer bottles nearly every night, so who the fuck does this Alexei Stolfat guy think he is?
Best part about all of this is that Stolfat has yet to get the chipped tooth fixed because, you know, evidence. I imagine this dude going around Florida and barking to people how a McDonald's chicken nugget fucked him up and the fast-food chain should be avoided at all costs. Oh, and you know he's looking like Lloyd Christmas up in this bitch.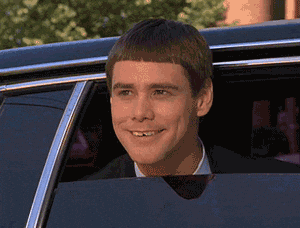 Chipping a tooth isn't the end of the world, but here's to this dude getting some money from McDonald's for the inconvenience. It might not end up being $1.1 million worth, but, if it were me, I'd happily take $500 to fix the tooth and an extra year-long supply of Egg McMuffins and those crispy hash brown patties for anytime I want — just as long as they don't actually decide to take away the all day breakfast option. Yeah, I'm a simple man.