The past couple years for Cam Newton haven't exactly been too great. Don't get me wrong, being a starting NFL quarterback is cool and all, but the former No. 1 overall pick really fell from grace since winning the league MVP all the way back in the 2015 season. Don't believe me? Just look at these stats from 2016-2020 and tell me if they should be considered superstar kind of numbers.
Win-Loss Record: 23-23
Passing Yards: 10,778
Passing Touchdowns: 65
Interceptions: 44
Rushing Touchdowns: 27
Games Started: 46
Now, look, Cam has been banged up for some of those previous seasons, but he still averaged about nine games each year — and that's with Newton only playing two games during the 2019 NFL season. He's a tough guy who sacrificed his individual numbers at times for the better of the team. Unfortunately, he didn't actually perform at a high level, thus, the crappy statistics.
While I'll commend Cam Newton for laying it all on the line for his previous teams in Carolina and New England, the fact of the matter is, he's no longer the guy we all think he once was. He's no longer capable of being a Pro Bowler. He's no longer the most intimidating player on the field. If anything, he's more of a decoy at quarterback nowadays, and is actually a more productive runner than he is passer — as his 12 rushing touchdowns this NFL season prove.
That's fine and all if Newton were expected to be paid like that. If he were just considered a backup who might make a few spot starts or throw a wrinkle into an offense every now and again. But after hearing ESPN's Adam Schefter on Wednesday morning talk about the 31-year-old quarterback's future, well, it's clear some people around the league still hold Cam to a much higher standard.
Appearing on the Greg Hill Show, Schefty talked about Cam Newton's free agency now that the Patriots decided they won't bring him back. Not only did the longtime NFL insider throw out the one team that makes sense to sign Cam, the Washington Football Team, but he also tossed out a wild contract prediction: $40-50 million for two years.
Adam Schefter on @TheGregHillShow: "The most natural spot for Cam [Newton] would be Washington if he's going to leave New England."

As for what that contract might look like: "I am going to guess, two years with incentives, $40-50 million."

— Ryan Hannable (@RyanHannable) January 6, 2021
Want to know how I feel right now? Let's just allow Mugatu from the movie Zoolander act out my current reaction, because my head is about to blow up after hearing what Schefter predicted.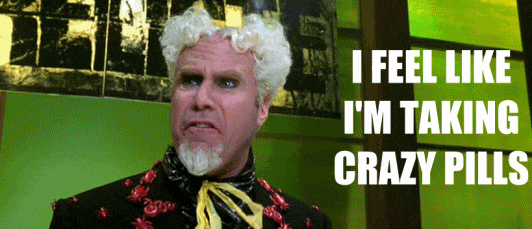 Guys, Cam Newton should absolutely not get $40-50 million from an NFL team this NFL offseason. He's washed. He's not going to magically take something that will revert him back to the Newton we all loved bulldozing defenders half a decade ago. And to think that Schefter actually believes a franchise like the Washington Football Team would hand over $40-50 million for two seasons of backup-style quarterback play is… well, it actually pisses me off.
Best of luck to Cam as he looks towards the future. But if this guy gets the money Schefter predicts he might get, guys like Nick Mullens (12) and Mike Glennon (7) — both of whom had more and just one less passing touchdown than Newton (8) this NFL season — should maybe get a sniff of that kind of loot, too. This is absolutely insane to me.